Epson Stylus Pro 4400, 7400, 9400 wide format printers trying for high-end CAD, GIS, and other technical drawings.
At the Milan 2005 Visual Communication sign trade show I was surprised to see Epson printers with dual CMYK ink sets. Instead of all the nice 6-color, 7-color, or 8-color beauty I am used to seeing in the US, Epson Italy had a drab booth showing printing on cardboard packaging and CAD-GIS. The booth was about as exciting as other unimaginative booths at the same show.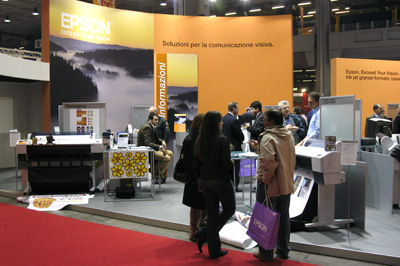 Epson booth at Milan, showing Epson Stylus Pro 4400, 7400, 9400.
The best Epson booth I have yet seen was that of Epson Germany, at Photokina 2004. HP also transformed themselves at Atlanta Art Expo/Décor Expo 2005. This was the best HP booth in 7 years anywhere in the world. It was alive, dynamic, colorful, exciting, and made you want to enter and find out what they were offering.
We have free full-color PDFs of both these booths. Just fill out the Survey Form and say "I want the Epson-Germany-Photokina booth PDF and also send me the HP Atlanta Art Expo booth." There is no cost whatsoever, but we do appreciate it when you help our university programs by completing the Survey Form.
CAD, GIS, technical drawings.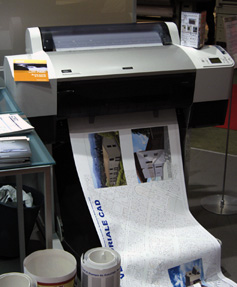 Epson Stylus Pro 7400 printing some samples images.
Back to the surprise in Milan: Epson now offers their Epson Stylus Pro 4400, 7400, and 9400 wide format printers for CAD, GIS, maps, 3D, graphs and other technical drawings.
This is because giclee is not a major industry in Europe; giclee is still a growing million-dollar bonanza across the USA. But giclee is not yet alive in Latin America, Asia, or Europe. So Epson Europe has not enough giclee customers to match sales records in the US; thus Epson Europe has to attempt to reach other markets. If you are curious about giclee, check out our www.FineArtGicleePrinters.org.
The question is why would an architect or technical drawer really want a piezo printer when thermal printheads do letters, text, and lines more smoothly? I would also ask this question of the new Mutoh DrafStation RJ-900 and RJ-901.
Our university lab has analyzed the problems of piezo printheads when they try to print letters and lines, and compared the Epson piezo output with that of thermal printheads. The results we have for the HP 30, 130, compared with the Epson 7600.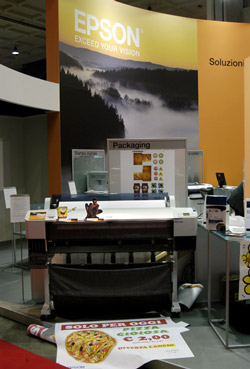 Epson packaging printer
If I was about to spend several thousand dollars buying a printer to print text and lines, I would want to get my hands on this university lab result BEFORE I maybe bought the wrong printer. These results are in the FLAAR report on the HP 130, available from the photo series from www.wide-format-printers.NET.
Epson printers are great for giclee and for photographs, but when we print our architectural drawings, what brand of printer do we use? This is why we have a staff at our university to test the printers. All the architects at the university are in the same building as we are, so we know what printers architects tend to use. The current state of the art CAD printer would be the new HP Designjet 4500.
If you are looking for a place that is not a box-pusher (meaning you want a place that provides service after the sale), then one place we know for many years is Parrot Digigraphic. Their telephone is 978.670.7766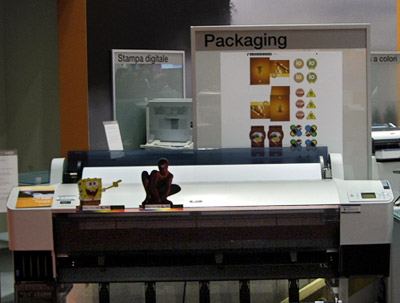 Most recently updated April 10, 2006.
Previous updates: January 16, 2006.