Nicholas Hellmuth reviews the HP DesignJet 130nr and HP 30n printers.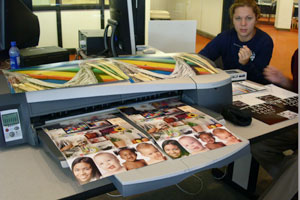 Breaking news: the first precise test of image quality between the HP 130 and the Epson 7600 produces unexpected results. The university lab manager used a $10,000 QEA image analysis instrumentation system to compare the two printers. The results are now available in the FLAAR Reports.
For years Epson had the lion's share of the 24" market for photographers and fine art giclee all to themselves. The 24" Epson 7600, Epson 7800, and the 17" Epson 4800 are popular printers among photographers. During 2005-2006 these printers were challenged by the HP Designjet 30, 90, and 130. Today (2006-2007) the HP Designjet Z2100 photo and HP Z3100 photo are available.
Market statistics document that fine art photography and commercial photography are substantial opportunities for a top quality printer. Whereas Epson has tried to specify a pigmented ink with an adequate color gamut, HP has decided to focus on a dye ink that has a long life. Chemists agree it is easier to create a dye ink that lasts a long time than a pigmented ink that has a full color gamut. Besides, you can't print pigmented ink on glossy paper without getting serious gloss differential or bronzing defects.
By developing a dye ink HP can avoid most of the bronzing defects that have become legendary with all other brands (including HP's own pigmented ink, but also with Canon, ColorSpan, Epson, etc, if on glossy media). Thus part of our testing will be to benchmark gloss differential.
We also test speed, usability (ease of use), practicality (for applications), and durability. You can obtain for yourself our FLAAR test standards ( Survival Series, on Wide-format-printers.NET).
Since Kodak owns Encad, why does Encad not make any printer for commercial photographers? Whereas Kodak ink and media is on par with other brands neither Kodak nor Encad own enough inkjet printhead patents. Xaar, Spectra, Brother, Epson, HP, and Canon own printhead technology. Whereas Konica has been able to license and develop acceptable printheads, Encad and Kodak rely on Lexmark, whose printheads are best for pie charts, bar charts, business correspondence, or signage to be viewed from a distance. These heads were not as good as other brands and Encad finally went out of business under Kodak management.
Besides, neither Kodak nor Encad make desktop printers themselves; not even a 24" model. Epson, Canon, and HP own this market, especially in the tabloid size and 24" size.
With Epson releasing its model 4000 and 4800, it will be interesting to see how the HP 30 and HP 130 fare. We have seen output from both printers. I challenge a photographer to tell the difference. Indeed we aspire to do jury tests as soon as possible. As to price comparisons, it will be interesting to see how the Epson and HP compare in price. Performance-wise, HP is faster because it has thermal printheads. Epson uses piezo printheads which are inherently slower.
We now have an Epson 4000 and as you can see from the photos we do have both an HP 30n and also an HP 130nr. You can obtain our preliminary report already (in the series on photography on Wide-format-printers.NET).
Most recently updated Nov. 17, 2006.
Previous updates: March 11, 2005, April 27, 2004.