ColorSpan DisplayMaker FabriJet XII for digital inkjet printing directly onto textiles.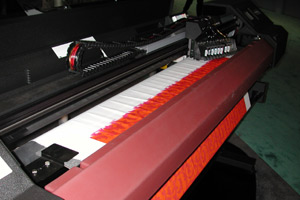 Colorspan FabriJet at GOA tradeshow.
At each trade show the output from the ColorSpan DisplayMaker FabriJet XII is the most beautiful. Whereas most textile printers (Stork, Mimaki, Mutoh) use Epson piezo printheads, the ColorSpan uses Hewlett-Packard thermal printheads. ColorSpan uses reactive dye inks for cotton and direct acid dye inks for silk, as do the other textile printers.
Every week new inquiries come in asking about what printer is best for printing on textiles. We have tested primarily the ColorSpan for printing on photo paper and don't yet know the ColorSpan FabriJet XII except what we see every time at the trade shows. For sheer quality, the ColorSpan is among the best available.
Although the HP DesignJet printers can handle textiles which have backing, the HP printers can't handle textile inks nor textiles without backing. The ColorSpan FabriJet XII is also designed to accept the special inks for textiles, something the HP printers cannot yet handle.
You can request one of the FLAAR reports on textile printers to get the descriptions of all the other brands of printers which are appropriate for printing on textiles such as Color Wings, Stork, Mimaki, and others.
Most recently updated July 06, 2001.