Epson Stylus Pro 10000 and Epson Stylus Pro 10000CF.
The new Epson Stylus Pro 10000 and Epson Stylus Pro 10000CF came under the loupe at the CeBIT trade show in Hannover, Germany. FLAAR editor Nicholas Hellmuth had an opportunity to inspect these impressive new printers.
When the Epson 10000 first appeared in Japan around January, American user groups presumed the USA model would be the same. But Epson USA specs are fine tuned to the needs, expectations, and requirements of the American user. Needs in the USA are not the same as a print shop in Japan. Thus what you may read in user groups may not be what you will actually get if you order an Epson 10000 or 10000CF today in America (the one you buy today will be better because actual production models are improved over prototypes).
The print quality of the images shown at the Epson booth were the sharpest most detailed images at the entire CeBIT trade show. This is the first time that whoever was in charge of the booth realized that using stock photos from lousy scans was detrimental to revealing print quality. So whoever selected the images deserves a medal (and a raise from Epson) for picking photos with memorable sharpness. There was none of the inkjet fuzzy-wuzzy softness. Oil-based prints from Xaar heads are the worst offenders, printers such as the Seiko and the XES Xerox Xpress. To what degree the sharpness is a result of Epson's micro-dot, variable dot technology only time will tell. All you have to do is take the same identical photo and also print it with other printers to test this. So far, however, Epson is doing an excellent job of selecting handsome images to show off the crisp quality of its new printers.
It is also possible that the Epson prints were professionally sharpened. Nik has such a professional sharpening software, indeed Nik shared the booth with Epson. I would definitely recommend that every large format printer trade show exhibitor try out Nik to see if better sharpness can be achieved.
Even if NIK software is responsible for the improved sharpness, it's a credit to the Epson 10000 printer that the detail could be reproduced so clearly with the new printheads.
The CF version is with pigmented inks; the other is the new update of the older Epson 7000 and 9000, with different wider faster print heads and virtually the entire system redesigned and improved. Only downside so far is that you cannot switch back and forth. If you have the Epson 10000, no pigmented inks but you get their photo dye ink. If you have the Epson 10000CF, no nice bright dye based inks but the pigmented inks are improved with each new generation. With an Encad, Roland, Hewlett-Packard, ColorSpan, and most other printers you can switch back and forth between dye-based and UV pigmented inks at any time.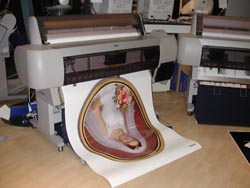 The printer itself is a handsome design, a definitely improvement on the clunky machine style for the Epson 9000. The 10000 is stated to be 30% faster. One person at the Epson booth admitted it was really more proper to call it "30% less slow than earlier Epson printers." However if you compare any Mutoh, Mimaki, Roland, or Epson printer with the new Xerox ColorgrafX2, ColorSpan Mach 12, or HP 5000 it's the difference between production speed and a crawl. Nonetheless, it's nice that the new Epson 10000 CF printer is not as slow as before.
The dpi claim is restrained; the brochure lists only 720 x 1440 dpi. Not even 1440 by 1440 dpi, which I believe is offered by the Roland. Of course the heads on all the earlier models of printers, their true definition is 720 dpi. Thus in the advertising statements on the dpi, Epson is forthright.
For anyone who anticipated a 2880 dpi printer there is no need for that spec. The Epson 5500 and other desktop units may have a claimed spec of 2880 dpi, but you don't need that in a large format unit. The Epson 10000 produces an abundance of dpi to satisfy the needs of photographers and fine art aficionados.
Where the ads might be considered stretched, which is a popular pastime among printer ads, is the claim of 200 years longevity. This problem is by no means restricted to Epson. The bait is "lightfastness in excess of 200 years." The switch is, buried in small print, is that you have to seal the print in glass 2 mm thick. Furthermore, the glass has to be soda lime glass. I would not be surprised that matting, framing, and archival class of glass at 2 mm thickness would cost over $ 100 a print. Actually I just got an estimate from a low-cost frame show, for a print about 18 x 36 inches, about $130 using UV glass. If you intend to produce professional prints for a museum, you will understand the need to protect your images properly.
Other downside is the Epson light test is based on no open windows anywhere. Only a dimly lit situation that emits 500 lux. My Ph.D. is not in the physics of light but I get the impression that a normal room has considerably more light than that.
And buried deeper in the small print is that "This estimate longevity does not indicate the color changing and the durability of the paper itself." In other words, the paper itself may discolor in a few years, as has been the disastrous record of certain kinds of specifically Epson inkjet media over the last two years.
Epson indicates they developed and conducted their own tests. Nowhere is any mention whatsoever of Wilhelm. The Wilhelm web site was totally off the air for several weeks during January. It is now back on the air but the test results have been eliminated, not even changed over those available last year, but gone. This is to reflect the reality that contaminants in the air can cause as much, if not more, deterioration of the color and media as the light itself.
Epson clearly states it does not guarantee longevity. So who does? Only 3M. If you use 3M laminate you get an outdoor warranty of 3 years with most printers. I do not know what the indoor warranty is from 3M. I also do not know if Epson prints are even covered by any 3M warranty.
Summary so far: it's a beautiful new printer with countless improvements over all previous Epson models. Why mar such a great machine with excessive ad claims. The capable printer would sell quite well on its own merits. You want a nice print that will not fade next month or next year. Epson delivers this, and more.
You will note that so far there is nothing particular wrong with the Epson 10000; it is only the advertising claims which are dubious. It is slower than any thermal printer but has a better dithering pattern. So some end users who are not in a hurry will be perfectly content with the Epson 10000. We have received e-mails from people who love their Epson 10000 printer.
FLAAR does not have an Epson 10000 printer so we are unable to comment on how long it holds up, but for basic print quality, it definitely warrants your considerable. However be absolutely sure you obtain this printer from a dealer who knows color management. That is why we recommend Parrot Digigraphic. Although they work with museums, major universities, and fine art giclee studios, they also can help individuals set up their first fine art printing venture. Dan Hunt is the person to get you started at Parrot Digigraphic. If you have questions on Iris printers and color management, they have technical people who can translate all the jargon so you can understand it.
RIP situation for the new generation of Epson 10000 printers.
EFI seems to have recognized that hardware RIPs are no longer popular, something readers of the FLAAR reports have realized for the past two years. Thus now the EFI RIP comes just on a disk; you also have to install a RIP card. Thus you need to hope that your Mac server has an extra slot available (sorry, you can't use an iMac with an EFI product; if you have an iMac have to use another RIP).
I am not aware of any other normal RIP that requires a card.
Downside of the EFI Fiery RIP is probably the fact that it will not run any other printer. That's right, zero.
Furthermore, you can't upgrade it. Thus it's about the only software in the world that has a clever go-nowhere system build-in.
All other RIPs can run virtually any and every other printer, indeed the better RIPs will operate several printers simultaneously. Thus it's hard to convince anyone to buy an expensive CD disk which has few options, zero upgrade path, and guaranteed obsolecense.
Eventually we will be able to ascertain what features the EFI Fiery "Epson Stylus RIP Designer XL software" actually offers as compared with the host of features that the other good RIPs offer. At the Epson booth most of the printers were being run with BEST RIP.
Fortunately most of the better RIPs run the Epson 10000 quite well. You can also run all Epson printers with their own internal software (and save yourself the cost of any aftermarket RIP all together).
If you really want technical details on inkjet media, and especially if you wish to meet the movers and shakers in this industry, be sure to sign up for the 9th Annual Digital Printing Papers Conference organized by IMI. Their contact is [email protected]
If you wish a value added Epson dealer; especially if you are a graphic designer, advertising agency, copy shop, publishing, financial institution, in the entertainment industry, or have comparable needs of a large corporation, then check out ProVAR LLC, provarllc.com. And especially if you use the Macintosh computer platform, we recommend ProVAR LLC. Contact is Tim Hassett, [email protected].
Product Comparisons.
Product comparisons: If you are a sign shop, product comparisons include Roland, ColorSpan, Hewlett-Packard, Encad, Graphtec, etc: "FLAAR report for sign shops"
If you are a photo studio or individual photographer, what you want is the "FLAAR comparative report for photo-realistic inkjet printers."
If you are an artist or fine art giclee studio, what will assist you most is the "FLAAR comparative report on inkjet printers for fine art giclee."
If you want to find out what is a good selection of printers for proofing, "FLAAR comparative report on RIPs and inkjet printers for proofing."
"RIPs + Help." A friendly report that helps first-time users recognize what they need to get started in the world of large format inkjet printing.
All of these reports are available now. The Digital Imaging facility sents these reports at no cost.
For additional information and for help making your decision now , just click on the link to get access to the FLAAR reports.
Most recently updated December 10, 2001.