Who and What is FLAAR?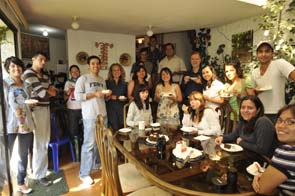 All the FLAAR staff celebrating birthdays of the month.
The digital aspects of our programs were initiated by Japan's Ministry of Education circa 1996. They awarded the FLAAR director, Dr Nicholas Hellmuth, a position in Osaka as Visiting Professor at Japan's National Museum of Ethnology for this period. This entailed a feasibility study of digital imaging hardware and software for the Latin American photography section of Japan's National Museum. FLAAR itself is fully American, though the primary research is in Latin America.
That same year FLAAR received another grant of $100,000 from an American foundation likewise to do a feasibility study of digital imaging, primarily scanning and digital printing.
FLAAR established the Digital Imaging Technology Center with the aid of the Japanese and the American funding. In the year 2000 our headquarters moved from a community college in Florida where we were for six years to a university in Latin America. We are now also well into the fifth year of opening an additional and larger evaluation center at a Bowling Green State University in Ohio. Both concurrent evaluation centers test, evaluate, and publicize large format printers, media, RIPs, and associated digital imaging hardware and software. Wide format scanners and digital storage are also included in this program.
The web site network began as the reports on the equipment that we found useful in our own search for the national museum and in our own facilities. FLAAR has its own archive of 50,000 photographs that we need to scan and some of which we need to print. We figured as long as we did all this background research (a quarter of a million dollars worth from grants—not from any computer company, not from any inkjet company either) we might as well share the results with others.
The popularity of these FLAAR evaluations is based on several factors:
First: we use end-user reports from other photographers as well as from architects, repro shops, sign shops, and fine art studios.

Second, we analyze hardware, software and media at the leading trade shows all over the world.

Third, in addition to all those sources of information we also undertake our own tests in our own facilities.
All these careful studies reassure the readers because rather obviously FLAAR will use and have in its own facility only the optimal equipment for each given job. Our global reach means that we get feedback from every imaginable kind of end-user. We have received over 37,000 e-mails from end users just in the last few years. Some of these end-user reports discuss every detail of what their printers do well, and where the few glitches are. Not many trade magazines; no other web site has such a wealth of fresh information pouring in every day. Readers recognize the richness of our reviews, and rave about the benefits of reading the FLAAR reports.
How is FLAAR funded?
Nicholas Hellmuth's salary is paid by BGSU and FLAAR. The only time Dr Hellmuth is paid by a manufacturer is as a consultant which is usually a one or two day undertaking at standard international consultant's rates. This sum, however, is not paid personally to him, but goes into the general operating funds of FLAAR. The university encourages us to do consulting and to obtain sponsored research projects with businesses. That is what a university institute for applied technology is intended to do: to be more eralsitic than just doing scholarly studies. Applied technology means to go actually do real-world work with the technology.
The university covers the costs of the office manager and technical lab manager each, plus naturally a considerable technical support staff. The universities cover the "rent," telephone, postage and what you would expect a major university to take care of.
The advantage to you, the reader of any FLAAR report, is that we are not beholden to any manufacturer. FLAAR existed three decades ago (long before digital imaging). We are not founded, definitely not owned, and for sure not operated by any outside company.
When the FLAAR sites first started the navigation on our websites was non-existent, the layout was atrocious. Solid text documentation, a few photos. But no sense of design.
Yet readers kept flocking to our informative sites. Soon it was thousands and thousands every month.
One reader wrote and said he had spent twelve hours reading the FLAAR reports. My girlfriend said, Nicholas, your sites need better navigation so people don't get lost for an entire day.
So we asked pertinent companies if they could sponsor our programs to help cover the costs of web designers to improve the sites. If you have been reading the FLAAR sites over many months you have seen the improvements. Well this is courtesy of Parrot Digigraphic, MacDermid ColorSpan, and Scarab Graphics. In the past we appreciated sponsorship funding from Hewlett-Packard and sponsored research projects from Canon.
You will note that direct competitors are each sponsors (Parrot handles Epson; ScarabGraphics handles HP and Seiko).
How do we select sponsors? Very easy, we ask around, we look at what is available, and then where possible we try out products ourselves. This is where its easiest to see who FLAAR is and why we do what we do. Once we find a product that is good, or exceptional, these are the companies from which we seek sponsorship.
FLAAR is itself a photography studio working primarily in museums. So we need to know, for our own personal use, which printer is optimal. For example, for our current exhibit we used one specific printer. But what about our next exhibit, it has a different series of venues; different subject (indigenous Mayan textiles). Maybe a different ink, another kind of media, and even a different printer would be good to try out.
For those who are curious, after all, might as well ask. Answer is, no, we do not work on commission basis. Sponsorship is a flat fee to cover the overall system. That means every sponsor is covering a share of the costs of all equipment, not just theirs (we have no way of dividing it up anyway). Actually we have no way to know how many people buy what brand. There is no realistic manner for even the sponsoring companies ever to figure out which precise customer made a purchase from a specific review. Because many people will already have almost made up their mind and only peek at the FLAAR reviews for reassurance they are heading in the right direction.
Other people tell us they actually don't wade through the complete report anyway, they just look to see what FLAAR is successful with in our own in-house printing. These are the clever readers who finally figured out how the system works, namely we feature what has worked best for us in actual printing, actual scanning, and actual photography in our studios at the museum or in the university.
Day after day we get e-mails, "just wanted to say I looked at the photos of your impressive office facilities and I noted what printers you had working there. I saw no need to reinvent the wheel so that's the printer I bought and it works just fine."
But please be aware that don't do this if your needs are different than ours. We print for the architects, for the art faculty and art students, for the museum on campus. No solvent ink printers for example. When we use DuraDuck media we don't need awful smelling solvent inks. We have DuraDuck in our shower now for four months. Gets a shower every day (actually it's a test for military use in the field for maps; we also test the media for all kinds of other interesting liquids, but we need to borrow a dog and a telephone pole for that test. The image withstood the doggie testing just fine).
FLAAR is proud to have provided evaluations for virtually every branch of the US military and almost every major federal agency as well.
As does any modern institute, FLAAR works on statistical surveys. That's because we have noted that every current item of hardware or software could use a bit of refinement, a few added features. Occasionally a feature needs to be removed too. So if you elect to fill out the inquiry form, the statistical data is helpful for understanding what you might like in the next generation printer. Recent graduates of the school of business administration help as on such projects. Both BGSU and UFM have business schools. It's nice to know that statistics are aggregated; your name and e-mail is shorn from the data pool because neither your name nor your e-mail is pertinent for what the students are studying. Actually the companies don't need or ask for this information anyway. They just want to know whether people prefer a 24" printer or a 36" printer. FLAAR needs to know this in any event, because that tells us what printers to obtain for upcoming evaluations. That's why we are moving to include 13 x 19 inch printers. Because thousands of our readers kept requesting info on that size.
But if there were no inquiry form we never would have understood that need (actually for over a year we told readers we excluded desktop printers totally; but they kept asking and asking for information on that size). So we asked for one from each competing company (HP and Epson since Encad does not make a desktop printer nor does Roland, Mimaki, Mutoh, ColorSpan either).
What about the equipment?
Encad provided our first inkjet printer, back in 1997. We kept it as a relic until we ran out of space in 2005. HP provided many of their printers because FLAAR is physically adjacent to the architectural department on each of our two university campuses. Also, if you know architecture you may know the company HOK Architects (largest architectural company in the world with offices on virtually every continent). The "H" in HOK is Hellmuth, Nicholas's father. His brother is senior partner in the HOK office in Washington D.C. Bill Hellmuth, a nephew, also works for HOK. Nicholas brother, Daniel, is also an architect (at another company), as was their grandfather and great uncle.
Nicholas does not work for HOK nor does FLAAR have any affiliation whatsoever, but Nicholas did study architecture at Harvard. Thus it's understandable that a Hellmuth would be a logical evaluation focus for plotters for CAD and other architectural drawings. If architectural plotters are involved, its rather to be expected that we would include analysis of Hewlett-Packard plotters for CAD, GIS and technical drawings. Thus we have an HP DesignJet 1055cm and an HP 800ps in our facilities. The architecture students use these printers almost every week. This also gives the students a chance to learn about wide format printers. Our facility is a teaching facility in addition to being an evaluation studio. Indeed after being on campus just 2 years the university is putting in a 20-computer teach lab attached to the FLAAR office so that we can teach not only our own students but also students of other universities.
MacDermid-ColorSpan has provided a printer since we also like the larger sizes for murals. We are currently looking forward to adding additional brands as space allows, especially printers with piezo printhead technology.
Epson USA kindly provided printers, inks, and media. Parrot has provided two Epson printers. So we can hardly be seriously accused of giving good reviews just because someone is a sponsors since you don't have to read more than a few reports to realize that although we get excellent results from the Epson 7600 that the Epson 5500 did not do as well. And we do not accept their advertising claims whatsoever. But we don't accept the Hewlett-Packard speed claims either. And the HP 500, HP 1055, plus an early HP desktop model (HP DesignJet ColorPro CAD) did not do well in our evaluations. That's the beauty of being independent.
What do we do with the equipment?
A magazine will tend to have a writer use the equipment for a few hours or a day or so, and write up a report. That's typical especially for computers, laser printers, etc.
But FLAAR wants end-users to write the reviews. So we actually install the equipment either in one of the museums on campus, in one of the departments on campus, or in our own offices. So the equipment gets used, just like in real life.
We have one fixed requirement about equipment. The loan is not dependent on the review. Several companies hoped FLAAR would be like a trade magazine. One company asked if they could read the review before they decided whether to provide the support. After we bit our tongue to stop a large smile, we politely explained that FLAAR is not a trade magazine. We don't depend on advertising, after all, we don't accept any. You will notice no slick photos sent by the manufacturer's PR film either.
The other condition is that we don't accept 30 day loans. How in the world can we claim a product works if we have it for only 30 days? Don't you want to know if the printer you buy lasts a bit longer? That's why we still have our Encad vintage '96 (sorry, it did clog up 2 years ago, but we are working this week to resurrect it).
But the one thing you notice about equipment at a FLAAR facility. The hardware and software we like is clearly indicated because it is the hardware and software that we have in house or have tested at tradeshows and are in the process of installing.
In other words, we basically write reports on what works for us; what works for the thousands of people that write us; and therefore what may well work for you.
So that there is no mystery about any of this, our reports state in plain English: you should not buy any product just because we like it. Your uses, needs, and operators may be totally different than ours.
We recommend that people seek out other actual users too; in other words, get further feedback. A balanced view from all sides will help you.
And most importantly of all. Every printer has a bad hair day. Printers from sponsors have glitches too. We list every glitch we can find and even include weak points which end-users tell us about. But even the printers that deserved the "worst in show" award have someone, somewhere that likes them.
We actually found two people who love the Xerox Xpress printer (it won our award twice in a row for worst quality compared with advertising claims). We even found two other people who liked the Fuji Brady printer (even Fuji person at tradeshow exhibit admitted it should have been retired years ago).
In summary: in 1996 we began a study of what printer would be best for our own in-house use. People began to write us for suggestions. We answered by personal e-mail.
Within a year we noticed that over 80% of the incoming e-mails asked the same basic 100 questions. So we wrote a series of reports to answer these standard hundred questions. Then we went to all the trade shows to keep these reports up to date. Next we asked printer companies if they could help by providing printers so we had more direct in-house information. Then the information overload became so great that the web sites needed professional medical care to fix them to international standards of usability. So we requested funding to pay the web designers.
But the whole time FLAAR is still doing the same today that it did in 1996, 1997, 1998, '99, 2000, '01, and '02. We still do our own archaeological photography, art history photography, landscape (digital panoramas), and we still do nature photography (tropical flora and fauna in Central America).
The two museums on our campus like to exhibit these photographs. So every year we are after the latest and greatest software, RIP, inks, media, and printers for our exhibits.
And along the path we are able to share with you the results of what we find out about these products.
Why don't we have other brands of printers?
First, we don't have space for every printer in the world.
Second, it would be too expensive to increase our staff to handle more printers. It's a challenge to manage the printers we already have.
Third, from end users we know that certain printers tend to have systematic problems. Other printers simply don't do a good enjoy job for our needs (such as any printer using oil-based inks). However many other people love their oil-based printers. But sorry, they just don't pass our quality standards yet.
Why do some printer manufacturers gripe?
The advertising claims of a printer manufacturer are the first thing we look at. If a knowledgeable person who is familiar with the reality of inkjet printer performance acknowledges that a particular company's ads may systematically mislead an inexperienced buyer, if these ads make claims that no industry insider would accept, then a FLAAR review will mention these facts. For example, the "200 year longevity" exaggeration is the most talked about aspect of current myth during high-tech meetings and symposia. Kodak has actually stated in public that some longevity claims are mythical to some degree.
So if a company is embarrassed about their advertising hype being noted in our reviews, their natural reaction is to claim that their competition is responsible for this public disclosure. What the guilty companies don't mention is that we don't by any means accept the ad claims of their competition either. As the president of Vutek printer company stated, "they are all lying." He said that in a public article in the leading wide format inkjet printer trade magazine.
The difference is, FLAAR does not sell printers, nor ink, nor inkjet media. We don't sell scanners or digital cameras either. FLAAR is an end-user, just like 90% of our readers. So, just like you, we are also seeking to figure out which is the optimal printer, inks, RIP, media, and accessories for our own in-house needs.
The difference is that we have the facilities of two universities to assist in this search. So we figured it would be appropriate for a non-profit educational and research institute to share this information with the general public.
Once a printer manufacturer did ask us "why are you saying our printers have x, y, and z deficiencies, glitches, and problems." So we simply mentioned the specific, detailed information we had from several sign shops, print shops, and photographers who either had substantial, systematic, and continual problems or in extreme cases practically went out of business because of these glitches.
Then at a trade show conference, the largest reseller of this same specific printer brand, stated matter-of-factly that this printer was fully incapable of printing certain shades of red and cyan.
We also were told this by the sales manager of a leading nationwide reseller of that very same printer. "This printer can't print several popular shades of red at all well."
We then went to the printer manufacturer and asked what caused one of the primary defects of their printer. They politely gave us an entire list of the causes of the problems.
So it would seem that if you are about to spend $23,000 to buy this printer, you might want to know that both the company and resellers are fully aware of a specific set of deficiencies of this printer.
And we could not help but notice that this same printer manufacturer has ads that claim as the main strongpoint of this printer, precisely the two factors that their largest reseller mentioned the printer was incapable of!
So now when any company asks us about our reports we state politely: we will be glad to remove the offending statement about your printer. However in return, we ask that in place of our current comments, instead we will present the full-text, in full detail, of the complete description of end-users when they point out specific detailed problems, in those cases where it can be statistically documented that this problem is systematic in enough of the printers that a normal buyer might also face this same sort of glitch, deficiency, lack of feature(s), or inability to perform as the ads so over enthusiastically claim.
So far printer manufacturers have preferred our own gingerly observations to our publishing complete actual-factual end user reports in painstaking detail. So yes, we do list the glitches and weak points of a printer, but we try to do it politely, and in the sense of constructive critique. Actually manufacturers should be glad that someone takes the effort to point out what features on their printers need to be improved with the next re-design.
We also point out that the problems of any product may in many cases be inexperience of the end user. But then why are newbies lured to buy such a printer if manufacturers know there is a steep learning curve? Besides, FLAAR has several printers which are so easy to use that we let the students walk in cold, read the instruction manual, and get exhibit-quality output usually on the first try.
So if you feel your favorite printer is not faring well in the reviews please note a few bits of reality: it is not our fault that the manufacturer is spending millions of dollars advertising imaginary features of the printer instead of redesigning and updating the printer to be able to actually deliver the features their ads claim. Second: we do not write the reviews: the printers, the inks, the RIPs, and the media – and thousands of end users -- are who and what report the data to us.
What's upcoming?
When we started evaluating equipment for ourselves in-house, we never realized our reviews would be read by now (2006) by over half a million people per year (actually total count of all dozen sites in three languages is over a million people; that's not hits; we get a million hits every month just on www.wide-format-printers.org).
So now we have tremendous responsibility to maintain our standards. As a result we are working at preparing clearcut evaluation standards. That's right, actual detailed descriptions of what it is we look at in a product. So far our reviews have been intuitive common sense: we want a printer to function, be easy to use, be useable by our students for example. We expect the print to last long enough to serve its purpose and to have the colors that are true and natural.
But now it's time to evolve further and put this into codified specs.
So that's what we are working on now. Universities tend to operate with grants funding, so that is the route we prefer. As sponsorship funds arrive, then we can hire additional staff to increase our coverage.
If you would like to see a taste of the standards of evaluation, we publish them as FAQs. You can see precisely how we evaluate printers by ordering the pertinent reports from www.Wide-Format-Printers.net. Just realize these have a long way to go. We modify and update our reports as often as is feasible. FLAAR has been around 30 years so far. Inkjet printers have been around for many years now as well, yet without acceptable standards.
In the meantime, we are proud to be the Johnny Appleseed of large format digital imaging, including scanners and digital cameras. We also serve as the Ask Ann Landers, so to speak, or "Dear Abby." Except today it's "Ask FLAAR," or "Dear Nicholas….we need help figuring out…"
And, since you have asked about who and what is FLAAR, we hope now you have a better understanding of who we are, and more importantly, why we are ourselves curious about inkjet printers. We are interested in preparing exhibits about pre-Columbian Mayan heritage for museums and archaeological parks in Guatemala, Honduras, Belize, and Mexico. So we need to learn, for ourselves, what printers, inks, materials, and software, color management, and workflow is needed. Once we learn all this by research and experience, we then write up the results and make it available to you, the reader.
If you would like to check us out in more detail we will be having seminars, training programs and meetings at our universities. We just had our first meeting at PMA; people came from several distant parts of the country to meet with FLAAR and get a personal tour of the exhibits. This was so popular we intend to offer this service at future tradeshows to participants in our seminar, training programs and courses.
One manufacturer demanded that we retract a statement: we looked for a copy of the United States Constitution, for court rulings on freedom of the press. And we just about asked the American Civil Liberties Union to read our constitutional rights to the company president. But in the meantime we found enough documentation to support our statement fully. Besides, we suspect the company president did not really want us to look more closely at his product. If we found a small glitch in the product, or a slight misrepresentation in their overly enthusiastic advertising pitch, if we looked more closely, and asked end-users, we might find more that was wrong with it. But we don't have vendettas, and with over 70 RIP software products, and more than 163 different printer models to keep track of, we don't have time to go after any one particular printer. Besides, if a product is bad, we simply mention this briefly and then just tend to ignore it. We mention bad products primarily when the manufacturer tries to smother the defects with smoke and mirrors by misleading advertising.
Otherwise, we much prefer to spend time writing about the good products, such as RIPs from ErgoSoft, ColorBurst, PosterJet, Wasatch, Shiraz. We like certain models from HP (especially 30, 90, 130, and HP Pro Photosmart 8750 series) and the absolute newest Epson (4800, 7800, 9800 and R2400 in desktop size).
In solvent ink printers the Gandinnovations JETi is catching our attention as has the Seiko ColorPainter and the JV3 from Mimaki. We are working at learning more about Mutoh printers. Owners of early Rolands reported the same problems over and over again (colors dropping out half way through a print and banding), but the newer Pro II Roland printers are improved.
In UV-curable ink printers, the ColorSpan has proven to be a great entry-level flatbed/roll-to-roll hybrid. And the Durst Rho are great for higher production needs.
So 2006 will be a great year. There are over 50 UV printers for us to keep track of, from more than 30 manufacturers. Solvent ink technology is rapidly evolving especially now that HP has bought Scitex Vision and taken over distributorship of Seiko mild-solvent printers. And even through sales of water-based printers are not rising, there are still thousands of individuals, print shops, and corporations that will seek help from FLAAR in deciding what aqueous-based printer to buy during 2006.
Most recently updated January 17, 2006.
Previous updates:Aug 26, 2002, Apr 16, 2002.