The Konica 1044SD 8 color printer.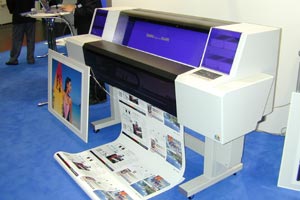 Konica Iguazu 1044 at Drupa tradeshow.
Konica Iguazu 1044SD was another nice large format inkjet printer which failed to reach production after millions of dollars of development expenses.
The CrystalJet, then the Kodak 5260 also failed. The Konica disappeared more quietly. We had hoped it would survive and prosper because competition is good for end users.
At DRUPA 2000 people asked whether the eight color 44 inch Konica Iguazu 1044SD come close to the eight color Roland, the eight color Encad NovaJet 850, or the eight colors of a ColorSpan DisplayMaker? We have two ColorSpan printers, both with eight inks, indeed we are loading them with 12 colors this month. If you wish further information on such multi-ink systems, all the FLAAR reports on ColorSpan printers are available from our university at no cost.
Konica is one of the first companies I have noticed which points out the difference between black color produced by black ink and black created by CMY. Some printers and some RIPs don't actually use the black ink for black. That's why some other printers are not capable of reproducing solid black that is a true black. Konica uses actual black ink for black letters.
Konica recommends that to protect from discoloration and scratches that you laminate the prints. This is an honest assessment. We thus rate Konica high for ethics and honorable advertising.
Konica itself maintains that they developed their own heads. The general conception is that these are in large part Xaar heads rather than Epson heads. It is strange that printer companies attempt to maintain all this a state secret. Besides, sooner or later some kind soul will let us know in any event. Buyers have the legal right to know what is inside the product they buy.
Whoever made the heads, one reason to hide their name is the fact these piezo heads caused horizontal banding defects, the same problem that affects all piezo heads, even the newest wide-path Epson piezo heads for their new model 7600. At CeBIT one of the Epson printers produced consistent banding artifacts across the image. Two other Epson 10000 printers, however, showed no banding at all. It is generally considered that banding results from dirty heads. But it turns out that banding is inherent in most piezo printheads, both from Xaar and also Epson. With the Epson piezo electric printheads, it's air which tends to get into the printheads. With many models of Xaar heads banding appears to be congenital (based on the consistent banding of the Gerber Orion and Mutoh Albatross). Solvent ink in particular seems to be associated with the worst examples of banding.
If you are curious about the reality of piezo printheads, then check out the penetrating review by Nicholas Hellmuth, "Piezo vs Thermal, Fact vs Fiction, Pros and Cons," in the FLAAR Series on "Survival."
I am guessing that the true resolution of these heads is 300 dpi. All other dpi claims are software tricks, as used by every other printer company. The claim of 1800 x 900 dpi is probably "perceived dpi" such as stated for ColorSpan Display Maker.
Unfortunately the Konica printer never survived. It was exhibited for about a year at leading international tradeshows. The Konica web site said they hoped to sell thousands the first year. As far as we know this printer ended up like the CrystalJet and the Kodak 5260, vaporware. It is noteworthy that not one single solitary trade magazine has ever written up the truth about the rise and fall of these printers (other than the CrystalJet). Its demise was such an embarrassment because it won all the awards before anyone actually saw whether it would survive.
So Konica has returned to try doing the same as Kodak, making media for printers of other brands. It is my impression that Konica media is good, however has too much competition throughout the world. We do not have any of the Konica media so can't comment on its capabilities.

If you really want technical details on inkjet media, inks, and/or inkjet printhead technology, and especially if you wish to meet the movers and shakers in this industry, be sure to sign up for the next conference organized by IMI. Their contact is [email protected]. These seminars are outstanding; the senior review editor of FLAAR usually attends because he can get so much fresh information for the readers of the FLAAR Reports in PDF format and the FLAAR Information Network of web sites.
Most recently updated Jan 20, 2003.
Previous updates: August 02, 2001.