ProofMaster from PerfectProof.

ProofMaster arrived from PerfectProof. They provided their media; their ink; and an Epson 7000 printer to do the test drive.
The examination of the RIP was done in intimate detail by Professor Charles Spontelli, VCT, College of Technology, Bowling Green State University of Ohio. Professor Spontelli has an MS degree from Rochester Institute of Technology in printing. His interests include proofing for offset printing, RIPs and color management.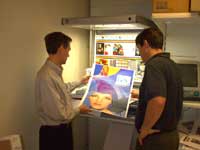 Since this examination also involves many other RIPs, it will be a while before the report is finished. A brief version is on our sister site, Large-format-printers.org In the meantime, you can get the report by Professor Nicholas Hellmuth on RIPs; available directly from FLAAR. Just fill out the request form.
We recently visited the international headquarters of PerfectProof outside Brussels.
First posted Jan 15, 2002
Most recently updated
Previous updates: