Old headquarters for the FLAAR digital imaging facilities at Bowling Green State University.
Several major photographic equipment companies are working with FLAAR to set up a demo photo studio dedicated to showcasing digital camera equipment and lighting.
ColorSpan is sending a second printer, a Mach 12, to add to the ColorSpan DisplayMaker XII already here. We also already have two printers from Epson and several from Hewlett-Packard.
As a result of all the sophisticated digital imaging equipment, the university is providing this wonderful new space.
In turn, the availability of the new space is already attracting more equipment. A Mimaki JV4 arrived. We liked it so much that a Mimaki Tx-1600s arrived a few months later. This is because the old FLAAR + BGSU digital imaging facilities was be broadcast, daily, via the Internet to over 42 countries worldwide.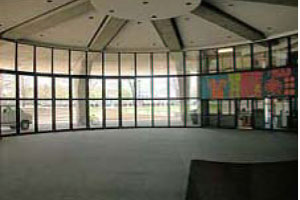 FLAAR will demonstrate all its printers and scanners in this showroom. ColorSpan and Hewlett-Packard have provided two printers each; Cruse provided a $97,000 digital camera scanning system. The result will be the premier digital imaging facility in the US. Thus we hope to include several more piezo printers and other products as well. Every company has equal access to showcase their products here.
More than 25,000 people see the facilities on the FLAAR Information Network every month.
But that is only on one web site. FLAAR has a dozen websites. Most get an average of 16,000 to 23,000 readers every month. That is not the hit count, we get over a million hits every month from just a single web site. The 20,000+ are actual readers.
Gitzo, Manfrotto, Elinchrom, Bogen, and other equipment arrives to outfit the FLAAR photo studios at BGSU from Bogen Photo, the premier importer of the best European photographic equipment.
Currently three graduate assistantships (graduate research scholarships, teaching assistantships) are available for working with Professor Hellmuth and Technical Lab Manager Brent Cavanaugh. Students can get their degrees either in the College of Technology at BGSU or an MFA in the Art Department. Other students working with FLAAR are technical writers from the English Department. Master's degree scholarships are also available for journalism, business administration, and public relations. Send resume to [email protected], but be sure to check out what department you want to study in first. Positions for academic year 2003 are all filed (two art students; one tech writer from English).
On occasion volunteer positions are available in the FLAAR printing facility in Guatemala. We are tri-lingual there, German, Spanish, and English.
Macintosh OS X or PC Windows for digital imaging?
All universities have to eventually select between IBM and Macintosh. FLAAR used to be largely Mac-oriented. But more and more people in digital imaging now recognize that PCs have caught up. Besides, PCs today are more powerful and cost less.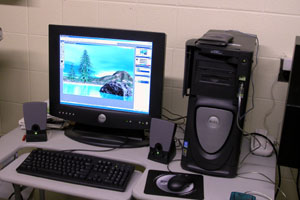 RIP server provided by BGSU to run the several printers in the FLAAR facilities here. a Dual 2.2 GHz Dell machine certainly RIPs the 400 MB files nice and quickly. We use PosterJet RIP. We appreciate the donation of the RIP and the substantial discount provided by Dell.
Here a 2.2 GHz dual processor (total 4.4 GHz of power). Sorry Macintosh, but to power wide format inkjet printer RIPs, you need a dual processor PC. FLAAR has more experience with Macintosh computers (we like the 22" cinema display; we lust after the 23"HD cinema display from Apple). But no 2.2 GHz Macintosh exists (actually Dell now offers a dual 3 GHz model). Unfortunately several of our 22" Apple Cinema displays developed defects that disfigure the screen with ugly discolorations. We do not know if the 23" or 20" Apple flat panel LCD monitors also have comparable defects.
But Dell offers such special prices for FLAAR that its tough to resist. Our university needed a 20-computer lab. The architects wanted all Macs; our tech manager wanted Macs; FLAAR was content with Macs. But the university felt that Dell offered better prices so we ended up with 20 Dell computers.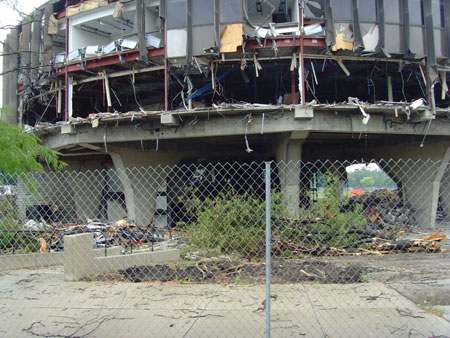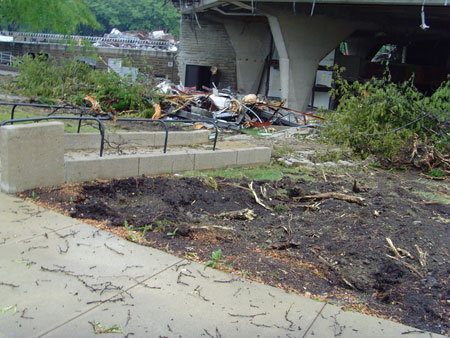 Unfortunately, partnering with a university has its benefits and its downsides. Here the university is tearing down the entire building where the digital imaging test labs of FLAAR were located! Fortunately FLAAR is agile and we moved to a new building on campus.
Then the university ran out of money so FLAAR simply returned to St Louis where we were contented before moving to Ohio. The entire time (while in St Louis and then in Ohio) our main office has always been, and still is, in Guatemala. Today, in 2010, FLAAR has a staff of more than 21 people: Technical Writers, evaluators, photographs, graphic designers, web masters, web designers, etc. The readership of FLAAR web sites is over one million people, and has grown substantially since we moved off campus and back to St Louis. Plus now our readership is much more worldwide and we cover textile and UV-cured flatbed printers (so much more coverage than the years at the university).
Most recently updated May 22, 2010.
Previous updates: May 26, 2003, Sep 16. 2002, May 31, 2002.