Replacement ink for HP latex ink printers: HP Designjet L25000
The HP Designjet L26500 is mentioned all over the HP web sites, so we look forward to inspecting the HP Designjet L26500 at SGIA.
Availability of aftermarket HP latex ink from reliable third-party ink sources will help sell more HP latex ink printers. This is what many printshop owners, managers, and printer operators tell me. Some printshop owners even say they will seriously consider buying the HP latex printer only when and if after-market ink is available from a third-party ink company.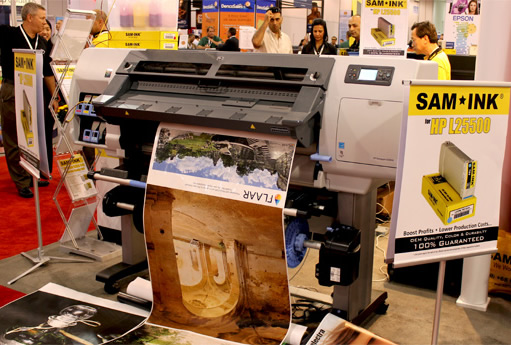 Here is the HP Designjet L25500 at SAM Ink booth. SAM Ink is the first company to make the after-market ink for HP latex L25500. SGIA 2010, Las Vegas.
Hence it is good news that Sam Ink is one of the first major international ink companies to openly discuss a viable after-market replacement ink for HP latex printers: latex ink for HP Designjet L25500 and HP Designjet L65500 to begin with.
There have been rumors of other after-market latex inks, but Sam Ink is one of the first outside China to have latex ink as an actual option (more than a laboratory prototype).
After-market third-party latex ink for HP Designjet L25500
After-market latex inks for the HP Designjet L25500 were rumored in early 2010; but their launch was postponed by each company because they had other priorities. So Sam Ink has done a good job to be first (at least the first that we have heard about that is available on every continent).
The latex ink after-market version for HP Designjet L25500 was launched first at SGIA 2010. You can see the latex ink working fully in HP latex printers at every expo. However we are not sure this ink is formally shipping.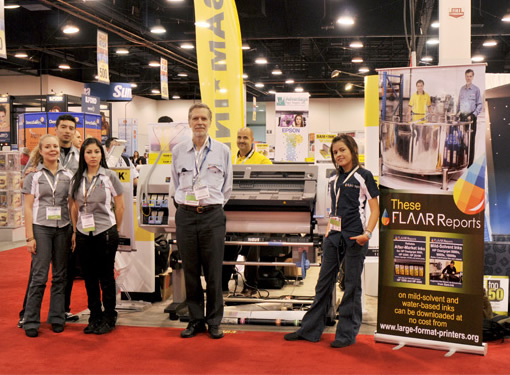 FLAAR staff at SAM Ink booth in SGIA Las Vegas, 2010. From left to right, Pablo Martinez, Maria Renee Ayau, Jacqueline Najera, Nicholas Hellmuth and Sofia Monzon.
Inspection of the latex ink in Singapore
FLAAR recently spent a week inspecting the R&D department and ink manufacturing for the latex ink. Two reports will result, one on the after-market latex ink, and a second report on the HP Designjet L25500 printer itself. These should be finished during mid-December.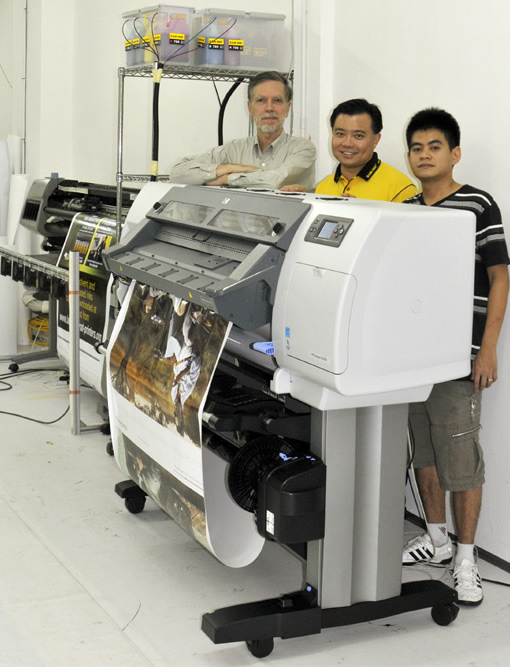 Here is Nicholas Hellmuth (at the left), Sam Leong (in the middle) and Cary Terent (at the right) in Singapore inspecting an HP Designjet L25500 that is using the after-market latex ink from Sam Ink.
HP Designjet L65500, now the HP Scitex LX600 and newer HP Scitex LX800
The HP Designjet L65500 has been renamed the HP Scitex LX600. Then the HP Scitex LX800 came out. For the first launch, the Sam Ink lists only the two original latex ink printers L25500 and L65500. And so far the emphasis at his booth at SGIA 2010 is for the HP Designjet L25500. The larger and more expensive HP Scitex LX600 and newer HP Scitex LX800 were not yet exhibited with after-market latex ink.
Just realize that although these two printers use, in theory at least, the same ink, the two printers are very different in most other respects: the L65500 is built from the ground up exclusively to handle latex ink curing needs. In distinction, the HP L25500 is based on the HP Z6100 chassis, which is a nice entry-level water-based printer chassis but not the serious production class of the two larger models. So the heating/curing system of the entry-level L25500 is not the same as the heating/curing system of the sophisticated HP Designjet L65500.
I found this out only when the owner of a print shop said he had both the entry-level L25500 and the larger L65500 and profiles and most other aspects were not transferable from one printer to the other. He had hoped he could use both printers to produce the same projects simultaneously. I will need to speak with more owners who have one (or more) of each printer to learn more about this situation.
After-market latex ink for Epson DX4 and DX5 print heads?
Three years ago I visited the testing facility for a latex ink for Epson printheads (in Roland printers). But recently I asked how the tests went, and the company said they had stopped development on this project. But an industry source told me recently that there was a company in North America retrofitting Mimaki printers with extra heaters in order to use HP latex ink directly from HP (obviously not sanctioned by HP company, but anyone can buy the latex ink on the open market).
Obviously knowing that HP latex ink can potentially work with Epson DX4 and/or Epson DX5 printheads shows even more potential for future third-party latex inks. There are several manufacturers in China of billboard printers with Epson printheads. Most use eco-solvent, mild-solvent, full-solvent, or other kinds of inks. Now they can consider developing new versions of their Chinese printers with enough heating to handle the curing of HP latex ink.
But if you are running that much heat through your printer, you need to have a professional electrical system otherwise you will have issues. One latex ink printer prototype that was prominently exhibited at APPPEXPO 2010, Shanghai last summer, looked rudimentary at best, and that is being polite. At D-PES and at Shanghai 2011, this primitive Chinese UV-cured printer was no longer exhibited.
Potential for HP latex ink will grow now that third-party latex ink is available
As long as HP is the sole source of latex ink, this definitely limits its appeal. So the primary benefit of the new after-market latex inks from Sam Ink is there will now be more interest in the HP printers, especially the Designjet L25500.
Most recently updated September 30, 2011.
Updated, August 18, 2011. First posted the first week of October, 2010, after SGIA (where the world's first after-market latex ink for HP printers was unveiled).