FLAAR evaluates Hewlett-Packard DesignJet 2800CP to replace Encad wide format printers.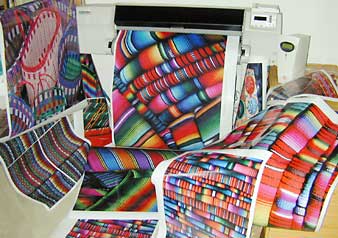 Prints made by HP DesignJet 2800CP.
After starting with an Encad NovaJet Pro 36" circa 1997, when we first received an HP Designjet 2800 to evaluate our reaction was, Wow, the photo-realistic quality produced by HP DesignJet 2800CP wide format printer exceeds our expectations. Just look at these colorful prints!

These are mostly images from 35mm slides. Try doing this in a normal darkroom. Yet scanning with a Scitex and printing with the Hewlett-Packard printer results in beautiful fine art prints every time. (CreoScitex EverSmart Supreme, now the Kodak EverSmart Supreme scanner).

These for the HP 2800cp inks are normal indoor inks. Our office has strong direct sunlight steaming in the windows. If these prints were from an Epson printer the images would fade quickly. Yet the Hewlett-Packard inks hold up well. If we used Hewlett-Packard pigmented inks the images would last into the next century.
Here is the Hewlett-Packard DesignJet 2800CP in the FLAAR office in Essen, Germany. Actually one of these prints is produced by a circa $25,000 printer (a Roland HiFi) and all the other prints are produced by the HP DesignJet 2800CP which definitely costs appreciably closer to the budget of a normal mortal.

Can you tell which print is from a $25,000 Roland printer and which is from an $15,000 HP printer? Actually you can get the essentially identical color printer from Hewlett-Packard as the model 2500 with an internal onboard RIP and save $5,000. That is a museum-quality printer for just $10,000.

Just calculate how much profit you can make producing prints of this quality.

Prints shown here are all from 35mm slides scanned on a Scitex EverSmart Supreme flatbed scanner. If you intend to use 35mm slides to enlarge on a wide format printer, be sure you select a scanner that has the necessary quality, such as any of the Scitex scanners. Check out Cameras-scanners-flaar.org and Flatbed-scanner-review.org to see what scanners are good, and what scanners you should avoid.]
Suggestions for deciding which water-based inkjet printer to buy today (2009)
These photos show FLAAR evaluations of printers many years ago. Today of course many users of water-based printers are switching to Canon iPF printers but HP are still made, as are Epson.

Back in 2000-2002 the main water-based printers were the HP Designjet 2500, 2800, 3500, 3800 and a few other models. These were then all replaced by the HP Designjet 5000 and then by the HP 5500. FLAAR evaluated all these year after year. But we have no evaluations of the HP 4000, 4500, or 6000 because we are occupied evaluating Durst Rho and a dozen other brands of UV-curable printers.
First, is it worthwhile to buy a used printer?
I would not recommend any used Encad NovaJet printer, not even their final model, the NovaJet 1000i (or Kodak 1200i, same printer). Encads just were too quirky. There are a dozen reasons why Encad went out of business (most detailed in FLAAR Reports).

Same reservations with used Epson printers; early Epson printers were rudimentary, suffered metamerism, and wasted huge amounts of over-priced ink. Recently model Epson printers, 7800 onwards, are okay as long as you know the occasional quirks and downsides of piezo printheads (thermal printheads have a few downsides and quirks of their own of course).

For additional information and for help making your decision, track down the "FLAAR report on signs, posters, banners" (specify whether for indoor signs or outdoor signs in the rain and sun) or for the FLAAR report on "Piezo vs Thermal printheads, fact vs fiction, pros and cons of each kind of inkjet printhead." You can also ask for the report on "Media and Inks for Photo-Realistic and Fine Art Giclee," or "Media and Inks for Sign Printing with Large Format Inkjet."
If this will be your first printer, then we have a special report that holds your hand and leads you through all the basic questions that will assist a first-time buyer of a large format printer.

Purchase the FLAAR report on "RIP + Help." This explains what RIP software is, why this is useful, and includes tips, warnings, information, and help for a wide range of matters for a newbie. Here you will really appreciate that FLAAR is based at a university; Professor Hellmuth has plenty of experience writing in a manner that explains what you need, and why.

We only recommend resources that offer competent technical support, experience based on years in the business, and a company where we have personally met (and checked out) the people behind the name.

Every two years there is either a new Canon iPF printer or a new Epson or a new HP water-based printer. It is hard to keep track of the new models. FLAAR is keeping track by visiting printshops that have these various brands. Each brand has its good points and a few deficiencies. Since FLAAR itself does not sell printers, for you to find out information on prices and availability of each model, we suggest you contact a company that offers all three brands: Canon, HP, and Epson. This way they are not going to push just one brand because they offer all three. One company that we know is LexJet. Dr Hellmuth has visited their national headquarters twice. LexJet sells all across the USA and to Latin America as well. Contact info is [email protected].

If you are in Latin America or otherwise outside USA, please contact your local national dealer. Most USA resellers do not sell outside the continental USA.
Most recently updated March 30, 2009.
Previous updates: August 02, 2001, March 11, 2005.
include '../plantilla-php/Textil_sidebar.php';?>