Canon ImagePROGRAF W8400 wide format inkjet printer reviews.
The Canon ImagePROGRAF W8400 has not been shown at most wide format trade shows. When it does appear, it is usually off to the side, not really featured. Although we do not have any recent model Canon printer, if we did, we would show it front and center, not pushed off to the side.
We have two earlier Canon ImagePROGRAF W-series printers already (w7250 and w8200). They are nicely designed and well built machines, though clearly Canon saw need for improvements, which is why the earlier models were rather quickly replaced. The replacements were the imagePROGRAF W6400 and W8400. Our evaluations and comments on these two earlier-model Canon printers, especially the imagePROGRAF W8200 have proven very popular, in part because they are the only reports on a bubblejet printhead machine written by a university-based lab that is respected for its reviews.
Italian trade magazines have already shown photos of the next generation of Canon printers and listed how many new models will appear. We are updating our "What's new in 2006" FLAAR Report with a quote. This report will be ready by mid-January.
A German trade magazine, Publishing Praxis, Nov/Dez 2005, pp. 46-49, found that the Canon imagePROGRAF W6400 had notable metamerism. Previously metamerism was primarily a problem with the Epson 7500, 9500 and a bit with the 7600 and 9600. Metamerism has been minimized for the Epson 4800, 7800, and 9800 due to the problems it caused with earlier Epson printers. Thus to see metamerism pop up on a Canon imagePROGRAF W6400 printer, does not bode well for their interest to enter the world of giclee and fine art photography. Since the W8400 uses the same ink, it is logical that it would also have metamerism issues.
This is why we prefer to test ourselves, but since we don't have either the w8400 or w6400, we can't comment on what the German lab states on metamerism.
Most people in the general public associate Canon with copiers and cameras. Most people don't realize that Canon makes wide format printers. As a result their market share during 2005 was only about 5%; it was 1% in 2002. HP has over 90% market share in the technical market in comparison.
The technical market is CAD, GIS, and technical drawings. Our background at FLAAR is in architecture and so we are asked by companies across the USA and around the world what kind of printers we recommend for graphic design, CAD, GIS, and technical drawings for electrical circuits, etc. We ourselves use HP printers for printing all these technical drawings, both at our university in Ohio and in our office in Guatemala (where we serve the growing market of Latin America in Mexico above us and the rest of South America below us).
Every two years there is either a new Canon iPF printer or a new Epson or a new HP water-based printer. It is hard to keep track of the new models. FLAAR is keeping track by visiting printshops that have these various brands. Each brand has its good points and a few deficiencies. Since FLAAR itself does not sell printers, for you to find out information on prices and availability of each model, we suggest you contact a company that offers all three brands: Canon, HP, and Epson. This way they are not going to push just one brand because they offer all three. One company that we know is LexJet. Dr Hellmuth has visited their national headquarters twice. LexJet sells all across the USA and to Latin America as well. Contact info is [email protected].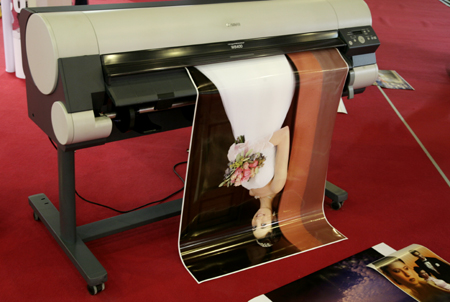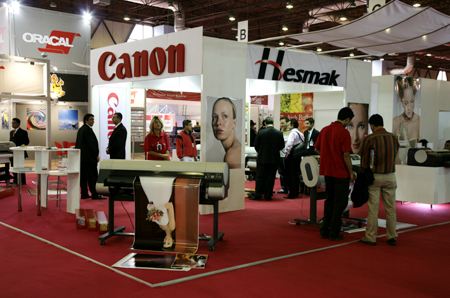 Canon imagePROGRAF 8400, Istanbul 2006.
Most recently updated January 16, 2006.
Previous updates: March 28, 2005.