FLAAR acquires second Epson printer for evaluation.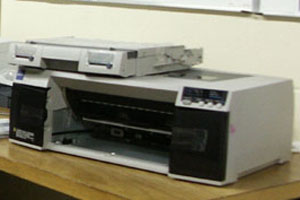 Epson Stylus Pro 5500 printer being unpacked in the FLAAR facility at Bowling Green State University.
The pigmented inks of the Epson 7500 look nice so we decided to add an additional Epson to our arsenal of printers. We felt it would be good to try out Epson's top-of-the-line desktop unit, their Stylus Pro 5500. This printer was taken off the market early in Europe because some photographers said it did not reproduce all the colors they needed. Subsequently Epson cancelled the 5500 printer line in the USA also. Color management specialists we talked with at tradeshows also stated clearly that the color gamut was unacceptable. Actually so far we have not noticed any particular glaring problem with this Epson printer. Of course today you have the options of the newer Epson 2200 or 7600.
The evaluations are being undertaken by a representative from the Art Department on campus as well as by Brent Cavanaugh, newly hired Lab Manager for the BGSU facility were all the FLAAR equipment is handled.
Over the course of the summer the results of the evaluation will be posted here and in PDF format.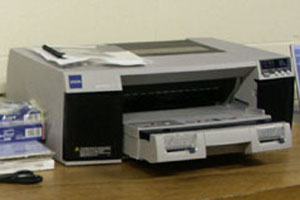 Yes, you can unpack and install this on your own. But don't do it when you have a photo which has a deadline of one hour.
One thing we can report, don't buy something like this low-bid from some cheap internet source. Sooner or later you may need some technical assistance over the telephone.
If you intend to print museum quality photos or fine art giclee then it is recommendable to purchase your printer from a place who know how to handle giclee.
If you intend to attempt doing B&W prints on any Epson, never buy that low bid. You will definitely need color management assistance to get rid of the green tint or other color tint. B&W is tough to do even on a thermal printhead machine such as an HP DesignJet and definitely a challenge with a piezo printer such as the Epson.
So if you are considering doing B&W images, learn how to prepare them in Adobe Photoshop (FLAAR now offers a new report on B&W Photography and black-and-white inkjet printing). We recommend Sundance inks with R9 software, available from [email protected]
The advantage of a place that offers both Epson, HP, and Epson is that they can provide some tips on the differences. If a store sells only one brand or the other, they will understandably push the brand they sell.
Most recently updated May 26, 2003.
Previous updates:May 13, 2002, Apr 25, 2002.