Kodak 1200i replaces Encad NovaJet 1000i wide format inkjet printer.
At FESPA 2005 trade show, May 31-June 4, there was no Epson booth, no Canon booth and no Kodak or Encad booth.
Roland, Mutoh, Mimaki, ColorSpan, and HP had booths with lots of printers.
FESPA is the largest printer trade show in Europe (after DRUPA). This year there were more new printers showcased at FESPA than at all other trade shows put together in the last year. So many people commented at the lack of a Kodak or Encad corporate booth.
But there was one lone Encad printer in the booth of Tepede, a respected company known in Germany, that sells many brands of printer. And right next to this one Encad printer was a "new" printer clearly labeled Kodak 1200i.
So we asked what was this new printer?
Much to our surprise, two people told us it was the same Encad 1000i, just with a different color, and a different name.
Curious.
Another person suggested it was the same old Encad printer with Kodak Quantum ink, and Kodak media and a "Kodak" RIP. Except that Kodak does not make RIPs, so the question is, whose RIP is this?
Dedicated RIPs have a long history. HP tried to offer a dedicated EFI RIP five years ago.
Epson tried to offer a dedicated EFI RIP.
Canon attempted to offer a dedicated RIP.
You do not have to be a professor of history to see the pattern.
But lets look at the positive benefits: if you have a turnkey system, everything works together. This locks you into one ink, and one brand of media. At least, at first, you don't have as much to worry about color management. Though realize that canned profiles do not work for sophisticated users. Sooner or later, an experienced production shop learns they need customized profiles. Once you learn to do customized profiles, then you can use any other media you want to.
Xerox also sells the Encad NovaJet 1000i, with a Xerox color sheet metal, as the Xerox 8160, and the Xerox 8142.
We will see what happens at SGIA and PhotoPlus trade shows this autumn. Kodak has disappointed professional photographers by stopping production of their nice SLR/n and SLR/c 35mm SLR digital cameras. We got excellent results with both these cameras. Yes, they had quirks; but all cameras and all printers have hiccups. But our exhibits have included prints from Kodak cameras and viewers of the exhibit were impressed by the quality of the results from these Kodak cameras. I have used a Kodak SLR/n for six months now.
When the postponed STIG 2005 was finally held in December 2005, there was no Kodak booth, no Encad booth, No Encad NovaJet 1000i, no Kodak 1200i, and no Xerox versions of these printers either, so no Xerox 8142 or Xerox 8160.
There was no Encad printer at PhotoPlus that we can remember either. The Kodak booth had shrunk to almost nothing. The only booth that was smaller was that of Agfa; Afga's photo division is now apparently now bankrupt. Fujifilm is the only film company that is not only surviving, but actually prospering. But Fujifilm does not own any inkjet printhead technology patents, so will never be a major force with inkjet printers.
In a recent trade magazine they seem to reveal why Kodak renamed the old Encad with a new model number: to escape the growing reputation for serious banding by the Encad NovaJet 1000i. The banding propensity of the Encad NovaJet 1000i is unfortunate, since for seven years we have heralded how the earlier Encad NovaJet printers escaped this defect. The Encad NovaJet was our favorite printer in 1997.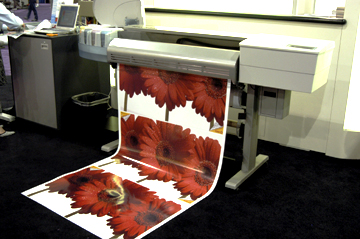 Angle view of Encad Novajet 1000i printer at ISA 2005.
Banding defects have marred primarily piezo printers and especially Roland printers of the era 2000-2003. But the banding on the Encad NovaJet 1000i must have been prevalent enough for Kodak to try to disassociate itself from the NovaJet name. So now we will try to find a Kodak version and see if there are any differences: the chassis and print engine and ink delivery system appear to be essentially identical.
We will also check to see how the Kodak 1200i does with textiles, since the busy surface texture of fabrics would hide any banding. The DigiFab exhibit at many trade shows features an Encad; they always have the most beautiful printed textiles of any booth at each trade show where they exhibit.
Encad itself seems to have disappeared.
It appears that the Encad NovaJet era is over. Indications are that the Encad manufacturing plant has been closed down, and what little was left of Encad has been absorbed by Kodak.
There was not a single Encad printer at PMA 2006 show, not even in the large Kodak booth.
At ISA 2006, there was no even a Kodak booth. One booth had some nice people with Xerox shirts; one had an obsolete XES shirt (Xerox Engineering Systems). They had one lone version of the Encad NovaJet 1000i, rebadged. They were not aware that most of Encad had been shut down. They said "everything is now run by Kodak." Yet there are no indications that Kodak is still manufacturing NovaJet printers. We are still working at gathering information, but people we have asked say that the only remnants of "Encad" are selling inks and media for people who already have their printers. Or selling the few remaining printers that are left in their warehouse.
Since Canon is flexing its muscle, it is probably an appropriate time for both Encad, Xerox, and Kodak to phase themselves out of inkjet printer development. Canon is showing its imagePROGRAF IPF9000 (at IPEX, not at ISA). Canon is interested in gobbling up what little market share remained at Encad.
We hope that Encad resurfaces, but doubt it will. The final insult was seeing a Chinese copy of an Encad 750 at ISA. Made in China.
Most recently updated April 10, 2006.
Previous updates:March 17, 2006, Jan. 16, 2006, June 10, 2005, after returning from FESPA.