Canon introduces imagePROGRAF iPF9000 at IPEX 2006.
Since IPEX in England and ISA in the USA were the same week, I decided to attend ISA since IPEX (like GraphExpo '05 and Print '06) is primarily an offset printer, copier, industrial printing show that has tacked on digital printing.
But it turned out that neither Canon nor Epson exhibited at ISA, primarily because their printers have not previously been recognized by sign print shops. Epson's nice printers, great for giclee, are too slow for sign printers, and 44" is too small. Besides, most sign shops are switching to eco-solvent or mild-solvent. We cover all kinds of solvent inkjet printers on our Large-format-printers.org website.
Since Canon copier division was showing their nice new copiers at IPEX, they added the inkjet printers from that part of Canon Inc too. But when I asked at ISA about why these printers were not being shown in America, they said that the 60" iPF9000 printer was "not yet finished" and would be delayed to be introduced in the USA until SGIA (unfortunately the same week as Photokina in Cologne). In the meantime I inspected the Canon iPF9000 at a trade show in Istanbul and at DecorExpo in Atlanta.
Anyway, the 60" Canon iPF9000 wide format inkjet printer is now at least being shown in Europe . It remains to be seen how it functions. We did not receive the w6400 or the w8400 for evaluation so can't judge one way or another. Besides, in the meantime, while the IPF9000 was slowly appearing, HP was able to get its Z2100 and Z3100 printers out. So all of a sudden Epson is faced by two capable competitors, and Canon's impressive new printers have both an 8-color and a 12-color alternative with the HP Z2100 and Z3100. In the meantime, the reviews on the Internet are bashing the Canon iPF5000 for a visible dot pattern. It is ironic that the very web sites that Canon was counting on to promote its new printers, these very same web sites are telling people not to buy the Canon iPF5000.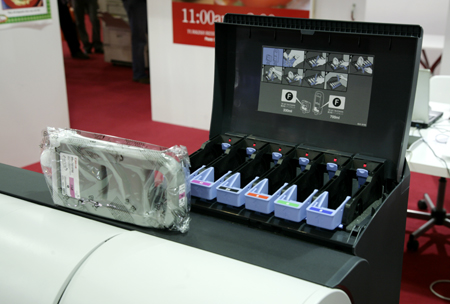 Canon imagePROGRAF 9000 Cardriges, Istanbul 2006
Which brand, Canon, Epson, HP, or Mutoh?
Every day, actually every hour, people write us asking what printer to buy for CAD, GIS, tradeshow graphics, in-house signage, print-for-pay, and a host of other needs. As a result of all these request, FLAAR evaluates printers. That is the role of our institute: we are match-makers. We match your needs, your applications, and suggest which range of printers best meets your goals. Now, in 2007, there is even more competition because the HP Z6100 is being listed by HP sources on the Internet.
Take CAD and GIS: now even Mutoh wants to sell CAD printers, their Mutoh DrafStation RJ-900 and RJ-901. HP came out with their Designjet 4500 system to rather quickly replace the 4000 system that did not set sales records. The HP Designjet 4000 was the first Designjet printer in six years that FLAAR did not evaluate (because it did not excite us with potential).
We are undecided on whether to evaluate the iPF5000 or iPF9000. The multiple colors intrigue us, and we already have a Canon EOS 5D camera to produce test images, but the new iPF 5000 and iPF 9000 look very complicated, and buyers might be nervous about the size and complexity of the system that has to hold all these inks. Plus we already have access to three current Epson printers and HP printers. People ask us constantly for our recommendations, but until we have a printer in-house, we do not wish to take a stance. In the meantime, we dedicate our resources to being #1 for evaluations of UV-curable flatbed inkjet printers, as you can see on Large-format-printers.org.
One of several major national dealers for all three brands of water-based printers is LexJet. They can answer any and all basic questions, as well as more advanced questions too. Telephone is toll-free, Dustin Stroh or Carey Masera, 800 453-9538.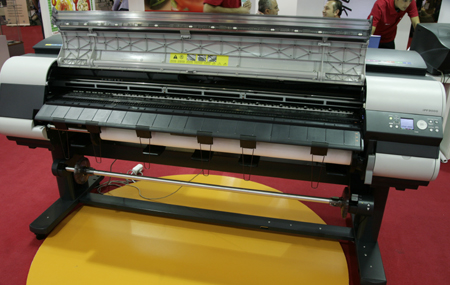 Canon imagePROGRAF 9000, Istanbul 2006
What about digital fine art? Giclee, Decor, and fine art photography?
One news release said the Canon imagePROGRAF iPF9000 is "aimed primarily at the print-for-pay sector including copy shops and professional print businesses." This would seem to position this outside digital fine art: giclee, decor and fine art photography.
At FLAAR, among our 23 printers, we have three HP 5000/HP 5500 printers. They produce giclee and decor every day. For fine art photography we use printers with a smaller picoliter droplet size such as the HP 130 and Epson 7600. An Epson 7800 is also available.
But lots of new technology is appearing this year such as the HP Designjet Z2100 photo series and HP Z3100 photo series, with "12-colors" (of course no printer has twelve different colors; we explain that on the respective pages).
We have several FLAAR Reports on the impressive displays at Art Expo Atlanta and Art Expo New York that show the first hint of the direction the new technology will take this year. These are free giclee reports that you receive in exchange for filling out an Inquiry/Survey Form.
Encad is now deceased, so HP and Canon will probably divide up what little market share poor Encad, Kodak, and Xerox had for their NovaJet 1000i ( Kodak 1200i) when it finally closed its San Diego facilities.
If you are looking for a place that is not a box-pusher (meaning you want a place that provides service after the sale), then one place we know for many years is Parrot Digigraphic. Their telephone is 978.670.7766.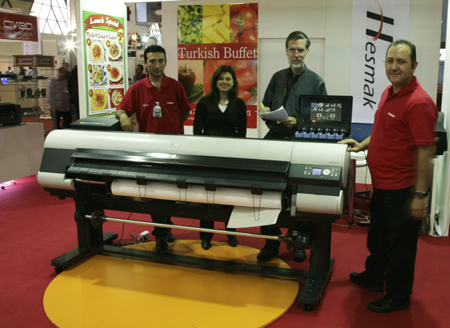 Nicholas Hellmuth, Handan Oskay (SignGraphics magazine, Turkey), and Canon dealer personnel with Canon imagePROGRAF iPF9000 at Outdoor & Indoor trade show, Istanbul.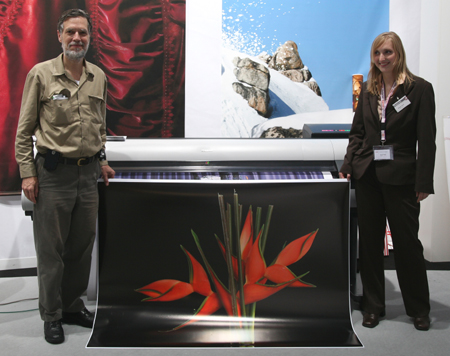 Nicholas Hellmuth and Mandy Daniel, color management specialist, with Nicholas's photo printed by Mandy on the Canon imagePROGRAF iPF9000 at Photokina, in Cologne. This image of a heliconia flower was photographed in Guatemala with a Phase One P25 provided courtesy of Global Imaging Inc.
Most recently updated December 15, 2008.
Previous updates: November 17, 2006, Oct 31, 2006, Sept 25, 2006, May 1, 2006, First posted April 10, 2006.