Training programs on digital imaging, videos, training CDs, seminars, workshops, conferences but which one(s) should you consider?
Each month we expand into another area of advanced digital imaging. On December 2001 we begin this section on training. Over time this section will expand, in the meantime, here is a starter on this page. Until we actually attend we cannot render an opinion, so to start with we list various alternative digital imaging training programs.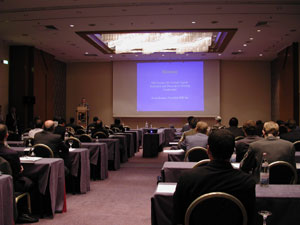 IMI Training in Portugal.
ADF: Arbeitskreis Digitale Fotografie holds training programs in Germany, contact Daniela Swoboda, [email protected].

GATF offers an Imaging Skills Training Curriculum based on their textbook-like titles. Graphic Arts Technical Foundation; their web site is gatf.org I review GATF books on another site, especially their excellent monographs on color management.
Graphic Intelligence Agency offers training for people interested in the ColorSpan DisplayMaker Series XII. Info is on colorspan.com, GIA also offers training for HP DesignJet printers. One of the FLAAR staff recently took this training to evaluate it. Report will be forthcoming.
Heidelberg, the mammoth German prepress scanning and printing company, offers a variety of training programs at their impressive headquarters in Germany.
Pixel Pond, digital media learning center, pixelpond.com, presented by Digital Output magazine. Digital Output is one of the leading trade publications for digital imaging.
Also check out the training programs of the Digital Printing & Imaging Association, at their web site, dpia.org
If you live in Europe, IMI teams up with Mike Willis of Pivotal Resources Limited and Dr Alan Hudd of Xennia Technology Limited for conferences in Europe. I attended six days of their excellent programs in Lisbon, Portugal recently. Contacts: [email protected] or [email protected].
FLAAR offers training programs via web-based training on digital photography for wide format inkjet printing at Bowling Green State University of Ohio. Fill out any contact form and ask about training.
For additional information and for help making your decision, ask for the FLAAR Reports on Color Management, or FLAAR Reports on trade shows and conferences.

Most recently updated December 01, 2001.