Reviews, HP Designjet Z2100 and 12-color, Hewlett-Packard HP Designjet Z3100ps GP Photo wide-format inkjet printers.
We were attending SGIA in Las Vegas Tuesday and Wednesday and then attended the last three days of Photokina '06, the same week but in far-away Cologne, Germany. We will see the HP Designjet Z2100 and Z3100 in both locations.
HP Designjet Z2100 and Hewlett-Packard Designjet Z3100 wide-format inkjet printers have spectrophotometer on board
Many years ago ColorSpan added color reading devices inside their printers (we have two of them). Now HP has moved further, in part due to HP's immense R&D budget.
X-Rite now owns GretagMacbeth, so everything to do with ICC profiles and color management are all controlled by one company. Thus HP can avail itself with one-stop shopping for everything it needs. Plus naturally HP Barcelona, and HP San Diego have plenty of color specialists already on board.
No matter how many other companies try to copy this ICC profile color management system in the future, what counts is that HP has it available today.
Print shops and printer operators that are accustomed to doing custom ICC profiles manually will continue to do this (and may even prefer it, since they can more easily wait for the ink to dry and for the color to stabilize). Color gamut changes slightly as the ink dries.
Price comparisons HP DesignJet Z2100, HP Designjet Z3100ps GP Photo, Canon, and Epson.
There is not really any fair price comparison between an HP Designjet Z2100 Photo or Designjet Z3100ps GP Photo because no other cheaper printer has the stamina and longevity of the HP. Also, with a piezo printer it costs about $10 to $11 to do a purge. Gary Kerr, who previously would use only Epson printers, said they are slower (much slower than thermal printheads), and waste more money in ink and media than you can imagine. Actually he does imagine it, he adds it up, and ordered a Canon iPF9000. The Epson 3800 was too small (and too late).
FLAAR sent him a Canon iPF5000 for testing (because we have no new HP printers for over a year; the Canon arrived and so this is what we had available). He liked it so much he went ahead and took delivery of the Canon iPF9000. Now the Canon iPF8000 is available and the iPF6000 is too.
Keep in mind that the HP Designjet Z2100 and Z3100 may be excellent, and could potentially have advantages over the Canon printers. But we don't have any recent HP printer and in any event they are too new to have a track record.
If you are looking for a place that is not a box-pusher (meaning you want a place that provides service after the sale), then one place we know for many years is Parrot Digigraphic. Their telephone is 978.670.7766.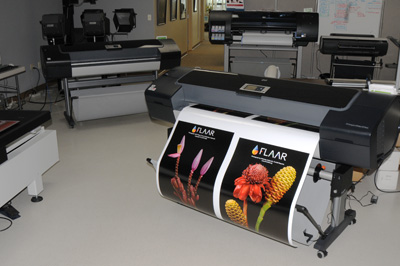 Here is the HP DesignJet Z3100 printing some sample at Parrot 2008.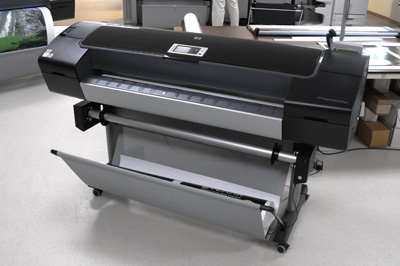 Front View HP Designjet Z3100 Pirinter at Parrot, 2008.
Most recently updated Feb. 4, 2008.
Previous updates: Feb 27. 2007, Nov. 17, 2006, September 27, 2006.
include '../plantilla-php/Textil_sidebar.php';?>