Roland FP-740 together with ATP Color: direct-to-fabric textile printer.
The basic printer is the Roland Hi-Fi Express FP-740. But a modified version was shown at SGIA; modified by ATP Color of Italy, and to be sold in the US by Splash of Color.
ATP Color has produced after-market versions of textile printers on Roland chassis as the ATP Tinta T74 (Roland SJ745), ATP Tinta T100 (Roland SJ 1045), etc.
But now ATP has a new more direct relationship with Roland. Their joint effort was presented at SGIA '07: the Roland FP-740 with processing system by ATP Color of Italy. The booth was so filled with normal Roland printers that it was difficult to see the Roland FP-740 printer in the far back of the booth.
I saw it again at VISCOM Italy 07 and again at this Milano show in November 2008. The ATPColor news release lists it as the Roland DFP-740 but the machine itself says Roland FP-740. Splash of Color lists it as the Heatwave DFP-74.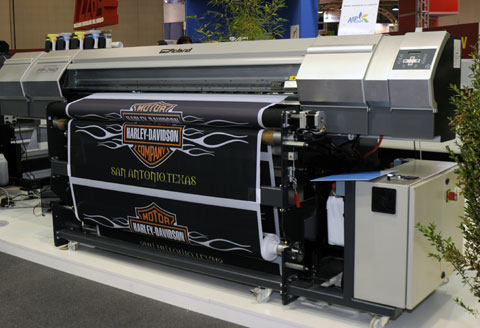 Here is the Roland Hi-Fi Express FP-740 at VISCOM Italy 2008.
Roland also offers a dye sublimation textile printer, Hi-Fi Jet Pro II FJ-740.
For flags, banners of all kinds, and general printing on polyester-based textiles, the Roland Hi-Fi Jet Pro II FJ-540 and FJ-740 is one of a dozen basic dye-sublimation printers.
The Mutoh Viper would be another dye-sublimation printer (the Mutoh Viper TX is for direct printing onto fabric).
The Roland USA web site lists the Roland Hi-Fi Express FP-740 as a dye-sublimation machine, as well as Roland Heatwave SP-300VS, SP-540VS, and SK-1045. These have no on-board sublimation units (so no calendering is in the machine; you need to do calendering separately).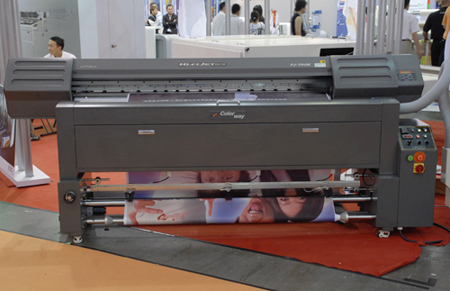 Roland Hi-Fi Express FJ-740 at Shanghai 2007.
Additional textile printers for comparison.
The textile printer I have the most personal experience with is the Yuhan-Kimberly UJET MC3 Premium Digital Textile Printer. It was possible to spend hours with the entire Yuhan-Kimberly textile design and management team as an invited guest at their headquarters in Seoul (December 2007 and again for several days in autumn 2008). They also provided all their manuals in both hard-copy and PDF format, so FLAAR can learn more about the system. Also they printed abundant samples of FLAAR photographs so we could see how our material looked on silk and other fabrics.
As soon as it is possible to have this much time and access to the ATP Color adaptation of the Roland Hi-Fi Express FP-740, or the Splash of Color Heatwave DFP-74, we will work at updating our coverage.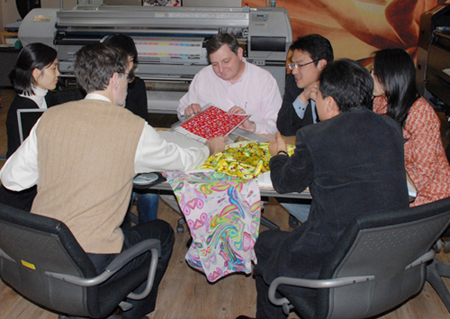 Nicholas studying the Yuhan-Kimberly textile printer in southern Seoul, Korea.
Most recently updated VISCOM Italy 2008.
Previous updates: Dec. 21, 2007.