Mutoh Viper TX, 65 inch and 90-inch.
This direct to fabric Mutoh Viper textile printer was introduced back in 2005. I have seen these printers at trade shows in the US but primarily in Europe (the home of Mutoh Europe, which is in Oostende, Belgium).
Mutoh Viper, Direct Transfer Printer (dye sublimation).
This is a dye-sublimation printer. The Mutoh Viper is designed to print onto dye-sub transfer paper with disperse dye inks (dye sublimation inks). These are water-based, and dye (not pigmented). There is also an after-market version by ATP Color (Italy), the ATP Tinta T64 Mutoh Viper.
Mutoh also has other Viper models available for direct textile printing; Viper TX Extreme, Viper TX Soft Sign, and Viper TX Professional. The main difference is that the Viper TX Extreme can print on fabrics such as silk, cotton, and polyester blends, and the other two models are exclusive for polyester.
Since Mutoh announced its Europe manufacturing plant is closing, we are still waiting to see what happens and how Mutoh Japan will handle the printer production in the future.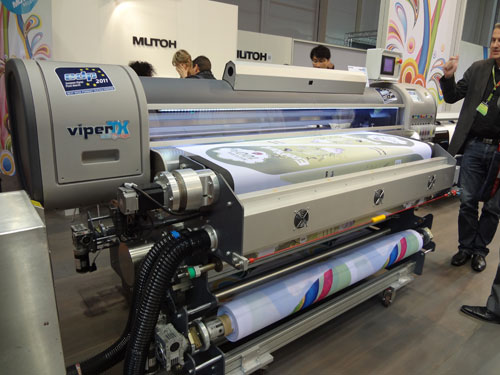 Mutoh Viper TX Soft Sign textile printer at FESPA Digital, Hamburg 2011.
Mutoh Viper Tx Extreme at SETeMa booth at FESPA Digital, Hamburg 2011.
Yuhan-Kimberly UJET MC2-P Digital Textile Printer, built on a Mutoh chassis.
The Mutoh Viper TX will handle fabrics that don't stretch. This is typical of most entry-level textile printers. If you wish to seriously print a wide range of fabrics, you need a machine whose roll-to-roll system can handle fabrics that stretch (since most woven products do stretch).
So Yuhan-Kimberly has designed a printer, built on a Mutoh chassis from Japan , that can handle stretch fabrics. This is the Yuhan-Kimberly UJET MC2-P Digital Textile Printer (this model does no longer exist).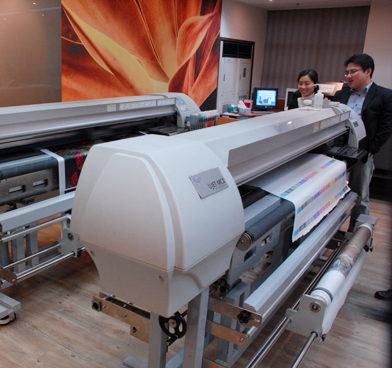 Yuhan-Kimberly UJET MC2-P Digital Textile Printer.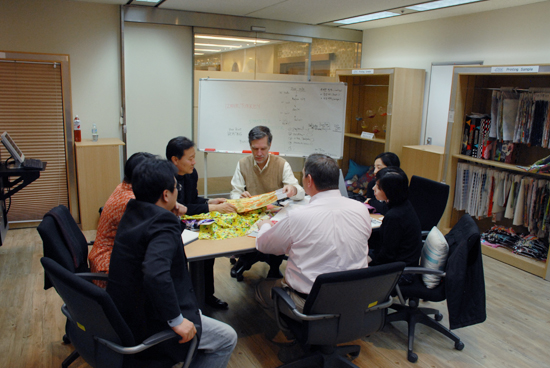 Nicholas Hellmuth with Yuhan-Kimberly managers.
Most recently updated August 26, 2008.
Previous updates: Dec. 1, 2008. Feb 28, 2008.