Piezo Electric Printers.
To have in-house capability of producing Wideformat color prints is a blessing. Every time you need a poster, banner, or enlargement, no need to send out to a repro shop, copy shop, or service bureau. FLAAR began with an Encad NovaJetPro 36 inch large format color printer with an EFI Fiery hardware PostScript RIP server. After a few years we upgraded to a Hewlett-Packard DesignJet 2800 and found this printer higher quality and much easier to use. On 2001 we have upgraded to an HP 800ps for one office and an HP 5000ps for our new office we are opening at a state university later this year.
To be able to print large format color any hour of the day or night, quickly and easily, is a valuable asset. It took less than 10 minutes to send, RIP, and print each of these prints (300 dpi, about 15 inches high, about 24 inches across). To see the actual original images, here is the link (the snapshots here are just a small portion of a larger sculpture).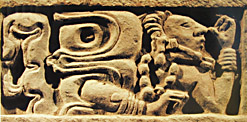 If you think these views of results from the large format ink jet printer are impressive quality, you ought to see the original color prints. What you see on this Web page are a snapshot (with Nikon CoolPix 950 of the actual Encad wide format color print.
Large format prints of this nature are intended to be viewed from about a meter distance (3 to 4 feet distance is ideal). 300 dpi large format prints will have a visable dot texture, which actually blends well with any natural material such as stone or ceramic, which has its own texture anyway. If you need fewer visible dots, then you need a continuous tone printer, which cost upwards of $130,000 to a quarter of a million dollars. In 2001, however, 1200 dpi is the minimum standard.
The photographs here are part of a FLAAR program to obtain technology, training, and equipment for the archaeology institutes of Honduras, Belize, Guatemala, and Mexico. Our first step is to ascertain which equipment is the most appropriate. We can report that the newer models of 600 dpi Encad and even better the 1200 dpi Hewlett-Packard wide format printer are definitely appropriate for any museum, research department, or institute. For an older model Encad you needed a technician to help clean its ink lines and clean the print heads. If you need to have an easier to use printer, and want to avoid needing a technician, we recommend a Hewlett-Packard DesignJet printer. Every college, university, or museum repro shop or in-house copy shop ought to have at least a 24 inch printer and preferably a 36 or 42 inch model for posters and banners.
If you really want technical details on inkjet media, inks, and/or inkjet printhead technology, and especially if you wish to meet the movers and shakers in this industry, be sure to sign up for the next conference organized by IMI. Their contact is [email protected]. These seminars are outstanding; the senior review editor of FLAAR usually attends because he can get so much fresh information for the readers of the FLAAR Reports in PDF format and the FLAAR Information Network of web sites.

Most recently updated August 02, 2001.