Apple Macintosh G4 computer in wide format digital imaging.
Many of the best prepress scanners work only on a Macintosh (Fuji Lanovia C-550, CreoScitex, and other scanners. Some of the high end professional digital cameras work only on a Macintosh (panorama mode of BetterLight Pano/WideView turntable).
Only a Mac operating system generates thumbnails automatically in every program. With a PC you have to tell the computer each time and manually make a thumbnail image of TIFF or JPEG files. FLAAR has 50,000 images in its photo archive. We don't have time to waste moving all these by hand into PC Windows format.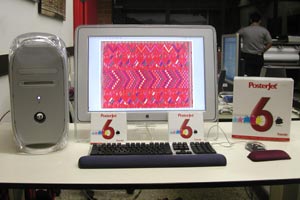 Apple G4, Ciname Display and PosterJet 6
Wide format inkjet printer RIP software with the Apple Macintosh G4.
Raster Image Processor (RIP) software is a combination of Adobe PostScript to remove the jaggies of text when printed at large sizes, together with layout software to help properly situate the images on the full size of wide format printer output.
Most RIP software was developed for PCs, in part to take advantage of dual Intel processors to handle RIPing to two large format printers simultaneously. But there are many artists, graphic designers, photographers, and other creative people who don't want to deal with a PC. Since FLAAR digital imaging programs are dedicated primarily to the Macintosh computer program, we are always on the lookout for a RIP software which works flawlessly with a Macintosh.
PosterJet is the RIP which FLAAR uses with the majority of its large format printers. It works seamlessly with both PC and Macintosh. So if your company has a Macintosh component, PosterJet is a good RIP to consider for handling Hewlett-Packard DesignJet, Mutoh or Encad NovaJet printers..
Most recently updated Aug 26. 2002.