We know the ColorSpan DisplayMaker XII and Mach 12 function because we use both daily.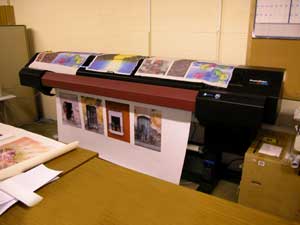 Colorspan Displaymaker at FLAAR.
FLAAR has one XII and one Mach 12. Both produce signs, posters, banners, and fine art giclee prints every day here at the university. We have the DisplayMaker XII with 8 colors (CMYK, light magenta, medium magenta, light cyan, medium magenta) and hope to add the four quad black B+W for fine art and museum quality photos shortly.
The Mach 12 has eight colors and we hope to upgrade it to full 12 colors this month.
The ColorSpan Mach 12 was exhibited two years ago and is gradually maturing. If you select triple CMYK mode you get all the speed of the Hewlett-Packard wide-path printheads plus three sets of parallel paths. These are the same HP printheads in the Hewlett-Packard DesignJet 5000 and 5500. Thus you get the expected quality of a thermal printhead design. But if you use 8 inks you get wider color gamut. If you employ all 12 inks you get still more color gamut.
The Epson printers can handle media up to 1.5 mm thick. The ColorSpan DisplayMaker Mach 12 can handle media up to 3.175 mm thick, so over twice as thick as any Epson printer.
Color management is on board. For most other printers you have to print a color swatch and then feed it manually into an X-Rite or GretagMacbeth color measuring tool. These cost between $2,000 and up to stratospheric prices. The ColorSpan has an auto-read magic eye camera built in. Can read linearization and color management profiles on normal media. Since transparent media is obviously transparent, that you need to either have backed or else do a manual test for backlit media.
This means you can create your own ICC color profiles in the comfort of your own office. Which means that for every media and ink combination you now have the International Color Consortium color profiles.
You can print on 24" media, 36" media, 42" or 54" or 60" or up to 72" media. Since MacDermid-ColorSpan also owns Kilborn photographic media company you can expect a good combination of ink and media. Every ink works best only with certain media. Some media works better with specific inks and not as well with another ink. So if you get the ink and media from the same company then the combination is widely documented to produce results superior to you merely using some miscellaneous media.
With my early model Encad, which lacks a dryer, I can appreciate the sophisticated dryer which is part of a ColorSpan DisplayMaker.
Anyone who owns a lesser printer will want the tilt-up printhead carriage now available on the Mach 12. This means you can clean the ink cartridges without pulling them out individually. The new model also has hot-swap ink change capability. It's clear that the new MacDermid owners of ColorSpan are working hard to improve over the earlier corporate owners (VirtualFund). The combination of new owners, new policies of improved tech support, and the new model all combine to make ColorSpan a printer that any sign shop, photo lab, or fine art giclee studio should seriously consider.
Improvements on the Mach 12.
When the Mach 12 first came out years ago it had serious banding defects. Thus we did not obtain this model in those years. Since then the printer has been fine-tuned and redesigned. When we felt the printer was ready, then we asked for one to evaluate. It arrived this summer. So far I have seen continued museum-quality output from the Mach 12 which is in the FLAAR lab a few feet from my office on the campus of Bowling Green State University. The Mach 12 works great and produces output you can sell to happy clients.
What most impressed me about the Mach 12 was the lack of grainy dot pattern which characterized the DisplayMaker XII and HP DesignJet 2000 and 3000 series. Of course if you are printing signs or tradeshow displays you don't see the grainy dots from a distance. But I want photo-realistic quality. This means I do not accept excessive dot pattern nor horizontal banding.
Actually one of the first people to come to our lab and ask for test prints was a person from the art department. They have other brands of printers there, but he walked a mile over to our building across campus because the Mach 12 and HP 5000ps are easier to use (and much more economical in ink and media) than the antiquated piezo printer in the art building. We use dye inks in the Mach 12 and pigmented inks in the HP. For most normal usage people prefer 8 colors dye in the Mach 12 because of its impressive color gamut.
Circa 2002 FLAAR moved directly adjacent to the art department, so we are already besieged by art students and faculty.
The Mach 12 is still fairly new, but gradually we are issuing reports and updating our web pages . We are also updating our tradeshow reports (SGIA '02) with info on the newer model of ColorSpan, the X12.
Informative FLAAR reports,
on large format printers at CeBIT and simultaneously at ISA trade shows

Best improvement of new model over previous model
shows which earlier models were "worst in show" last year but the replacement models presented at CeBIT and ISA trade shows 2001 were dramatically improved.
Most potential for a new model
which new inkjet printer prototype(s) may well develop into a future "Best in Show"
Most popular inkjet printer at show
Which large format printer was used in the booths of the greatest quantity of other digital imaging companies? Which inkjet printer got the most favorable comments from visitors and from other digital imaging professionals?
Highest Quality of any Solvent Ink printer

Thermal printhead technology has many pros and a few cons. Epson piezo-electric printhead technology has one positive feature and several downsides. Solvent-ink piezo printhead technology has two positive aspects and several negative aspects.

This we nominate a "best of class" for each technology. Due to so few printers of Herz, electrostatic or UV curable technology and so few of dye diffusion (dye sub resin and wax colorants), these printers are not in the "best of..." award system (but are definitely included in our FLAAR thematic reports).

Highest Quality of any thermal printhead printer
Highest Quality of any piezo printer
Most unimpressive printer(s) at the show.

Since the XES Xpress is phased out and as no Fuji-Hunt "Brady" printer was visible, there is no longer a "worst in show" award, but there were definitely several inkjet printers that simply don't match up to the better models of their competition.

These are potentially the printers you may wish to avoid, so this trade show report is an invaluable aid to any individual or company which is about to decide what printer to buy.

Covers Accuplot, Agfa, ANAgraph, Canon, ColorSpan, ColorWings, Encad, Epson, Gretag, Hewlett-Packard, Ilford, Konica, Matan Sprinter, Mimaki, Mutah, Nur, Oce, Roland, ScitexVision, Seiko, Stork, Vutek, XES (Xerox).

FLAAR Reports are in Adobe Acrobat (PDF) format so download easily and quickly. They open as an attractive report.

Our university is pleased to make these reports available to you as part of our sponsored program of public education.
Most recently updated July 31, 2007.
Previous updates: Nov. 12, 2002. August 1, 2002, July 31, 2007.