The Mimaki JF 0604 and the JF 1218.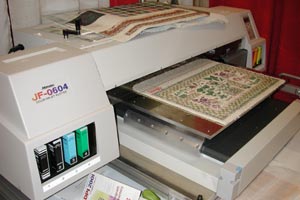 The Mimaki JF 0604 at DPI tradeshow.
Which of the new flatbed large format inkjet printers for thick and rigid materials is best? Mimaki JF 0604, Mimaki JF 1218, or the sophisticated Durst Rho or the American machine Vutek?
Flatbed inkjet printers are becoming very popular. First Durst produced a flatbed for about $460,000 or more (Durst Rho). Then Vutek presented the PressVu, which costs comparably. Then Gradco came out with their Gradco Mammoth. a completely different class of mid-range flatbed. Then at ISA trade show '01 Mimaki comes out with their two flatbeds, a small 16 x 23 inch model (the Mimaki JF 0604) and a medium sized 48 x 72 inch model (the Mimaki JF 1218). Like the Gradco Mammoth the two new Mimaki printers use Epson piezo printheads, This means acceptable quality but slow printing and water-based dye or pigmented inks, as with all Rolands, Mutoh, other Mimaki models, and the Epson 7000 and Epson 9000 printers.
More information when we have studied the printers in detail. This Mimaki flatbed wasn't available until April 2001 in any event. In the meantime we have gathered together the key facts on flatbed printers for rigid and thick material. This has been substantially updated during three days of analysis of UV curable and solvent ink flatbed printers at SGIA '02.
For additional information and for help making your decision, ask for the FLAAR report "Inkjet Printers for Thick and Rigid Material."
While you are at it, you can also ask for the "FLAAR report on inkjet printers for signs, posters, banners" (specify whether for indoor signs with normal inks or outdoor signs in the rain and sun with solvent inks on vinyl). If you are unsure which, then just tell us what you intend to print, whether this is your first (or second) printer, and what kind of help you need.
You can also ask for the report on "Media and Inks for Sign Printing with Large Format Inkjet."
If this will be your first printer, then we have a special report that holds your hand and leads you through all the basic questions that will assist a first-time buyer of a large format printer. Purchase the FLAAR report on "RIP + Help." This explains what RIP software is, why this is useful, and includes tips, warnings, information, and help for a wide range of matters for a newbie. Here you will really appreciate that FLAAR is based at a university; Professor Hellmuth has plenty of experience writing in a manner that explains what you need, and why.
No, we can't save you from printer problems that we don't know about, and yes, even the worst printer has some redeeming usefulness. Thus you need to make the final decision yourself. But at least we can provide plenty of helpful tips and warn you about the more subtle kinds of bait-and-switch advertising. We have seen printers advertised as "photo realistic" when in fact a photographer would be embarrassed to see his or her images on that printer. The slowest printer of all is flagrantly advertised with hype claiming it is the absolute fastest. Our tests also demonstrate that the output is so pathetic that you would throw the prints in the trash. You would also lose your clients if you attempted to charge them for such awful output.
On the subject of unusable output, if you wish to learn which inkjet printers won "worst in show" category, ask for the FLAAR evaluations of large format printers at trade shows: DRUPA, Seybold, Photokina '00, PhotoEast+SGIA, The Big Picture SHOW, and others. Most of these reports are available at no cost.
Most recently updated Dec 20, 2002.
Previous updates: August 02, 2001.