Canon adds 24" imagePROGRAF 7250 to its Canon BJ-W9000 wide format printer series.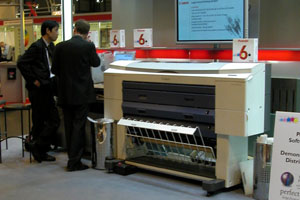 Canon BJ9000 at the Ipex Tradeshow
The Canon BJ-W9000 is fast and runs well on a speedy RIP named PosterJet. We use PosterJet on our HP 5000ps (don't have the Canon BJ-W9000, but have inspected it now at a dozen tradeshows).Both Canon and HP offer "1200 dpi." It's hard to tell sometimes what the true optical dpi of the printhead is, usually it's 600, expanded via software, multiple passes (and advertising). What counts is the images, does the Canon BJ-W9000 produce a better image, faster and easier, than an Encad, for example? Eventually we will have the opportunity to check the print quality side by side. At that point we will update this page. In the meantime, we are installing our second HP 5000 since we already liked the first one we have used for over a year (FLAAR is at two universities and our lab managers at each facility prefer the HP 5000). Our daily use of these printers demonstrated it's a great machine, especially for ease-of-use. This is why it helps to have the actual printer in our own facilities, so we can find out all its capabilities. You can find this title and others in the FLAAR premium reports. Downside of the nice Canon BJ-W9000 is it's lack of pigmented inks and narrow width. Plus it comes in one pre-assembled form (legs are permanently affixed to printer). This size makes it awkward to move into narrow elevators or up twisting, winding stairways. Otherwise the BJ-W9000 is an excellent inkjet printer, better in every way than the Selex predecessors before it. The BJ-W9000 looks well designed, solidly constructed, and the quality is truly photo-realistic. But several newer and faster printers are now available from Canon.
New Canon Wide Format Printers, imagePROGRAF 7200 and 7250.
Now, Canon has a series of newer printers, their imagePROGRAF series: W2200 is their desktop unit for up to 13 x 19 inch color. The first user we asked about it said the color was great and the speed was really fast.Canon also now offers a 24" printer, so a bit of competition for the popular Epson 7600, HP DesignJet 500 and HP 800. Like some of them the Canon imagePRO GRAF 7200 and 7250 offers no pigmented inks. As a result Epson has run away with the entire North American market for pigmented 24" printers for the photography, fine art giclee, and entry level market who demand longer lasting inks.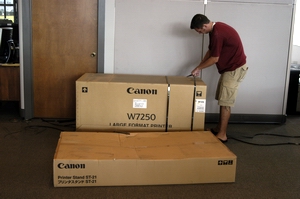 FLAAR has just received a Canon W7250 wide format printer that we will be reviewing at our facilities in BGSU, visit us again soon.
Next Canon pigmented ink printer, imagePROGRAF W8200.
Canon also has a newer faster 44 inch imagePROGRAF W8200 with pigmented ink already being sold in Japan. Was shown already in Europe at CeBIT tradeshow last March. Soon to be presented in America: when the Canon W8200 arrives you will see it first at FLAAR. Because to know whether this is the perfect match for your needs, that is the role of our institute: we are match-makers.

We match your needs, your applications, and suggest which range of printers best meets your goals. For example, if you need a fast printer for proofing, bubble-jet technology offers advantages over Epson's piezo. The professor of printing and proofing here at our university just finished testing the Canon W7250 using Mitsubishi proofing media. His report on the Canon W-7250 has been available for several years (in the FLAAR Series on Signs); our report on the 44" Canon W-8200 pigmented ink model is available too. Now, since April 2006, Canon is replacing their previous printers with the imagePROGRAF series, such as the 60" Canon imagePRO FRAF iPF9000. How to get FLAAR Reports? If you too wish to obtain the FLAAR reports and learn about our experiences with the twenty-three printers we have at two universities, there is no cost for the first level reports. Just find the Inquiry Form so we know what kind of printer you need. The FLAAR Reports are in Adobe Acrobat (PDF) format so download easily and quickly. They open as an attractive document in full color. If you prefer to order the FLAAR Reports directly, all 200+ reports are available from www.wide-format-printers.NET. Our university is pleased to make these reports available as part of our sponsored program of public education.Canon introduced two new printers in summer 2005: Canon imagePROGRAF W8400 and Canon imagePROGRAF W6400. The FLAAR Reports on the Canon imagePROGRAF W8200 and Canon W7250 are now available from the FLAAR Premium Report Series on Wide Format Printers for CAD-GIS and from Print-for-Pay.
If you are looking for a place that is not a box-pusher (meaning you want a place that provides service after the sale), then one place we know for many years is Parrot Digigraphic. Their telephone is 978.670.7766.