Color Wings for dye sublimation printing on textiles, as well as ceramic tiles and metal.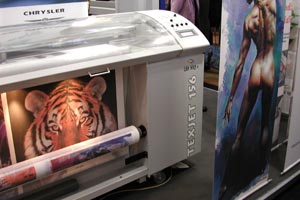 Color Wings Textile printer at CEBIT tradeshow
At CeBIT trade show I noticed a large booth which featured textiles. At either DRUPA or Photokina I found that company again, Compedo, and noticed the ColorWings printers in an adjacent section. The quality of the textile prints there were noteworthy.
Every day more people write FLAAR to ask what textile printing system do we recommend. As a result we are expanding our coverage of Mimaki, Stork, ColorSpan and other companies which offer printers which can print on textiles, either directly or via dye sublimation.
Color Wings is a company in The Netherlands. Color Wings uses Encad printheads for their Texjet 152. But this is not a relabeled Encad printer. The entire printer is designed from the ground up to handle dye sublimation inks and uncoated textiles. Color Wings also sells the Sublifix 200 which heat sublimates the ink from the transfer paper into the fibers of the textiles. Or you can select the Peko 1030 heat press. The advantage of the flat heat press is that you can dye sub transfer onto ceramic tiles (mosaics) and sheet metal.
You can request or purchase one of the FLAAR reports on textile printers to get the descriptions of all the other brands of printers which are appropriate for printing on textiles such as ColorSpan, Stork, Mimaki, and others.
Most recently updated December 8, 2001.