What about aftermarket Dicojet pigmented inks for Epson, Encad, Mimaki, Mutoh, Hewlett-Packard inkjet printers?.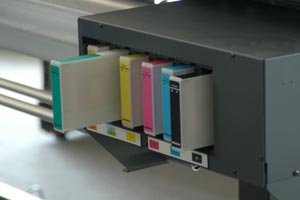 Mimaki JV4 ink system.
Should I use aftermarket inks in my large format inkjet printer? So many questions come to FLAAR resource center about inkjet inks that we are expanding our free large format inkjet printer report series to cover inks.
First question is "will my printer accept aftermarket inks?"
Next question is "will aftermarket inks clog my printheads?"
Another query is "will using other inks void my warranty?"
People often ask "will these inks last as long, longer, or not as well as the manufacturer's own inks?"
Questions that don't get asked (but should be) are: how many different kinds of inks are there? For example, what are UV curable inks?
FLAAR is opening an entire evaluation center at a state university to expand our services to people who wish assistance on such questions. It will be a while before we can further test the countless inks that are available. In the meantime the following reports are available:
"Inks and Media for Photo-Realistic Exhibit Quality Digital Printings on Canvas and Fine Art Giclee Prints."
"Inks and Media for Signs, Posters and Banners, using an Inkjet Printer" (such as Epson, Roland, Encad, HP, ColorSpan, etc.)
These reports in PDF format are available from any FLAAR Inquiry Form. There is no charge. All FLAAR reports are a public service from FLAAR+Francisco Marroquin University.
Most recently updated July 06, 2001.