Ixia replaces the Scitex Iris GPrint as premier giclee.
The Iris giclee printer is still the Rolls Royce of fine art printers. The most prestigious fine art giclee printing companies have Iris giclee printers. Giclee printing companies such as Harvest Productions (DPI Digital Pulse) have over twelve Iris printers printing in shifts around the clock.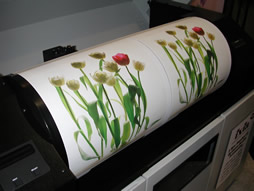 Ixia, the Greek word for Iris, is the improved upgrade for the former IrisGiclee version of the Iris 3047 printer.
If you want to add an Iris giclee printer to your arsenal just be aware that Iris division of CreoScitex itself no longer manufacturers the giclee printer. The new model, named Ixia, is made by ITNH. The Ixia is much improved. Had to be, because the original Iris GPrint (which is simply an Iris proofer retrofitted to handle artist's paper) has a number of inherent structural flaws. If you are in the $45,000 price range, then order the FLAAR report on the Iris printer (part of the Giclee Series). After reading this report (written by a longtime Iris user in Europe) you will be glad to learn about the alternatives, namely a Ixia. We obtained an Ixia and the quality is impressive.
But what do you do if your budget won't cover an Iris printer? Well, you can lease a Ixia wide format color printer, and then use your profits to pay off the printer. Or you can consider an Epson but some models have metamerism and other models such as Roland Hi-Fi? may have slight banding occasionally.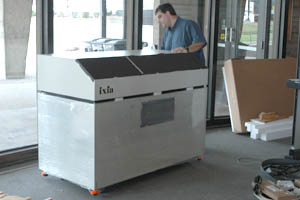 This is the installation of the new IXIA printer, in the FLAAR facilities at BGSU. Because Hertz continuous inkjet technology means just that, it squirts ink 24 hours a day, we occasionally have to turn the printer off. So unless you intend to print constantly, it is not an ideal printer for occasional use. But if you clients demand an Iris print, only a Ixia can produce that quality.
Some giclée studios use one of the several Colorspan printers, or the older Colorspan giclee printer. Actually the Colorspan 12-ink wide format model can also produce awesome fine art prints. The HP 5500ps is another attractive alternative because it does not have the banding defects that may plague some Roland printers. We have two Epson 7500 printers; one has severe metamerism color changes; the other prints with banding defects. Probably high humidity and clogged heads plus the cheap media (that came with the printer). As soon as we lower the humidity, use the nice new media that Epson now provides, we look forward to improved quality, but in the meantime we print everything on the Hewlett-Packard or ColorSpan since that does not suffer metamerism.
If you need someone to print your giclees for you, you can contact Gary Kerr.
To provide information for this growing market we opened a new web site, www.FineArtGicleePrinters.org. We soak up information from major trade shows and publish an entire Series on giclee printers.
Iris makes several different printers, in addition to giclee printers. CreoScitex Iris will continue to market their traditional proofers. It's only their giclee printer that is no longer being manufactured. If you need a printer for proofing, write and ask for the FLAAR report on inkjet proofers. We also have an entire series reports on RIPs. RIPs are necessary for color management and color proofing
Most recently updated Sept. 4, 2003.
Previous updates: July 3, 2003, August 27, 2001.