Introduction to the Fuji Hunt Piezo Colorpix wide format color inkjet printers.
Several years ago Brady Corporation's printer was taken over by Fuji. This business has now been formed into part of Fuji Hunt's new Digital Solutions Division. So this is the current home of the Fuji Piezo Colorpix wide format printer. Fuji Hunt is part of a large multinational corporation, such as Fuji Hunt Photographic Chemicals.
Once I get a full set of literature I will do my best to figure out what markets this Fuji large format printer is targeted for. The exhibit of prints at DRUPA was printed at a rather unusually low resolution, namely 160 x 320 dpi. Actually for that low a resolution the prints looked very nice, indeed about what you would expect for an Encad or other printer at 300 dpi. The Fuji output at 160 x 320 dpi looked better than output from a Mimaki (Epson heads) at 360 dpi.
So if the Fuji Piezo Colorpix is capable of doing 720 dpi, or even 1440 dpi, then its quality would be impressive, but this particular exhibit did not indicate that these higher dpi's could be achieved with this printer.
Nonetheless, the advantage of the Fuji over the Epson 7000 or Epson 9000 is that the Fuji inks are rated for outdoors. The advantage of the Fuji Piezo Colorpix over the Epson 7500 and 9500 are that the Fuji outdoor inks look mature, that is, they look nice across the entire spectrum of colors. Of course Epson will eventually replace their beta-level inks with actual inks that are acceptable to graphic designers, but as of DRUPA that was not yet the case.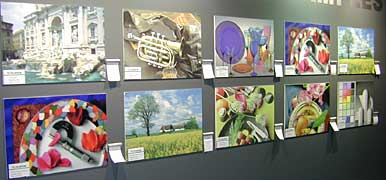 All this said and done, the grainy appearance of the 160 x 320 dpi would be totally unacceptable for fine art prints. Thus I did not understand why the million-dollar Fuji exhibit had the prints on public exhibit at that dpi. After all, Fuji makes one of the world's best flatbed scanners (the Lanovia) and the world's best digital printer (the Pictrography). But here in the inkjet realm it is almost as if stuck in a time warp with a low-dpi printer from the 1997 era (Brady printers were probably developed in the mid-1990's). That is the lower Pleistocene in time frame for development of large format inkjet printers.
If you want to see a 720 dpi, better quality, fine art printer, with superior pigmented archival inks, follow this link.
Maybe the Fuji Piezo Colorpix is not as slow at 160 x 320 dpi; that alone would be another advantage over Mutoh-Mimaki-Roland-Epson, all of which use the same basic 360 dpi heads from Epson. We will either try to get an evaluation printer for our studio or make a closer inspection at the next trade show. Otherwise we tend to concentrate our resources on the printers that most people write in and ask us about, namely Encad, Hewlett-Packard, ColorSpan, Epson, and Roland. Those printers cover about 80% of the market interest. In two years not a soul has asked us for an opinion on the Fuji, and only one person asked about a Mimaki; a few inquired about the Mutoh.
I recently got an e-mail from someone who had bought a used Fuji Colorpix. He got it at a real low price and indicated that as long as you don't get close enough to see the gritty background pattern the images are okay for basic signs. This just goes to show that every printer, even the worst one, is ideal for someone somewhere. Every printer has at least one saving grace.
For additional information and for help making your decision, ask for the "FLAAR report on signs, posters, banners" (specify whether for indoor signs or outdoor signs in the rain and sun) or for the FLAAR report on "Piezo vs Thermal printheads, fact vs fiction, pros and cons of each kind of inkjet printhead." You can also ask for the report on "Media and Inks for Photo-Realistic and Fine Art Giclee," or "Media and Inks for Sign Printing with Large Format Inkjet."
If this will be your first printer, then we have a special report that holds your hand and leads you through all the basic questions that will assist a first-time buyer of a large format printer. Purchase the FLAAR report on "RIP + Help." This explains what RIP software is, why this is useful, and includes tips, warnings, information, and help for a wide range of matters for a newbie. Here you will really appreciate that FLAAR is based at a university; Professor Hellmuth has plenty of experience writing in a manner that explains what you need, and why.
If you really want technical details on inkjet media, inks, and/or inkjet printhead technology, and especially if you wish to meet the movers and shakers in this industry, be sure to sign up for the next conference organized by IMI. Their contact is [email protected]. These seminars are outstanding; the senior review editor of FLAAR usually attends because he can get so much fresh information for the readers of the FLAAR Reports in PDF format and the FLAAR Information Network of web sites.
Most recently updated August 02, 2001.