Favorable opinion on the Epson Stylus Pro 7600 and Epson Stylus Pro 9600.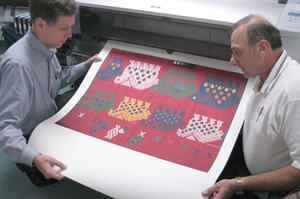 Dr. Nicholas Hellmuth and John Lorusso testing the Epson 9600. That's a FLAAR photo of an indigenous Mayan textile from Guatemala.
Epson has cleverly designed the Epson Stylus Pro 7600 and 9600 with precisely the features that overcome the majority of problems which were legendary with earlier models.
Epson has decided to overwhelm Encad, Kodak, Canon, and Hewlett-Packard in the market consisting of hobby photographers, pro-sumers, and professional photographers on a budget. For example, Epson is the only printer company in the world who offers a 24" wide format printer which accepts pigmented ink.
The Epson 7600 will also be used to produce giclée prints by artists and photographers who are just starting into this business. The ability of all Epson printers to accept the thick water color papers has endeared this name brand to artists across America and Canada.
FLAAR now has an Epson 7600 in addition to two 7500s, one at each university). So far everything we have heard about the 7600 suggests it is better in every respect over the 7500 other than slowness, ink usage and ink costs. But thousands of eager artists and photographers won't care. They will buy these new Epson printers by the truckload because the designers of these printers have listened carefully to what end users asked to have improved over the older 7000 and 7500 models.
The Epson 7600 and 9600 can dial out banding. Horizontal banding defects was an entrenched problem with almost all piezo printers of previous generations.
The Epson 7600 and 9600 have worked hard to eliminate or minimize metamerism color defects. Metamerism had been a serious problem with almost all piezo printers before summer 2002. The metamerism of the Epson 7500 and 9500 inks were legendary.
Besides, there is no alternative. Neither Kodak, Encad, Lexmark, Canon, nor HP offer a comparable printer of this print quality, with pigmented inks, and at such a low price. The fact that the RIP costs more than the printer itself won't phase most eager buyers since they won't buy a RIP at first anyway. Epson makes outstanding printer drivers so you don't need a RIP unless you desire advanced features of color management such as linearization or ICC color profiles, or unless you print text (which requires PostScript to remove the jaggies of alphanumeric symbols which requires a RIP).
Every two years there is either a new Canon iPF printer or a new Epson or a new HP water-based printer. It is hard to keep track of the new models. FLAAR is keeping track by visiting printshops that have these various brands. Each brand has its good points and a few deficiencies. Since FLAAR itself does not sell printers, for you to find out information on prices and availability of each model, we suggest you contact a company that offers all three brands: Canon, HP, and Epson. This way they are not going to push just one brand because they offer all three. One company that we know is LexJet. Dr Hellmuth has visited their national headquarters twice. LexJet sells all across the USA and to Latin America as well. Contact info is [email protected].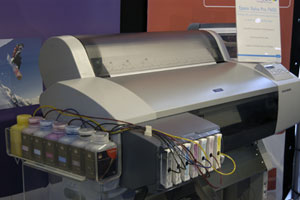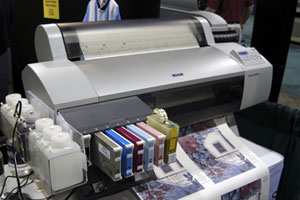 Here is the Epson Stylus Pro 7600 in different trade shows.
Most recently updated Aug. 22, 2003.
Previous updates: May 14, 2003, August 12, 2002.
include '../plantilla-php/seiko_sidebar.php'; ?>
include '../plantilla-php/Textil_sidebar.php';?>