Sources of information, links, tips on printing wallpaper, curtains, table coverings, ceramic tiles, with your large format printer.
It is possible to print your own curtain designs, do your own shower curtains, decorate your own ceramic tiles for kitchen or bathroom.
You can even digitally print a decoration on your rug or ceiling tiles.
Imagine doing wallpaper with all your favorite photographs.
For surfaces you can't print directly onto, why not do digital large format prints onto self-adhesive paper rolls? Decorate the entire front of your refrigerator, wrap your refrigerator just like the vehicle wrap you see elsewhere. You can even do this on a fabric-like material (see our reports on wallcovering materials from DECAL)
Five years ago you might have printed this with a normal Hewlett-Packard, Encad, or Mutoh (Epson) printer. Or if you wish to do it commercially, you can use these same printers or larger ones. But since 2008, there are more specialized printers and better inks. The Yuhan-Kimberly MC3 Express would be one such option in 2008, but today in 2011 an MTEX printer would be a more recent technology (Yuhan-Kimberly no longer makes textile inks or printers).
Every season FLAAR extends its reports into new areas of digital printing with wide format printers. We are now entering the world of direct digital printing on fabrics, dye sublimation heat transfer and the various special media and inks that are needed for doing custom wallpaper and everything else. We have a long way to go, but would like to share with you the results of our research so far. This will make your own search much easier because we list a lot of the pertinent companies and provide e-mails directly to the key people in these companies so you can obtain further information.
In addition to digital wallpaper, we are also going to be looking at window graphics (decoration of glass for the home and office). So 2011-2012 will bring more comments on décor and interior decoration, especially wallpaper, wall coverings, and wall murals.
The various reports that you need are highlighted. We have done much of the advance research for you. Just follow the links, ask for the appropriate reports by filling out the inquiry form, and the reports will be sent to you by e-mail.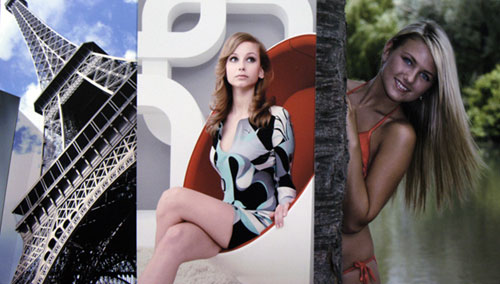 Samples printed by Agfa :Anapurna M at SGIA 2008.

Most recently updated May 16, 2011.
Previous updates: Oct. 30, 2008, August 2, 2001, December 1, 2008.