What ink(s) to use for wide format printers?
The still growing market of wide format printers has led more and more companies to produce better inks. These new generations of inks offer longer life than inks of even just a few years ago.
Ilford's Archiva inks got a good start with considerable favorable publicity. When I tested Ilford's OEM version of the Encad and the ColorSpan I presume it was Ilford Archiva ink that was in the machines. Whatever ink it was sure got lots of attention when I show people the prints.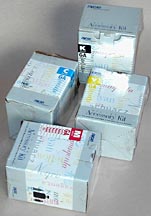 These are the inks that came with your original Encad printer (Encad is one of the best selling wide format printers in the world).
Should you continue to use Encad ink, or switch to a different ink? We use Encad inks exclusively, but are very tempted to test and review other inks.
In past years the FLAAR network of web sites has reviewed media (Rexam and American Ink Jet Corporation) but has not covered inks. This is in part because Encad claims its warranty is voided if non-Encad ink is included. Of course it is not fully legal of a company to make this claim or use this scare tactic. The offerings of other inks are so widespread, and everywhere I go people want to learn about other inks, that it is now time to focus on the choice available. After all, this is the cornerstone of American industry, the wide variety of competitive products producing better products precisely due to competition.
There is no easy way to ascertain which inks are made by which companies and relabeled by an OEM company elsewhere. Ink, however, should be purchased only from a reliable company. The inks listed here are from companies well established in the inkjet industry.
Aftermarket inks for wide format printers

IJ Technologies, St Louis
inks for inkjet printers

1 (800) 356-6962

Lyson
for Epson; black and sepia, archival inks

lyson.com

Opaate, Cerographic giclee pigmented wax
sounds like a distinctly different coloring system (unless it is based on Tektronix crayon-like coloring material).

opaate.com

Sihl
color matched to Encad inks, for indoor and water proof outdoor applications.

sihlusa.com

Staedtler
A wide variety of inks for all kinds of inkjet printers. We know and recommend Staedtler inks

staedtler-usa.com

Van Son Holland Ink Corporation
best known company which has made inks for traditional printing presses for decades, now has inks for digital wide format printers

vansonink.com
Van Son inks can fill the bulk ink containers of your earlier model Encad NovaJet wide format printers. An indoor ink and a UVA dye based ink are available. Since Van Son has been making printing inks in the European tradition for decades you can count on an ink of the utmost professional quality.
Ink delivery systems for wide format printers

Colossal Graphics
went out of business
Magellan Materials & Supplies
bulk ink system for Encad Chroma 24
For additional information and for help making your decision, ask for the "FLAAR report on signs, posters, banners" (specify whether for indoor signs or outdoor signs in the rain and sun) or for the FLAAR report on "Piezo vs Thermal printheads, fact vs fiction, pros and cons of each kind of inkjet printhead." You can also ask for the report on "Media and Inks for Photo-Realistic and Fine Art Giclee," or "Media and Inks for Sign Printing with Large Format Inkjet."

Most recently updated August 02, 2001.