Tips on inkjet media for wide format printers.
Today, as we enter 2017, we at FLAAR Reports are updating our studies and publications on printable material: media and substrates.
Media means a substrate which has a chemical coating to allow it to handle the inkjet ink (especially water-based inks and eco-solvent inks).
If you use UV-cured inks, or full-strength solvent inks, you do not as often need a chemical coating on the media. However for UV-curing printers, you may need a primer if printing on a slippery surface such as Coroplast.
APPPEXPO

2016
Above are the front covers of publications of recent years, which can help you learn about media and printable substrates available nowadays
The text below is from 2002; we leave it as a documentation of how many years we have been studying inkjet media. But for 2017, it is better to read our FLAAR Reports from the last three years (some of which you can see above).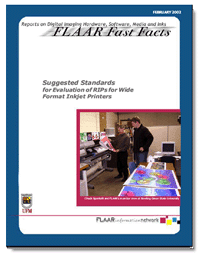 FLAAR Reports include an ample list of every kind of wide format inkjet media from metal foil to static-cling to rice paper, waterproof to leather. This list is adopted with fresh facts we gathered ourselves during tradeshow visits to booths of inkjet paper companies during 2001 and 2002, based originally on a list in the June 2000 issue of Electronic Publishing, a trade magazine. We are pleased that we were able to add many kinds of material that was not listed there, namely newsprint and Kraft paper. Raw newsprint and Kraft paper can both be used with the HP DesignJet 1050 and 1055. Newsprint is used for proofing for newspapers. It may help to have a special RIP to handle the ink on that kind of untreated media; SeeColor and ColorBus each provide the necessary software. For more info on RIPs ask for the FLAAR Report on RIPs.
Be sure to recognize that other than this media on those printers, 99% of the other media and for almost all printers you need coated inkjet receptor layer on the surface. In most cases regular paper will ruin your printheads and/or simply won't accept the ink. Also, the ICC color management profiles are based on coated media.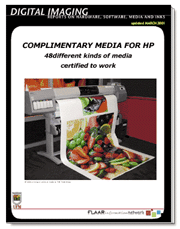 Some of the new lite solvent inks still require coated media too, so nowadays not all solvent ink printers accept the low cost plain vinyl substrates. Be wary when someone offers you a low-cost solvent ink printer. The required coated media may price you out of the market when you try to print things for clients. Ask for the FLAAR Report on solvent ink printers

A good list of media is from Hewlett-Packard's complementary media which includes about 40 or 50 kinds of media that have been tested to work with HP DesignJet 2000cp and 3000cp printers. That list can be found by digging deep into the large format DesignJet portion of hp.com, or by asking FLAAR to send you that list as a report by e-mail in Adobe PDF format.

We don't yet know of a corresponding list for the HP 800 or 5000, so we are working at making one.

The following in the FLAAR reports is a basic generic tabulation. Anyone working in a niche market, such as fine art giclee printers, will have their own jargon and their own distinctive media which may, or may not be, subsumed under the terms given here. We welcome constructive critique for media we overlooked.

We cover inkjet textiles in a separate FLAAR Report.

Over the next year we will provide as much information as we can about each class of media, but we have a long way to go. Each company uses slightly different terms, so knowing where to place "satin finished media" is a challenge I will avoid at present.

Paper
-newsprint, raw uncoated newsprint, only on certain printers and with the help of specific RIPs
-Kraft paper, raw, uncoated, gives an artsy appearance to CAD and graphics designs when using CAD printers
- bond paper
- economy bond
- heavy bond
- colored
- translucent
- photo material
- photo glossy
- photo semi glossy
- photo matte
- removable adhesive backed
- rice paper
- tracing paper
- watercolor paper
- wet strength paper

Canvas
-artist canvas
- gloss canvas
- matte

Vinyl
-adhesive backed
- non adhesive backed
- scrim
- static cling

Speciality media
- holographic
- leather
- lenticular
- metallic film
- metalized paper
- view-thru polycarbonate

Fabric, textiles most are available from 3P Inkjet Textiles

If you seek inkjet textiles, you might learn lots of tips and information from the FLAAR Report on printing on textiles.
Banner material
-nylon reinforced
- polyethelene
- reinforced poster paper
- polyester cloth
- Tyvek
Film
- backlit
- backprint
- clear
- clear static cling
- matte
- opaque white


Where to actually find the proper media? Don't buy inkjet media low-bid over the Internet from some miscellaneous source. There is lots of junk out there. The surface rubs off just by rolling the media up; or the media has dust, grit, or defects on the surface which cause expensive head strikes if you have a Roland, Epson, Mutoh, or Mimaki. Other lesser kinds of of media causes horizontal banding defects.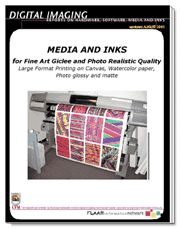 Thus we recommend only trusted sources of media. We have inspected the facilities of each company to make sure they have experienced technical support and a wide range of appropriate media specifically for your printer.
For additional information and for help making your decision, also ask for the report on "Media and Inks for Photo-Realistic and Fine Art Giclee," or "Media and Inks for Sign Printing with Large Format Inkjet"
You might also enjoy our report on "Inks and Colorants for Wide Format Inkjet Printers"

Most recently updated February 2017.
Previous updates: August 22, 2002, May 31, 2002, May 14, 2002, August 02, 2001.