Better Light large format digital scanning camera with Schneider-Kreuznach lens and Wisner 4x5 on location.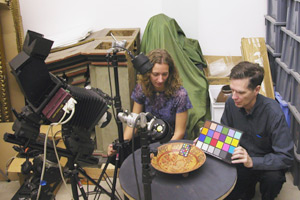 Nicholas Hellmuth testing the BetterLight System
Michael Collette, Better Light digital systems, has developed the only dual-mode large format digital camera system. The Better Light software and turntable can do seamless 360 degree panoramas or can rotate round objects (such as Maya vases) and create a rollout photograph of the circumference. Stephen Johnson has accomplished countless panoramas of the National Parks and Nicholas Hellmuth has successfully recorded hundreds of Maya ceramic vases in the turntable rollout mode.
The resulting panorama photographs contain enough true optical dpi to enable enlarging them with a good wide format printer. Large format printers from Hewlett-Packard, Roland HiFi, ColorSpan, or special printers from Iris, Cymbolic Sciences, or Durst can produce awesome enlargements. Our wide format printing is aided by an EFI Fiery RIP (PostScript RIP server). We have found media from Rexam Graphics to work well. Laminating the print helps considerably, GBC, Ledco, Seal, and USI produce good laminating equipment for wide format ink jet prints.
Gitzo tripod, Manfrotto tripod head, and Wisner portable large format 4x5 camera aid in professional digital photography.
Most people think this kind of wooden camera was made in the 19th century. Actually these 4x5 field cameras are still handmade by Wisner today.
The digital portion of the system is the Better Light insert. This fits into the space normally occupied by a film holder.
I use Schneider and Rodenstock lenses for their acclaimed German quality. My lenses are the traditional models but it is recommended that you acquire the newer digital lenses if you intend to make enlargements of your digital images.
Below the camera (standing up from the tripod head) is the turntable. This rotates so the camera can take a seamless panorama. It takes one vertical pixel row at a time.
A 180 degree panorama is about 300 to 400 MB for a single picture. The system will also do a full 360 degrees, but the files get rather large. Earlier versions of Photoshop had a hard time handling more than about 300 MB at a time though I have opened one as large as 410 MB. How can we store digital files that large?
Six months testing by F.L.A.A.R. on location in remote areas of Central America resulted in recognizing which equipment was the most practical when on the move. We tested in Guatemala and Honduras. In previous seasons we have tested photography equipment and accessories in Belize, Mexico, Japan, and throughout Europe (reviews are available through www.cameras-scanners-flaar.org). Recently F.L.A.A.R.moved the equipment to St Louis to initiate panorama photography of the picturesque Ozark Mountains area of rural Missouri. Over the summer our photo team is at work in the Ruhr River valley of eastern Germany (near Essen, which is not far from Cologne so we can attend Photokina every day this autumn).
Where to store the kind of large images produced by a large format 4x5 digital camea? RAID for storing digital files | DVD-RAM, the newest alternative | CD-R burners.
Contact is Mike Collete at [email protected]
Most recently updated July 06, 2001