Easy way to print posters and banners, even fine art giclee prints, full color, any size, with a large format color printer.
Instead of having an outside print shop do your posters, banners or fine art giclee prints do them in-house with a wide format ink jet printer such as Roland HiFi, Colorspan, Mimaki, Iris or the more economical Hewlett-Packard. If your image has a strong pattern to hide the dot structure you can also use an Encad to produce signs and posters. Museums, art galleries, can create unique fine art giclee prints, posters and banners as can any business that needs advertisements or point of purchase signs. But what large format printers can do the best job? What is a fine art giclee printer?
With a printing press you had to print 500 or a thousand or more posters as minimum print run. But what if you only need a dozen fine art prints, posters or just one banner?
Now, with digital technology, you can print as many, or as few, posters and banners as you need.
Lettering can be changed from one poster to another. You can make individual lettering for each particular situation.
We started off in 1997 with an EFI Fiery RIP with the Encad Nova Jet Pro. If the original image was itself grainy, such as rough stone, you did not notice the sandy pattern of the dot pattern of the Lexmark printheads.
Here are rollouts of two Late Classic vases from Tiquisate, Museo Popol Vuh, Guatemala (www.maya-archaeology.org) done with an early generation Encad (only 300 dpi at that time).
Now the newer Hewlett-Packard DesignJet series of printers produce slightly better quality photographic images than Encad so we have switched to using HP DesignJet wide format printers. We are now reprinting all our images on these newer HP printers (we have the 2800 CP, HP 1055), two HP 5000, and HP 500ps and HP 800ps, along with several Epson printers and two ColorSpan printers, most provided courtesy of their respective manufacturers. We thank Encad for getting all this started, since they sent the first wide format inkjet printer we ever had, back in 1997. Visit our page on the NovaJet 1000i.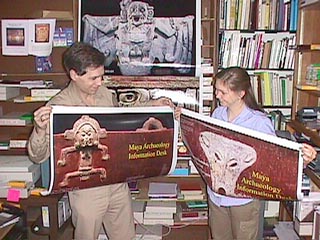 That's Nicholas and Andrea in the FLAAR office (you can tell from all the books this is a research institution). These are the results from the Encad printer, which was great for its day (1997). Now we are spoiled by the improved image quality of the Hewlett-Packard DesignJet printers for ease of use, Epson printers for impressive image quality, and ColorSpan for color depth and color brilliance that really pops. After all, this is the year 2003 now, and what was okay in 1997 is practically archaic today.
Of course Encad too has improved their printers gradually over the ensuing years. But the fine art giclee market has its own traditions (put bluntly, museum curators and art patrons live in their own artificial world; sorry, I know, my PhD is in art history from a European university after an undergraduate degree from Harvard with my college years spent mostly in museums on campus and several stints at Yale University's Dept of History of Art thereafter).
The pigmented inks of an Encad will last longer than anything produced by an Iris... but collectors still prefer an Iris print for fine art giclee.
I can easily produce fine art giclee quality from even the oldest grainy dotty vintage '96 Encad printer. Indeed our museum has these Encad prints proudly on the wall. And the same museum turned down a print from a piezo printer because (at its lowest dpi) it's output was unacceptable. With a $97,000 Cruse digital camera I can produce fine art giclee prints with any Encad. But the world of curators and collectors still want an Iris print (now it would be from an Ixia printer since even Scitex dropped the Iris printer due to its legendary mechanical defects). In that sense an Encad actually could do things an Iris failed to, namely produce prints without defects. Usually you had to throw away most of the prints from an Iris due to all the defects. I hardly ever had to throw away any of my Encad prints.
What photo paper do we select for either our Encad or HP printers? The media (photo semi-gloss) is from Rexam Image Products, rexamimageproducts.com. We also use media from IJ Technologies and other companies.
Questions about RIP software to run your printer? Check out the descriptions of RIPs on this web site and on www.FineArtGicleePrinters.org. Our survey of RIPs documents that PosterJet is one of the fastest and easiest to use. We also hear nice things about the Wasatch RIP.
If your business requires color management then BESTColor RIP is a good choice if you do proofing with your wide format printer.
What printers are capable of doing fine art prints? The ultimate fine art giclee printer is the Iris but by the end of this year you will be able to get outstanding quality from other printers for a fraction of the cost of the $75,000 Iris.
Most recently updated June 1, 2002.
Previous updates:July 12, 2001.