Canon BJ-W9000 is much better than older BJ-W7000.
Canon has at last produced a photo-quality wide format printer, the Canon BJ-W9000. After stumbling with the low quality Selex-based BJ-W7000, Canon has now proven it can match both HP and Epson in photo-realistic quality. The earlier BJ-W7000 and earlier Canon models are reportedly developed around the older Selex system, which was okay several years ago perhaps but is not as good as even an Encad today.
The Selex-Canon was especially prone to banding defects, also a problem with most piezo-electric systems. In distinction, the new six color 1200 dpi system matches HP in virtually all aspects, especially high speed. All that is missing with the new Canon is UV pigmented inks for longevity. Only dye-based inks are available for the BJ-W9000. But that will soon change, since Canon introduced pigmented ink with their new imagePROGRAF W8200 already in Europe (at CeBIT in March).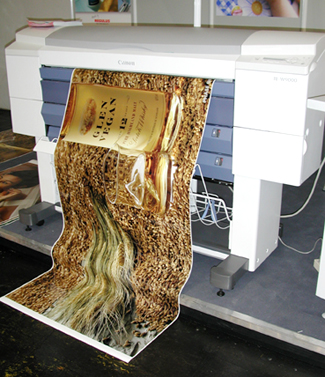 Canon BJ-W9000 at a CeBIT Trade Show.
Newer imagePROGRAF W7250.
Canon now offers a 24" model, the image PROGRAF W7250. 24" is where all the entry level action is. HP has no 24" pigmented ink version of its top model 5000 either, only 42" and 60". This is because pay-for-print, repro shops and all the commercial and in-house installations want the wider format. It's primarily individuals, SOHO, and beginners who prefer the 24" models. Thus Epson has gobbled up virtually this entire 24" market with its pigmented ink version of the Epson 7600, since the Encad Chroma 24 offers only a weak 300 dpi and just four colors.
The FLAAR Report on the Canon W7250 is now available, as part of the Series on printers for signs. Actually the printer is targeted for proofing, quick print, print for pay, and comparable markets.
Finally, pigmented inks for the Canon imagePROGRAF printers.
CeBIT is a tradeshow in Europe. Canon used this venue to show its prototype for pigmented inks. It is called the imagePROGRAF W8200 Pigment. Here is a quote from a person who saw the printer at work: "The colors looked great. Bright gamuts, fast drying time and no problems at all during the complete CeBit. Printer was literally printing 8 hours a day." (Robert Eisfeld, Bonn, Germany)
Another nice feature of the Canon series of inkjet printers is that they work well with PosterJet software RIP. The PosterJet company has an outlet in the USA, namely Scarab Graphics.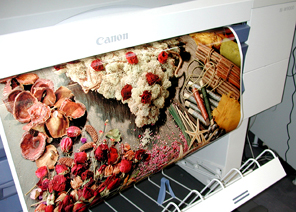 Canon BJ-W9000 at a CeBIT Trade Show.
If you have a Canon printer outside the USA, e-mail contact is [email protected]. If you do not get response let us know ([email protected]) and we will see if there is another e-mail for them.
The general feel is that if Canon can produce a full 1200 x 1200 dpi (more than 1200 x 600) or a true 2400 dpi printer, with durable archival pigmented inks, that this will be competitive against Roland, Mutoh, and Mimaki, plus regain market share from Epson.
If you are unsure which FLAAR report is best for you, just write us and explain what you intend to print, whether this is for commercial use or in a small fledging business, whether you are new to this or already have another inkjet printer, and so on. This way our staff can judge which FLAAR reports are most appropriate for you.
Canon is introducing two new printers in summer 2005: Canon imagePROGRAF W8400 and Canon imagePROGRAF W6400.
The FLAAR Reports on the Canon imagePROGRAF W8200 and Canon W7250 are now available from the FLAAR Premium Report Series on Wide Format Printers for CAD-GIS and from Print-for-Pay.
Every two years there is either a new Canon iPF printer or a new Epson or a new HP water-based printer. It is hard to keep track of the new models. FLAAR is keeping track by visiting printshops that have these various brands. Each brand has its good points and a few deficiencies. Since FLAAR itself does not sell printers, for you to find out information on prices and availability of each model, we suggest you contact a company that offers all three brands: Canon, HP, and Epson. This way they are not going to push just one brand because they offer all three. One company that we know is LexJet. Dr Hellmuth has visited their national headquarters twice. LexJet sells all across the USA and to Latin America as well. Contact info is [email protected].
Most recently updated Aug. 20, 2003.
Previous updates: May 12, 2003, Nov. 21, 2002, Nov. 23, 2001.
include '../plantilla-php/Textil_sidebar.php';?>