Which Vinyl Cutter to Buy.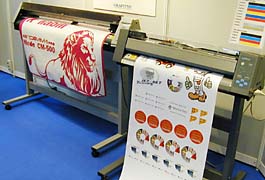 Which vinyl cutting plotter is best? Mimaki, Gerber, Roland, ANAgraph. Graphtec (Western Graphics), DuraChrome and SummaSign, or others?
Each machine has its advantages but if you want the high-end combo model (inkjet printer on same machine as the cutter), then Roland CammJet would be one choice. Roland is a well known name in high-quality printers for high-end printing. The Roland CammJet adds vinyl-cutting capability to its many other features. Main downside is lack of speed. You also may get occasionally banding tracks across the image if you set the options for less slowness or if the printheads get a bit clogged. Piezo printers have a few generic defects (as you can learn if you obtain the FLAAR Report on piezo vs thermal printheads). Otherwise, for nice print quality, any Roland is better than an Encad NovaCut or the Graphtec rebranded version of Encad.
However the newer Graphtec JX2000 is notably better than the pseudo Encad NovaCut. Plus the Graphtec JX2000 may be faster and less prone to banding than the Roland.
If you need only a vinyl cutter, with no inkjet printing capability, then consider the ANA Express Elite Cutter. or the Mimaki cutters such as their CG-EX series or CG-LX series cutting plotters.
Mimaki has a reputation for making precision equipment. Their JV4 inkjet printer is more sophisticated than either the Roland PRO II or the Epson 10600 (all of which use identical printheads). We do not have a vinly cutter yet, so for additional information we would recommend you contact Mimaki directly: contact Mike Terlizzi, [email protected]
For additional information, ask for the FLAAR report on signs, posters, banners.

Most recently updated Jan. 20, 2003.
Previous updates: August 02, 2001.
Additional updates January 2003 onward are also being placed into the FLAAR reports in PDF format, available from Wide-format-printers.NET