Canon BJ-W9000 vs the older BJ-W7000 wide format printer.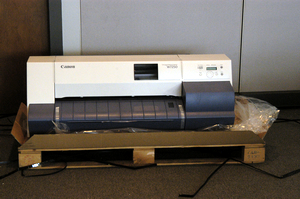 FLAAR just receive a new canon W7250 soon will have full review soon
While most large format color printers are moving to the wider formats such as 50 to 72 inches wide, Canon has cleverly recognized that a huge market still exists for 36" large format color printers.
Since Canon is already well known for color quality on its color copiers, Canon hoped its printer would be a logical choice for repro shops (which have tended to select the HP 2500 and/or HP 3500 in previous years and which not prefer the HP 5000ps).
So far, however, Canon has not been as successful in wide format inkjet printing as they are in cameras and copiers. In copiers they about wiped out Xerox; in cameras they give Nikon and Olympus a run for their money. Unfortunately we do not have a single Canon camera featured on our www.digital-photography.org; we have nine wide format printers now, but not one single Canon printer, not even their nice desktop model 8500.
HP has supplied us with a DesignJet 2800cp, 800ps, 1050cm, two 5000's (one 42" at our university in Guatemala; one 60" at our university in USA). ColorSpan has supplied two 72" printers; Epson has provided several printers. Even Encad sent us one (actually the first printer we ever got).
So regretably we have no way to comment first-hand on the accomplishments and capabilities of the Canon BJ-W9000. We see the Canon printers only at trade shows. Whereas with Epson, Roland, Encad, and HP printers we get daily information on how they work in real life, nary a peep about the Canon. We need to see how the printer holds up to daily use, how long the ink lasts (ink in the Encad lasts almost forever and thus we rate the Encad high on cost-effectiveness; Hewlett-Packard inks last even longer). We need to ascertain whether an average user can make the Canon work without need of technical help, etc.
So, hopefully shortly we will be able to provide a full-scale review and recommendation for this useful product. One thing we can mention in advance is Canon's selection of Electronics for Imaging for an EFI Fiery RIP. You may, or may not, want this RIP. Be sure to read the discussions on this site, and additional discussions on www.FineArtGicleePrinters.org before you decide whether, or not, to buy this rather costly RIP. Other software RIPs may provide the features you need at less cost. We would recommend PosterJet RIP as better than EFI Fiery RIP in all respects, especially speed and upgradeability. In Europe PosterJet is the RIP favored by Canon incorporated, a much better choice.
Fortunately, for their new printers, imagePROGRAF series, Canon dropped the EFI as official RIP, as have almost all other wide format printer manufacturers except Epson.
Nowhere on the several Canon web pages that I viewed are either PosterJet RIP even listed or mentioned. Not a good sign. In Europe Canon features PosterJET, a fast and reliable RIP.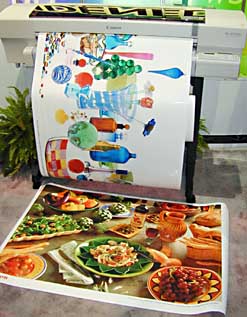 It was possible to inspect the Canon bubblejet BJ-W9000 at Seybold '99 (San Francisco), again at the Comdex '99 (Las Vegas) then at DRUPA in Duesseldorf, Germany (May 2000). We saw the Canon printer manager most at Photo Expo East 2001 and at several tradeshows early in 2002.
At IPEX it was possible to learn about the newer Canon printers. These were shown in America at Seybold: imagePROGRAF W2200, imagePROGRAF W7200, and imagePROGRAF W7250. Their output looks very nice. The printers look well designed and strongly built. Regretably we still don't have a single Canon printer at either of the two universities where we have our research facilities, so we can't comment on their other capabilities from any first-hand experience.
The original Canon wide format experiments and its Selex Cousins.
Note, the text on this page has been moved into FLAAR Report on used printers sinc the new year 2002 Canon printers don't really have much legacy from the old Selex models.
Potential of Canon BJ-W9000, albeit unfulfilled.
Canon holds more patents on inkjet printhead technology than almost any other company (as many as HP and probably more than Epson). The new Canon BJ-W9000 is a well designed machine that produces impressive output. All the glitches of the older Selex-based model are gone. The BJ-W9000 is a better printer than any of their earlier attempts.
But few people ask about it. Actually the inquiry rate on the FLAAR system for the Canon printer was less than that of Kodak (which was a sad 2%). Ilford had equally low showing for it's Encad clones, a mere 1%.
Then FLAAR ran a brief feature article on the Canon (two years ago) and the inquiry rate shot up. But it took Canon a year to get the prototype into production and we took the feature off because at that early date the BJ-W9000 was not being delivered. Now the printer is deliverable, but virtually no dealer sells it. Evidently their experiences with the ill-fated B-W7000 dimmed their enthusiasm. If you search on the Internet under Canon BJ-W9000 you find that 90% of the entries are Canon's official PR department. FLAAR observations are higher in the search engine results than any other independent outside reports.
It's ironic; we have never heard a single bad thing about the Canon printer other than that the colors fade quickly (as is hardly a surprise, they are dye colors). So here is a great machine, going nowhere fast. At least its not as sad a story as the Konica 8-color Iguazu printer. The Konica printer was shown with great fanfare at DRUPA 2000 and Photokina and I probably saw it at CeBit as well. Konica press releases proudly said they planned to sell 20,000 units the first year. Konica even had a press release for PMA 2001 (February). The Iguazu 1044SD was officially released in Japan in late May 2001.
But at Print '01 tradeshow, the Konica booth featured an Hewlett-Packard DesignJet 5000ps to show off Konica's proofing media. At least Canon got their printer to the tradeshows so they are ahead of Konica in that aspect. Plus, now, Canon has a new 24" model, the imagePROGRAF W7200, as well as a new desktop and new 36" model. These printers deserve more attention.
Canon is introducing two new printers in summer 2005: Canon imagePROGRAF W8400 and Canon imagePROGRAF W6400.
The FLAAR Reports on the Canon imagePROGRAF W8200 and Canon W7250 are now available from the FLAAR Premium Report Series on Wide Format Printers for CAD-GIS and from Print-for-Pay.
Most recently updated Nov. 18, 2002.
Previous updates: Nov. 25, 2001.