Comparing 24-inch wide format inkjet printers: Encad Chroma 24, Epson 7600, Canon W6200, HP DesignJet 130.
Years ago Encad offered an entry-level 24" printer, the Encad Chroma 24.
One of the advantages of the Chroma 24 was that you can learn all about wide format printers without having to sink $20,000+ into fancy equipment. You can easily install the Chroma 24 and print images 36" wide. How can you print 36" wide on a 24" printer? Easily, just have the software turn the image sideways. You can print a 24x36" image easily on a Chroma 24 lengthwise. Yes, naturally it is more practical to get a 36" wide printer to start with (if you are a commercial print shop you may want an even wider model). But if you are curious whether wide format is for you, for use at home or on weekends, for use at school or in a museum, or if your budget is limited, no need to go without a wide format printer.
The Encad Chroma 24 could get many people started into the world of wide format digital printing. More than 80% of the posters pictured in this entire web site www.wide-format-printers.org are printed on 24" paper. Although in 1997 we started with a 36" printer and at times it would be more helpful to have a 50" to 70" printer, for actual daily use a 24" printer is definitely better than none at all. We did not acquire a 72" printer until 2000; now we have two of them, both from ColorSpan.
The Encad Chroma 24 is long ago sold out by now and most people who want a 24" printer were stuck with the Epson 7000 . The Epson quality is clearly superior to the output of any Encad but it can take 30 minutes for a single print or an hour for a banner. Then the prints fade in a few days if you have them in a sunny room.
To resolve the fast-fade reputation, Epson produced a replacement model. But this Epson 7500 was only an unfinished prototype when it was presented at the DRUPA printer trade show in Germany in May 2000, so don't get lulled into believing the hype about it until they work the flaws out of the new system. Epson took several more years to produce the 7600. This was designed to eliminate metamerism, ozone discoloration and other problems of previous models. Now Epson is working at getting rid of gloss differentiation (bronzing) which is an ugly flaw when you use pigmented inks on glossy paper.
If you are interested in the newest 24" printers and want to know what we actually saw and experienced during the two weeks at DRUPA 2004, you can always contact the review editor of www.wide-format-printers.org, Nicholas Hellmuth.
The Chroma 24 was a great deal seven years ago, but we recommend you save your money and opt for the newer systems from Canon or Hewlett-Packard.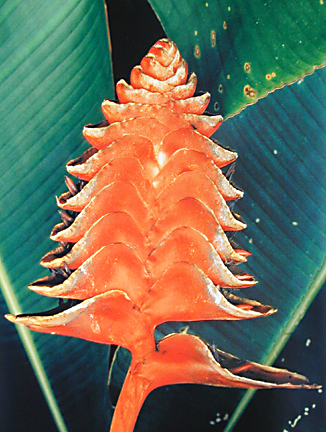 Prints of the size you see here can be handled with an Encad Chroma 24, or of course any wider format ink jet printer. If you have the wider NovaJet printers you can switch rolls of paper from 36" to 24". It takes about 1 minute to switch a roll of paper. When you switch paper, however, first check out some practical tips on changing the media rolls.
How does the Encad Chroma 24 compare with the Epson 7000? Like all Epson printers the quality of the color is really nice. But how permanent are the colors? They are very permanent... permanently faded. Problem is that the colors fade, quickly. Put an Epson print out in the sun; put a second copy safely in a closet or desk drawer (out of all light). At the end of the day compare the Epson print that was out in the full sunlight with the Epson print that was in the dark.
The same fading will occur indoors if even ambient light reaches the image. The same fading plagues the Epson 1520 , Epson 3000 , Epson 5000, Epson 9000 , and all desktop Epson printers.
Prints from an Encad will last several years hanging on the wall (I know, I have them still hanging on the wall). They still have their color. I had to remove my Epson prints because they lost their color so quickly. Hewlett-Packard dye inks for their 2000, 3000, and 5000 series last about 5 months. HP pigmented inks last for decades.
Main disadvantage of all the Encad printers is that the images have a visible dot pattern. This is especially obvious on 300 dpi Encad printers such as the Chroma 24. You quickly notice that the image is formed of a pattern of very obvious dots. This kind of dot pattern is not acceptable for fine art prints nor for photo-realistic needs (in other words these prints are nowhere near continuous tone). This situation is not as bad on 600 dpi Encad printers, but if you take the same print on a 600 dpi Encad printer and compare it with the results from a 600 dpi Hewlett-Packard DesignJet that uses stochastic printing mode, you immediately notice that the quality of the HP print is better.
Today all Epson printers and all Canon printers have better quality: no more grainy dot pattern. By summer 2004 the HP DesignJet 30 and 130 will have reached this point also; but those new printheads are not yet available for HP's larger sized 5500ps.
Has Encad improved their quality in 2004? Visit our page on the NovaJet 1000i.
What scanner should you use to prepare your images for a wide format printer?
Most recently updated March 29, 2004.
Previous updates: June 1, 2002.