Epson Stylus Pro 11880, my first impressions.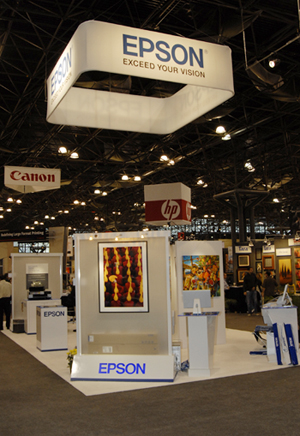 Epson booth at Art Expo 2007. The art exhibit is nice, but the printers are last year's technology, and so the booth is empty.
Industry reports suggest that Epson's profits have collapsed.
During 2003, 2004, 2005, and 2006, the Epson booths at trade shows in the US and Europe were popular. Sometimes the crowds were so large there were lines waiting to get into the booth.
At the ArtExpo world exhibition in New York in 2007, the Epson booth was empty. Zero visitors, not a soul (not all day, but most of the time when I passed by the Epson booth, few if any visitors were in the booth).
At the adjacent Canon booth there were several visitors looking at the Canon iPF8000 and iPF9000. But no crowds as used to be in an Epson booth several years ago.
The HP booth, organized by Andy Wood of Squirt Printing, had the most visitors of all. They also had several sophisticated Z-series HP Designjet Z2100 and/or Z3100 printers for giclee, décor, and fine art photography.
The reason that the Epson booth was empty was because Canon and HP had better technology, better printheads, and more features on their printers. The Canon iPF9000 was quite fast as well (due to the inherent benefits of a thermal 'bubblejet' printhead).
For years Epson tried to claim that piezo printheads were superior. Yet HP sold more HP 5000 and HP 5500 printers than all Epson wide-format printer models put together.
In effect, Epson produced everything it had in its bag of tricks already with the model 7800, 9800, and 4800. There was simply not that much else to unveil.
Now the Epson Stylus Pro 11880 is finally being shown to the public. It has no unexpected features; it has no specific features of dramatic impact, and the most crucial question is, what does it offer that is not already as good, better, or faster with Canon iPF9100 and the HP Z3100 or Z6100?
Other than smoke and mirrors, namely fancy names for features that attempt to make it sound special.
What had I hoped to see?
What I had hoped to see was breakthrough speed, incredible color spectrum, and other features that showed that Epson had some life left.
But now, the improvements between one model and another are disappointing. The Epson Stylus Pro 11880 is not bad, it simply is not the leading edge any more.
Perhaps if we eventually had access to one to our in-house testing, we could find features that impress us. But what impresses us so far, is how 90% of what I have read in the Internet is just repetitive PR releases with fancy names. For example, it claims 2.6 times faster. Since piezo printheads are inherently slow, you could also call it 2.6 times less slow than the previous model. Of course the HP Z-3100 is no speed demon, but the Canon iPF9000 is quite speedy.
Until I see how the Epson Stylus Pro 11800 can handle my 48-megapixel panoramics from a large-format BetterLight camera, or until I can see how the Epson 11880 can handle shots from my Phase One 22-megapixel P25+ or Leaf Aptus 75S camera backs, I will withhold my recommendations.
In past years FLAAR had undertaken in-house tests of the Epson 4000, 7500, 7600, and 7800. Several million readers of the FLAAR digital photography, fine art, and wide-format water-based printer web sites had access to our comments in those years. The 7800 was definitely improved over the model 7000 that appeared only a few years before.
Today our evaluations are primarily on eco-solvent (see the new FLAAR Reports on the Mutoh printers: Spitfire Extreme and Rockhopper 3 Extreme) and on UV printers (FLAAR is the de facto world leader with over 73 reports on UV-curable inkjet printers).
Since this wide-format printer web site is read by over half a million people worldwide, we will work at obtaining information on the Epson 11880 printer as soon as one is accessible.
Market Reality today in 2008.
In past years Epson had only to compete with an HP that was deep into CAD, GIS and indoor signage. Today Epson has to compete with Canon printers, with deep pockets.

Plus, today half the printshops that in the past bought an HP Designjet 5000 or HP 5500, today they are buying a Roland AJ-10000, Mutoh, or Mimaki eco-solvent printer. We have FLAAR Reports on the Mutoh Rockhopper 3 readily available, for example.
So Epson is releasing a 64" water based printer precisely in the year when sales of water-based printers are decreasing significantly. Print shops are buying either eco-solvent or UV-curable flatbed printers (such as the MacDermid ColorSpan 5440uv series).
Epson is releasing their printer into a market already occupied by HP, and now also occupied by Canon.
We wish Epson well, but it will be a tough fight for market share, and shrinking market share at that. FLAAR already has over 270,000 readers a year on UV-curable inkjet printers. Unfortunately the current Epson piezo printheads are the only ones that can't work with UV-curable ink. So all the printer manufactures are using KonicaMinolta, Toshiba TEC, Spectra heads; lower priced UV printers use Xaar printheads.
In a positive vein, the one feature I can congratulate Epson on is getting rid of its awful 220 ml ink cartridges. The new ones offer 700 ml per cartridge. So as we find features, as we get to know the printer better, we will definitely update our reports.
Do you really want a water-based 64" if eco-solvent is already available at that width?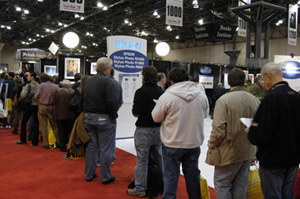 In past years people waited patiently in line to get into the Epson booth. In these years Canon did not offer anything that tempted a critical end-user. HP did not address the giclee and fine art photography market in a meaningful manner until the Atlanta ArtExpo when a new team was momentarily in charge of their giclee offerings (booth was done by Squirt Printing).
During these years Epson was smug; they owned the market. Now market share and profits have collapsed.
Today the question is do you really want a water-based 64" wide-format printer if eco-solvent is already available at that width? This is why the FLAAR Reports switched from evaluating only water-based Epson and HP printers (our primary focus from 1997 through 2006, starting with an Encad NovaJet Pro 36" in 1997) to evaluating eco-solvent and mild-solvent printers. For example, we spent an entire week at the Mutoh Europe factory, R&D facilities and main demo room during 2007 to evaluate all their eco-solvent and mild-solvent printers.
We switched from doing only water-based printer reviews to eco-solvent because this is where the marketplace was moving. The market place also moved to UV-curable flatbed printers, and FLAAR became the #1 research here, with over 79 reports on UV-cured printers issued in recent years and more coming out during 2008.
What about the HP Z6100 and the Canon iPF9000s?
The primary competition for the Epson Stylus Pro 11880 is the HP Designjet Z6100 and the Canon iPF9000s. All are "8-color" printers. All are recent introductions. Each has the latest technology that their respective company offers. FLAAR is in the middle of evaluating UV-cured flatbed printers this month but we will also be adding reviews of the new water-based printers shortly.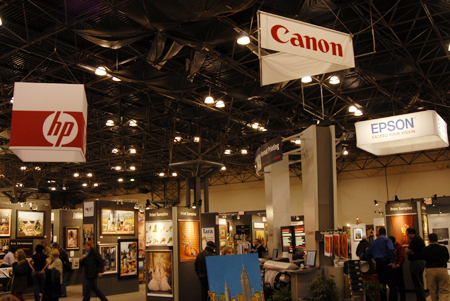 Hp, Canon and Epson booth at Art Expo 2007.
Would 12 colors be better than a mere 8 colors?
The HP Z3100 offers 12 colors, albeit only at 44" width. But the Canon imagePROGRAF iPF9100 offers 12 colors at 60". This class of competition did not exist for Epson before. Since FLAAR does have an HP Z3100 (sent to us for evaluation this week) and since we already have an HP Z2100 on our university campus, we can test the difference between 8-colors and 12-color systems. We have also tested the difference between 4 color systems and 6 color systems. Today I was in Lienz, Austria testing a $200,000+ Durst Rho 600 Pictor (with four colors) comparing my FLAAR photographs being printed on a $500,000+ Durst Rho 800 Presto (with six colors plus white plus spot varnish). The results are on our separate web site that covers the 101 models of UV-cured flatbed printers from 45 different manufacturers.

If you are looking for a place that is not a box-pusher (meaning you want a place that provides service after the sale), then one place we know for many years is Parrot Digigraphic. Their telephone is 978.670.7766.

Most recently updated February 2008.
Previous updates:March 2008 after Art Expo in New York.

include '../plantilla-php/seiko_sidebar.php'; ?>

<