Evaluating media for Wide Format Printers with QEA.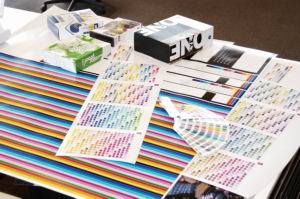 ICC color profiles with GretagMacbeth EyeOne spectrophotometer and color management profiler software.
For Encad NovaJet, Roland, ColorSpan, Hewlett-Packard DesignJet, or Epson 7600, Epson 9600, Epson 10600 printers what wide format media should you select?
First, establish the goal of your wide format print? Indoor, outdoor, transparent, backlit, banner, poster, POP, etc. For review of options, we have prepared a comprehensive list.
How does FLAAR figure out what media to use in its twelve wide format printers at two university test facilities? Years of experience help. Then we have taken training in inkjet media at HP in San Diego, California, and Barcelona, Spain. That's why we know their media best. But we have also been to paper mills in Germany and are preparing to take additional training at other inkjet paper facilities later this year. We also attend the IMI conferences and the seminars of The Tiara Group too.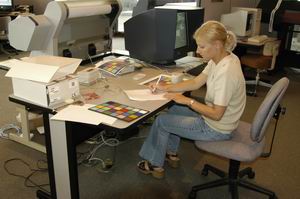 The QEA color management equipment is being test at our facilities.
We do color management tests with both GretagMacbeth EyeOne, X-Rite DTP41-UV, each one with Monaco Profiler software for ICC color profiles. Now we are adding the QEA Personal IAS, Image Analysis System to the test equipment. This will allow us to study the dithering pattern of each RIP as well as overall line quality (for text) on each media-ink combination. Whereas most sign shops and photo labs know all the color management tools, they sometimes forget to measure line quality. If you are an architect or anyone using CAD or precision work such as GIS mapping, you might want to check out what QEA equipment can do for you.
Keep in mind that some printers are restricted by the kind of media they can use. For example Epson makes only a very few kinds of media for their Epson 7000, 7500, 7600 and Epson 9000, 9500, 9600 wide format printers. Yet for Encad or Hewlett-Packard printers there are many more kinds of media available. This is partially a result of the fact that HP is the market leader. This means there are more HP DesignJets worldwide than any other printer. Naturally the media companies prefer to develop media that works especially well in HP DesignJet 5000 and 5500 printers.
Azon
bought by InteliCoat

Champion Paper
in partnership with Rittenhouse Paper

Clearprint Paper Co.
normal range of media.

Continental Milano
large format ink jet supplies

Dieterich-Post Co
media especially for outdoors such as a scrim reinforced banner material

Fredrix
archival print artist's canvus

1 (800) 241-8129

Hawk Mountain
ink jet, photo art paper, 100% cotton, sheets and rolls

Hewlett-Packard
wide variety of media for HP thermal printheads

hp.com

Ilford
companies that have experience in making traditional photo paper tend to make the best inkjet media too.
IJ Technologies, St Louis
ink jet media for dye and pigment based inks

1 (800) 356-6962

314 946-8638

International Paper
Panorama, from Hammermill; I believe this brand went out of business

Kodak

Kodak wants very much to be your main source of media. But there are too many other companies already offering media. For example, we use media from a dozen companies but not one single solitary roll from Kodak. We could never find anyone at the company who remained there long enough to answer our request for media to evaluate.

Lyson
Lysonic Fine Art Paper (best used with Lyson inks)

lyson.com

Mile High Engineering Company
sort of went out of business

Mitsubishi Imaging
makes pro quality photo-base papers

Oracal
Orajet

1 (888) 672-2251

Polaroid

went bankrupt

Parrot Digigraphic
canvas, watercolor paper, for giclee and photography

Rayven
water resistant and UV resistant outdoor media

rayven.com

Rexam Graphics
worldwide company, wide range of media; company is changing its name to Rexam Image Products. The two web sites appear to be the same.

now called InteliCoat

Rittenhouse Paper
in partnership with Champion Paper

Sihl (Sihl USA)
worldwide company, wide range of media. Sihl is one of the few companies with the experience and capability to manufacture their own paper.

sihlusa.com
Only three or four companies make their own media. Most of the rest is repackaged by convertors. Some of the companies listed do not coat their own media either, they are retailers of media from a wide variety of standard sources such as Ilford.
Wide format printers require paper and comparable media with a special surface made to accept the ink. The media has to be specific for the printer (again, a reason why you get consistently good results using Encad media with an Encad printer, you see better quality with Epson media on an Epson printer and we have repeatedly noticed that HP DesignJet works better on its own HP branded media).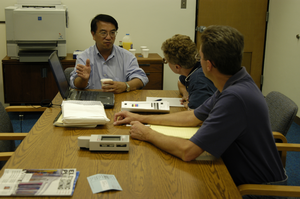 Dr Ming-Kai Tse, president of QEA, explains the potential of the Image Analysis System to Brent Cavanaugh and Chuck Spontelli
.
Once you know little secrets such as this, then you can direct your budget to a wide format printer that is definitely speedier as well as perhaps even less costly and with more color options. Service is also important; you do not want a wide format printer that has poor service. Thus we can report full satisfaction with Encad telephone technical support.
Avoid cheap media. Don't use regular paper; you normally need coated stock. The only printer that you can get Kraft paper or newsprint through is the HP 1050 and HP 1055 DesignJet models. If you buy your paper directly from reliable media companies, then you can avoid the loss of money involved in buying the wrong media from someone else (if you buy low bid, as we did, this is a sure way to end up paying more in the long run. Low cost paper for your wide format printer is not cost effective if you have to throw it away).
Aftermarket companies, however, have also specialized in satisfying this market with high quality media for wide format printers. We have tested wide format paper and media from Rexam (Intelicoat). This media works just fine.
Be sure your media did not get damaged in shipment. If the ends got banged this bump will disorient your printheads. Also check out our other two web sites, www.large-format-printers.org and www.FineArtGicleePrinters.org with additional information on media such as tips on how to handle media to reduce wastage.
Which inks are best? In addition to the comments on inks in this site.
For additional information and for help making your decision, check out the FLAAR Reports.

Most recently updated June 21, 2003.
Previous updates: August 02, 2001.