Epson Stylus Pro 9800 wide format printer for fine art, photographs.
Lots of painters, artists, fine art photographers, giclee studios and aficionados of giclee initially say WOW to the spec sheet of the Epson Stylus Pro 9800. So we look forward to seeing what this printer can actually accomplish in real life. At a trade show you expect all printers to look great. But you really need to learn what is it like when it is in your own office, photo studio, or home. This is where FLAAR can help, to provide insight, based on our experience with piezo and thermal printers, with fine art photography and giclee.
This autumn is a bonanza for fine art photographers and giclee artists because now there are new printers available from HP: the HP Z2100 and Z3100, as well as from Canon: iPF5000, iPF6000, iPF8000, and iPF9000.
Cost & Price Comparisons.
Once the street price settles down we will address the cost and price comparisons. Frankly a wide format inkjet printer is not the thing to buy low bid on the Internet. What about lack of tech support? Who will help you with ICC color management profiles?
A cheap place on the Internet will not be able to assist you to learn about fine art giclee. And most resellers will not tell you the actual pros and cons of this printer. So, being a university, and wanting to learn the facts, we interviewed Gary Kerr, owner of three Epson printers, including the Epson Stylus Pro 9800. We asked the crucial 11 questions that would alert an artist, fine art photographer, or print shop owner as to whether the new UltraChrome K3 inkset is worth buying. This report preview is out. The first edition you can get free by filling out the Survey Form. Just say "Nicholas promised me the free first-hand FLAAR Report preview by Gary Kerr on the Epson 9800." You can ask for it now; we will send you a few other reports that we have. The final report (this winter) will be moved to the giclee series where it will no longer be free.
The difference between the 9800 and the 10600 are considerable. The Epson Stylus Pro 9800 is for individual artists or photographers. If you are a large commercial print shop a 12-color Roland or even an 8-color Mimaki would be an option, since those printers are made for sustained printing. If compared to the Canon imagePROGRAF w8400 (the fastest printer available for fine art giclee), the Canon is appreciably faster because it uses thermal printheads. But that particular Canon offers only six normal colors.
FLAAR Reports will cover the Epson Stylus Pro 9800.
Each size of the Epson "8" series is for a slightly different market. The Epson Stylus Pro 4800 is for individuals and companies that are beginning to get into digital imaging, fine art, and giclee.
The Epson Stylus Pro 7800 is for individuals and small companies that are growing but still on a budget.
The Epson Stylus Pro 9800 is closer to a production machine, albeit slow compared to the competition. The competition here would be a 12-color Roland (with ErgoSoft RIP software), 11 or 12-color ColorSpan, or 8-color Mimaki JV22 (with ErgoSoft RIP software).
There is also an Epson Stylus Pro 9400 printer; yes, a backwards step in printer designations: there is also an Epson 4400 and 7400. We saw all three in Italy three months ago.
Since FLAAR is an institute dedicated to fine art photography and giclee, we are an ideal source of information for learning the pros and cons of each of these possible solutions. If you look at the photography of Nicholas Hellmuth, you will see why this level of quality from Leaf Valeo, Hasselblad Imacon and BetterLight digital cameras needs a good printer to reproduce the results.
And you should require no gloss differential, no bronzing, no metamerism, no scratch problems with glossy paper (an issue with the Canon imagePROGRAF W8200). So far, lab tests have shown the HP 130 has excellent image quality, especially when line art or text is present. There is minimal gloss differential and no bronzing because this is not pigmented ink (the new special ink gives up to 70 years longevity). But, the HP 130 is only 24"… there is no 42", 44", and no 60" printer from HP or Canon with these capabilities.
Realize that the gloss differential and bronzing situation is serious enough that Encad actually states in their ads that glossy media is not appropriate for pigmented ink with the Encad NovaJet 1000i. This is why it is crucial to know the pros, and cons, of each printer. It takes an independent source to provide this, and it helps to be a research institute to know all this.
Gloss differential, metamerism, and other aspects will be covered in Gary Kerr's comments in the upcoming FLAAR Reports on the Epson 9800. The HP Z3100 overcomes gloss differential comparable to how Epson R-series printers do: with a gloss optimizer liquid.
Epson Stylus Pro 9800 for fine art giclee on artist's canvas.
But if you wish to use canvas, or thick watercolor paper, unfortunately that is not possible with all the other printers. Yet canvas and thick watercolor paper work just fine in the Epson Stylus Pro 9800. Comments like this, showing the positive features of each printer, are part of our program of being sure we present a balanced assessment of every printer brand and printer model.
We hope you notice that you get tips about inkjet pros and con here, so you can better understand digital technology. But wait until you read the initial report (in preparation). This is what you should expect from a university professor.
Compare prices; is it best to buy by lowest price comparison?
Your best deal is to buy from a respectable printer dealer who can provide tips and assistance. Buying from a box-pusher, gray market, and other dubious outlets are not advisable.
Every two years there is either a new Canon iPF printer or a new Epson or a new HP water-based printer. It is hard to keep track of the new models. FLAAR is keeping track by visiting printshops that have these various brands. Each brand has its good points and a few deficiencies. Since FLAAR itself does not sell printers, for you to find out information on prices and availability of each model, we suggest you contact a company that offers all three brands: Canon, HP, and Epson. This way they are not going to push just one brand because they offer all three. One company that we know is LexJet. Dr Hellmuth has visited their national headquarters twice. LexJet sells all across the USA and to Latin America as well. Contact info is [email protected].
Parrot Digigraphic sells all three brands of printers: Epson, Canon, and HP.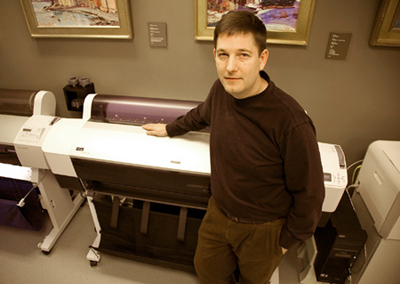 Here is Gary Kerr with the Epson Stylus Pro 9800, Fine Art Impressions.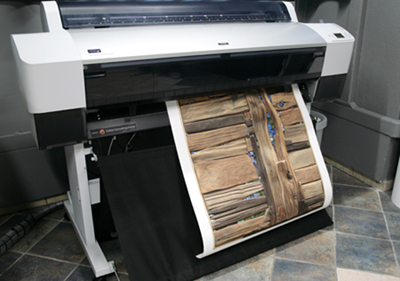 Epson Stylus Pro 9800, Granis in Greece.
Most recently updated Nov 17th, 2006.
Previous updates: Sept. 25, 2006, May 18, 2005.