Canon imagePROGRAF iPF500 desktop printer.
Canon works at covering all sizes for printers for CAD and GIS: they have this desktop unit, Canon imagePROGRAF iPF600, then a 36-inch Canon imagePROGRAF iPF700.
Five years ago Canon had 1% of the market. Each year their market share has doubled, 2%, then 4%. Naturally they want to keep that rate doubling every year. When the Encad 1000i and Kodak 1200i ceased being developed further during February and March several years ago, this released some market share; actually Xerox was selling about 40% of Encad's DesignJet printers as the Xerox 8142 and 8160.
So then, at last, in 2006, Canon released more new water-based inkjet printers than all other printer companies combined. Unfortunately, water-based inkjet printer sales are plummeting as people jump to eco-solvent, mild-solvent, solvent, and UV-curable inks. But nonetheless, many printshops and offices prefer not to have the fumes of solvent or UV-cured ink, so there is still a market for water-based inks.
Plus Mutoh is making one last attempt to keep water-based printers alive, with their Mutoh DrafStation RJ-900 and RJ-901. So precisely when water-based printers are falling everyone is trying to produce a CAD and GIS printer.
So it will be interesting to see if architects, engineers and others who print technical drawings will abandon HP DesignJet printers and switch to Canon or Mutoh. We at FLAAR printed CAD for architects, GIS for geologists and geographers, and technical drawings for other departments on our university campus. We are constantly asked by utility companies, government agencies, natural resource exploration companies, architectural companies, engineers, and others who seek our suggestions on what printer to use. We naturally suggest the printers we know the best, which are logically the printers we use ourselves.
We do not have any new or even the last generation Canon printers. The two nice Canon imagePROGRAF printers we have are two generations old by now. So we continue to use our HP DesignJet printers; we have about nine of them; all sizes and shapes, in our offices in Ohio and in Guatemala too. Plus, this week HP is introducing the 8-color HP Z2100 and the 12-Color HP Z3100, so there is competition for the Canon iPF5000, iPF6000, iPF8000, and iPF9000.
Each brand of water-based printers (Epson, Canon, HP) has its pros and cons. It is like Mac and PC, some people use only a Mac and will never touch a PC. At FLAAR we use both Mac and PC and all three brands of water-based printers (if we stuck with only one single brand, how could we realistically evaluate the others). This same principle is useful when searching for a place to inquire about which brand to consider: it is best to find a printer dealer who themselves has experience in all three brands.
If you are looking for a place that is not a box-pusher (meaning you want a place that provides service after the sale), then one place we know for many years is Parrot Digigraphic. Their telephone is 978.670.7766.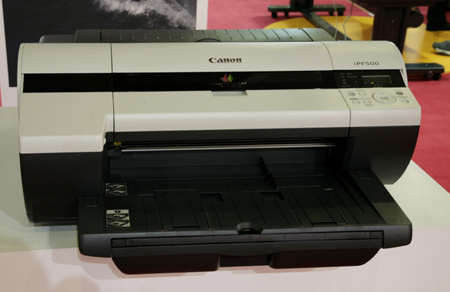 Canon imagePROGRAF iPF 500.
Most recently updated Dec. 15, 2008.
Previous updates: Sept. 25, 2006, April 12, 2006.

include '../plantilla-php/Textil_sidebar.php';?>