Stork Wide Format Printers.
If you are a commercial textile printing company then you will be considering a Stork or a ColorSpan FabriJet XII. If you wish to print textiles as a small business or at home as a business-hobby, then you can print economically with any Hewlett-Packard DesignJet printer such as the 36" 2000 series (2500, 2800) or the 54" 3000 series. If a larger business or a more serious hobby, then you could select an HP DesignJet 5000 if you prefer the advantages of thermal printhead technology. If you need the benefits of a piezo printhead technology, in this case, the use of special textile inks, then you would select a Mimaki or Mutoh . If your company does exclusively textiles, however, then one of the three Stork textile printers (piezo technology) or the 72" ColorSpan FabriJet XII (thermal printhead technology) would be your choices for full-time printing of textiles.
Stork is an honest company because somewhere I read their piezo printheads on the Amber are rated for six months; the printheads on the Zircon are warranted to last for three months. Presuming the heads of the Amber are the Epson printheads used by the Mimaki, the ratings by Stork are the first recognition that piezo printheads are not permanent, especially when used with inks for textiles.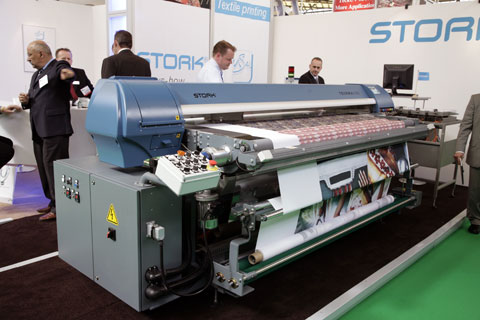 Stork wide format printer at FESPA 06.
The Stork Amber is a 7 color piezo printer for textiles. The Stork Zircon is an eight color printer for textiles; both of these are with standard piezo printheads from Epson. The Stork Zircon is marketed under other brand names outside Europe and the USA. The Zircon is reportedly a joint venture of Konica. Konica itself has showcased an 8 color proofer at DRUPA, but for paper, not textiles. I believe that Konica proofer utilizes Xaar heads, which are normally not quite as good a quality as are Epson. The advantage of the Xaar heads is considerable speed. In most cases the printer specs and brochures make no mention whatsoever of whose printheads are used. This information is not kept secret, it is simply not listed. But if someone is about to pay thousands of dollars for a product they deserve to know who manufactured the key portion of what they are about to buy.
The Stork Amethyst utilizes Hertz technology, same as the IrisGprint (Iris 3047 color proofer and its slightly altered alternative the Iris giclee printer). The Stork Amethyst is a veritable textile printing factory so to speak. Indeed the main advantage of Stork is that this branch of the larger Stork concern is dedicated full time to textiles. No other large format printer company has such a background in the physics and chemistry of textiles.
By midyear FLAAR will have opened a larger evaluation center at a state university. This new space will make it possible to enter new territory and evaluate additional printers. Textile printers is one category we will be working on.
In the meantime, for additional information and for help making your decision now , ask for the "FLAAR Report on All the Inkjet Printers that can Print on Textiles" (specify whether for direct printing with normal inks, with special textile inks or with dye sublimation inks for subsequent heat transfer onto the textiles). This is because we have a separate report on dye sublimation heat transfer for textiles.
These reports include comparative comments on ColorSpan, Stork, Mimaki, ColorWings, Encad, Hewlett-Packard, and other printers. There is no cost; our university makes these reports available as a public service.
If you are unsure which report is best for you, just explain what you intend to print, whether this is for commercial, small fledging business (second business or home-hobby), whether you are new to this or already have another inkjet printer, and so on. This way our staff can judge which FLAAR reports are most appropriate for you.
Since some textile printers use piezo printheads and others use thermal printheads, you might benefit from the FLAAR report on "Piezo vs Thermal printheads, fact vs fiction, pros and cons of each kind of inkjet printhead."
If this will be your first printer, then we have a special report that holds your hand and leads you through all the basic questions that will assist a first-time buyer of a large format printer. Purchase the FLAAR report on "RIP + Help." This explains what RIP software is, why this is useful, and includes tips, warnings, information, and help for a wide range of matters for a newbie. Here you will really appreciate that FLAAR is based at a university; Professor Hellmuth has plenty of experience writing in a manner that explains what you need, and why.

Most recently updated August 02, 2001.