ImagePROGRAF iPF8000s, 44-inch competitor for HP Designjet Z2100.
Canon imagePROGRAF printers initially came out with 12 colors (first one series and now a replacement series iPF5100, iPF6100, iPF8100, and iPF9100).
Then HP came out with an 8-color Z2100.
Then HP came out with a 12-color Z3100.
Then HP launched an 8-color 60" model, the Z6100 (not 12-colors). Since a 12-color printer tends to be slow, this is why HP decided to offer an 8-color speedy 60-inch printer instead of a 12-ink 60" printer that might be as slow as the Epson 11880.
So Canon countered with two 8-color models, the iPF8000s and the iPF9000s.
So now there are end-less printers to select from.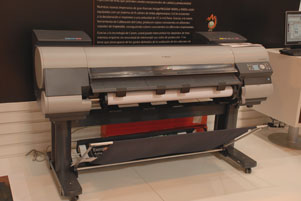 Canon iPF8000s at tradeshow 2007.
HP Z2100 and Epson 44-inch Stylus Pro 7880, comparing prices with iPF8000s
To what degree should you compare prices with the HP Z2100 (available in 24" and 44")? The HP Designjet Z2100 has 8 ink channels, same as the Canon ImagePROGRAF iPF8000s. Comparing prices is only one aspect; price comparison alone does not reveal what you receive for the price you way. For example, one printer brand may be lower price, but it's performance could be correspondingly low.
Or, two different brands could be comparable price, but one has color profiling hardware and software already included (the HP Z3100 and Z2100 both, as well as in the HP Z6100). But Canon offers their Kyuanos color matching engine. Regrettably I am not familiar with the Kyuanos color matching (color management) system at all. We have X-Rite and GretagMacbeth ICC profiling equipment, and the HP Z3100 and HP Z2100 on our university campus each have color management inside the printer. Probably thousands of printshop owners will also have questions about what is the Kyuanos color matching system. Clearly this calls for a research project to compare this Canon system to what HP offers and what Epson does not offer!
FLAAR has a 44" HP Designjet Z2100 available in-house (and a 24" Z3100ps GP model with 12 ink channels in-house (in the FLAAR testing labs and demo rooms) as also we have access to a 44" HP Designjet Z3100, the non ps version). So we can provide information on these HP printers since we have them available for daily use.
We also have an Epson 7800 in-house, and access to an Epson 9880 (same engine as the 7880).
Unfortunately no Canon iPF8000s nor Canon iPF9000s. But an HP Designjet Z6100 is arriving in about two months.
The FLAAR Reports on the HP Z2100 is readily available (for comparison with the Canon iPF8000s).
The FLAAR Reports on the HP Z3100 is a free download.
The FLAAR Reports on the HP Z6100 will be available in about two months.
Canon Inc.
Canon does many things well, but most printshop owners comment on other aspects such as whether their dealers, who are used to selling copiers, how well they know the wide-format printer reality. Don't blame us, this is the observation of a printshop owner who spent several months shopping, did not get the answers he needed, and then came to FLAAR. I happened to be a consultant to a large giclee atelier in the same city that week, so when I received his e-mail request for assistance on deciding what printer to buy, I went with him to a Canon dealer and to an HP dealer in his home city. He bought one brand based on lack of knowledge of one dealer on one brand and better overall knowledge and tech support of the other brand.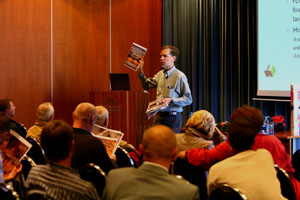 Nicholas Hellmuth lecture about Canon at Slovenia
Naturally this varies by city and country. The Canon dealer in Ljubljana, IB-ProCADD is one of the most knowledgeable in that region (a few kilometers south of Graz, Austria, Slovenia is the top art of former Yugoslavia). I have spent many days in this Canon dealer's facilities, and hired one of his staff as a photo assistant for field trips testing a 22-megapixel Phase One P25+ in Guatemala.
I have also been guest of Canon Middle East to lecture there, and twice have lectured for Canon in Eastern Europe.
Since FLAAR is neutral, and seeks to be fair to all manufacturers, I have also lectured for HP, been guest at their wide-format world headquarters three times (fourth visit will be in a few weeks), and am consultant to several of their divisions (two research sponsors of FLAAR research in UV-cured flatbed printers, ColorSpan division of MacDermid, and NUR Macroprinters, happened to be purchased by HP during 2007).
I also work with Epson, via Parrot Digigraphic as well as via several giclee ateliers who use primarily Epson printers, indeed we use three Epson printers daily in the FLAAR demo rooms at Bowling Green State University.
FLAAR is one of the few testing institutes in the world to have experience with all three of these brands: Epson, HP, and Canon. We also know Encad printers; Encad was our first sponsor, precisely 10 years ago, but only for that first year. Encad went out of business during 2006-2007 under the management style of Kodak.
Presently we are evaluating the HP Z3100ps GP because this printer arrived this week as part of a new sponsored research project. Nowadays universities don't receive any more funding from their local State governments, so all university institutes have to have outside funding for any project they wish to undertake.
Our report on the 8-color Z2100 is also now out in first-draft version. Our next scheduled report will be on the Epson 9880 (for giclee, décor, and fine art photography). So one by one, as resources are available, we are adding printers to our review program.
First posted Feb. 20, 2008.
include '../plantilla-php/Textil_sidebar.php';?>