Textile expo in Shanghai, ITMA Asia
Posted June 5, 2012
Nicholas and graphic designer Grace Morales spent two days at the textile expo in Shanghai inspecting inkjet printers, including the Rainbow 1800 series of Sky AirShip.
FLAAR Reports on new printers launched at drupa 2012
First posted May 3, 2012
Since most printers at drupa are latex, eco-solvent, or UV-cured, we cover these on our www.large-format-printers.org
But for readers who happen to land first on our water-based web site (where you are now, www.wide-format-printers.org), we also wish to make our drupa reports available to you also.
Please realize these these reports will be updated every three or four days (drupa is 12 days long). So please return for the updates.
Unexpected printers at an unexpected signage printer exposition
First posted March 12, 2012.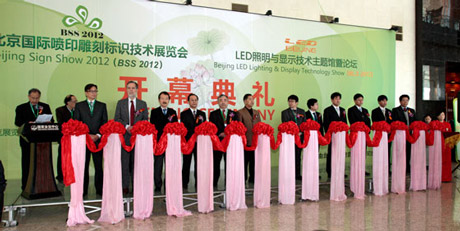 A brand new printer expo was launched in Beijing. Since the organizer asked FLAAR Reports to join the group of CEO's and top executives of printer factories of China and printhead manufacturers from Japan and the UK, Dr Hellmuth was with the group who cut the ribbon to open this new trade show.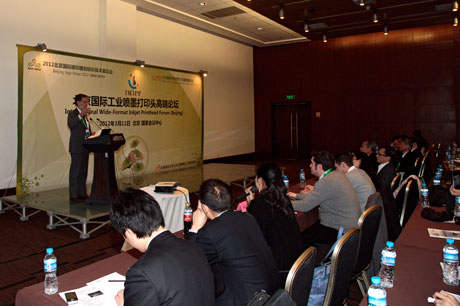 The next day there was a conference on printheads. The entire lecture room was packed (standing room only at the back). Dr Hellmuth introduced the conference and at the end spoke about the future of printers (and hence printheads) for "printing more than signage: we need to print on glass, wood, plastics: more even than ceramics which is increasingly popular."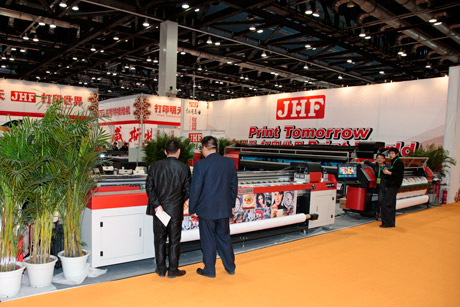 The third day three of us from FLAAR Reports spend six hours harvesting knowledge, information, tips, and over 500+ photographs of what was available to study at this expo. We dedicated the time and effort to be sure to record everything with high-resolution (21 megapixel) camera in order so that thousands of people in the industry (who did not know this expo even existed) can now share in all that we learned during our three days here.
Since most everyone attended FESPA, or is holding off for DRUPA, or was at D-PES + Guangzhou last month, there was a grand total of about a dozen people from outside China and Japan at the expo. I know at least several hundred distributors and printshop owners, as well as industry experts that understandably totally missed this expo.
So we will have high-level photo-essay reports so that everyone who missed this can learn what we saw and experienced (and can consider attending this Beijing event in 2013).
New for 2012
Programs to provide information to DISTRIBUTORS
Most recently updated on March 7, 2012. First Posted Dec 22, 2011
Distributors (of wide-format printers, inks, media, substrates, coaters & laminators, and cutters) are an integral part of the worldwide inkjet printer industry. The distributors I have met in South Africa, Dubai, Brazil, Russia, Paris, Germany, Ukraine, USA, Mexico, and elsewhere are a crucial bridge between manufacturers and end-users (printshops).
We have noticed that more distributors are coming to FLAAR to ask for consulting. So for 2012 we will offer special consulting options for distributors.
All the information will be on all of our web sites with specific links labeled DISTRIBUTORS.  So please return later this week to see our programs for distributors of inks, media, substrates, textile printers, UV-cured printers, unique-ink printers, coaters & laminators, and cutters. Or, you can write (e-mail) now,  FrontDesk at FLAAR.org
Preparing for DRUPA 2012 Exhibitor list
(and FESPA Barcelona exhibitor list)
Which trade show(s) to attend in 2012 ?
Is DRUPA really worth the exhorbitant hotel costs?  What if most of the new printers are exhibited already at FESPA ?
Or do you really need to attend DRUPA no matter what is launched at FESPA ?
What will be shown at ISA, at SGIA?
Most importantly, which Chinese printer (ink, media, and cutter) expo is best to attend?  And when, where, how?  If you go to DRUPA, or FESPA, do you really need to go to China ?  (but what if your competitor distributor, or competing printshop owner or manager gets all the tips from FLAAR and thereby goes to the pertinent Chinese expo and has FLAAR take him booth-to-booth?)

We have five years experience in China and we will be glad to assist you, even suggesting hotels.
But what if you need a head start on your competitors… which are the first printer expos, early in 2012 (before even FESPA)?
To ask for consulting write FrontDesk at FLAAR.org (sorry, we write it this way to keep spam away). Ask for the consulting brochure: please indicate whether you wish info on DRUPA, on FESPA, or on Chinese expos (or on Dubai, Moscow, Brazil, or VISCOM expos).
Indicate which part of the large-format inkjet workflow you wish consulting on: color management, RIP software, printers, the new inks that are coming out, etc.
Which is the first international printer expo in 2012?
Every year FLAAR provides coverage of the Sign and Graphic Imaging Middle East (SGI) exhibition to our readers. This year the expo is January 31- February 2, 2012 at the Dubai World Trade Centre. We are looking forward to seeing the exhibitor list for 2012.
Dubai is a friendly city and country; lots of international flights reach their awesome airport. Hotels are reasonably priced and taxis do not rip you off.
This expo offers a lot more than printers, inks, media, substrates, RIP software: Dr Nicholas Hellmuth will be speaking on several topics, as will also Ryan Crist and other speakers.
Just Google   Sign Middle East    and the first web site you see will be the official web site for Sign and Graphic Imaging Middle East (SGI).
In addition to the wonderful location (bring your whole family, as this is a family-friendly city), this is the first international expo of the year. So Dr Hellmuth provides consulting to printshop owners and distributors who wish to learn what is happening, long before FESPA in Barcelona. If you want too long, your competitors will learn about all the new inks and hence new printers before you do.
If you wish a meeting with Dr Hellmuth in Dubai, write to ask for the consulting information, FrontDesk "at" FLAAR.org
Consulting for printshop owners, managers, and printer operators
Almost ever week printshops are asking for assistance, in part because it is confusing whether latex ink can really handle what is needed by a multi-application printshop. Yes, latex ink is a great advance, but what if four other companies will release new-generation latex-like ink and resin-based inks in 2012?
Plus we have more questions every month on textile printers. So we will provide consulting services for printshop owners, managers, and printer operators who wish to have tips of what will appear at DRUPA ?
Graphics of the Americas, back in Miami in early March 2012
I enjoy visiting Miami so its great that GoA 2012 is back in Miami. It's so much easier (and less cost) to fly to Miami direct.
The expo location is near South Beach hotels so I can walk to the nearby expo center. Plenty of restaurants nearby. Plus, hotels are not overpriced (as are hotels in Europe).
So we look forward to seeing you at Graphics of the Americas 2012, March 1-3, 2012.
Dr Nicholas Hellmuth, FLAAR Reports, will make two presentations; on innovative new inks and hence totally new printers. And a second presentation on Choosing the right equipment for the right job.
Dr Hellmuth can discuss things with you en español, English, or auf Deutsch. You can request a personal meeting for consulting, by writing in advance, FrontDesk "at" FLAAR.org to ask for the consulting fee schedule
CES 2012 and PMA@CES 2012 expos

First posted January 16, 2012
CES (international Consumer Electronics Show) was held last week in Las Vegas. PMA, a photography equipment trade show that faltered during 2009-2010 and then failed to launch an expo in 2011, had co-located with CES and was attempting to regain a presence as PMA@CES.
HP was conspicuously absent; Epson did not show up either. Canon had two printers surrounded by their usual focus on their cameras first. But since the organizers claim that over 150,000 people attended their trade shows, it is crucial for FLAAR Reports to be present. However the main reason we flew all the way to Nevada was because four key people at Photokina Messe in Germany wanted to speak with FLAAR.
Since FLAAR has been evaluating digital camera equipment for over a decade, three FLAAR Reports will result:
a free download on digital camera equipment at PMA + at CES;

free download of general comments on CES, in case you might consider attending in 2013 (be forewarned, the city was not able to handle 150,000 people, as in, over-priced hotels and not enough local transportion);

and a special consulting report for trade show organizers who would like to learn how to avoid the issues, headaches, problems, omissions, inadequacies that were so glaring at CES.
All three should be ready by Friday this week. You can order the report on how to improve management of your trade show by writing FrontDesk "at" FLAAR.org. The other two reports will be free downloads as soon as they are finished.
Kodak filed for Chapter 11 in Preparation for Bankruptcy.
Posted January 18, 2012
Kodak is still advertising 35mm film in popular photography magazines still today. Hard to use the word "blind" or is this a play for nostalgia (only Leica has thrived on nostalgia).
Kodak bought Encad and made many inappropriate decisions in the world of wide-format inkjet; Encad failed utterly (FLAAR reviews at least alerted printshops to be careful when considering this printer). It is ironic that for the last five years Chinese manufacturers have probably sold more Encad clones than Kodak was able to sell.
The Kodak 5260 was a technology that worked even less than CrystalJet; it never functioned adequately even in the Kodak booth at trade shows during 2001.
Kodak then bought Creo, which had previously bought Scitex. Both Creo and Scitex were successful. Yet Kodak flushed both Scitex scanners and Leaf medium format digital cameras down the drain though stupid priorities on other product lines.
All analysts mention how Kodak did not do well with digital cameras. FLAAR Reports evaluated Kodak cameras and we know the actual facts, which are in our reviews. I can still remember the Kodak hall at Photokina circa 2008: one of the biggest halls at the expo, but it was 85% empty; literally: no booths, no personnel in 85% of the million-dollar exhibit area.
And why they had an exhibit at CES last week in Las Vegas still amazes me.


Kodak inkjet media is probably mostly made in China, so I am not convinced their media is better merely because it has a yellow Kodak logo on it.
The main sorrow are all the employees whose pensions probably get wiped out by bankruptcy.
I hope that MBA programs can use Kodak as a series of case studies of how to ruin a major brand name. One thing I always noticed is that executives and top managers were always shuffled around instead of being fired (when they made dumb decisions or when they failed to be successful with an entire product line).
Saying that Kodak failed just because they clung to the illusion that 35mm film would never go ahead is simplistic. Kodak had many more problems then merely blowing their lead in digital cameras.
2012 is a "DRUPA Year" and a "Photokina Year" also, so it is the busiest in FLAAR history. We hope that other companies learn from Kodak. To help keep other companies from an embarrassing "Kodak moment" (of declaring bankruptcy) we are now offering our TRENDs reports via our new web site, www.FLAAR-Reports.org
In these TRENDs we provide discrete tips and hints on what is really going on behind the scenes in the large-format inkjet printing industry.
I can still remember when Kodak managers asked how in the world did I know that their Kodak 5260 printer actually could not function. Every PR agency in the industry lauded this printer. And trade magazines even awarded this Kodak printer "best printer of the year" awards!  How did FLAAR know the printer did not function.. easy, we totally ignored any and all PR release. Instead we simply observed the actual printer and noticed that it was not actually physically printing… Even during Kodak revival-like Press Events.
So the FLAAR Reports simply stated the printer and printhead technology were not functional and that it was only PR agency bluster that kept the printer platform alive for two years (until ironically Kodak managers used the FLAAR Reports at a meeting to discretely suggest to their executives that the printer was an engineering failure and should be withdrawn from the market).
Year 2012 will be a test for resin-based inks, latex-like inks, MEMS printhead endeavours. So we offer our TRENDs reports so that manufacturers, distributors, and end-users (printshop owners and managers) can have the level of information that offers the savvy a better chance of success in an increasingly competitive world.
FLAAR is now evaluating dye-sub textile inks in Korea
July 15, 2011, updated January 2, 2012
Nicholas flew to Seoul from Shanghai and we are continuing evaluating dye sublimation (disperse dye) textile inks from InkTec.
Two other companies that produce dye sublimation inks have expressed interest in FLAAR evaluating their inks, but so far the first brand we are studying is InkTec.
While in Korea Dr Hellmuth visited an impressive printing company that had eight Roland printers with dye-sublimation ink from InkTec at work. So we have first-hand, eye-witness documentation of the quality that InkTec is capable of, before, and after, heat transfer.
Consulting services from Nicholas Hellmuth at Chinese sign expos: February 2012 in Dongguan and Guangzhou.
May 9, 2011. Most recently updated September 14, 2011
You can learn from Dr Hellmuth's many years experience in China: at ink factories, at media coating factories, at printer manufacturers, and at R&D departments throughout China.
If you wish to source inks, media, substrates, printers, cutters, laminators in China (or Korea or Taiwan), Nicholas has experience at the major trade shows in Taipei and throughout China. The next huge Chinese expos are both mid-February 2012: one in Guangzhou, and the other, formerly in Dongguan an hour away, has moved also to Guangzhou. (so now two huge printer expos, both in the same city!).
D•PES Printers & Engravers Expo is well worth the visit. As last year, Dr Hellmuth is guest of honor. Indeed this expo is important enough that we are flying FOUR of us to China to attend this.
Sign up now to visit one or both of these important expos with Dr Nicholas Hellmuth providing you tips, and introducing you to the key people in China. Download the adjacent brochure for price information.
What if there were a new latex ink better than current latex ink?
March 9th, 2011
What if there were a completely new latex ink with brilliant bright happy colors?.
What if when we showed our print samples of this ink to people, and they said they really noticed the colors were much better than latex ink used on the HP printers?
What if this ink did not need a furnace to cure it?
What if this ink did not need TWO electrical cords to heat-cure the ink (because one cord can't carry enough electricity to cure the present ink). What if the new latex ink needs ONLY HALF the juice of present latex ink?
What if FLAAR Reports has samples of this ink, has been in the R&D department, seen the printers in action?
Additional new inks (another new ink; more than the one we mention elsewhere on this home page)
March 4, 2011
Dr Hellmuth is under NDA with a major multi-national company with remarkable new ink(s). If you are a printer manufacturer (only for actual manufacturers, sorry, not yet distributors), and wish to consider using this ink in your printers, we would consider introducing you (also under NDA) to the ink manufacturer. The decision for this introduction would be made between Nicholas and the ink company (due to the NDA situation). We understan for that ink(s) this remarkable, that an NDA is appropriate.
Dr Hellmuth has been inside the ink labs, R&D department, and printing demo room of this company. FLAAR has seen the ink and knows the company background who has the ink available. Contact us at [email protected] or you can use the direct business e-mail of Nicholas if you already know it.
Bring Nicholas Hellmuth to your printshop as a consultant
Professor Hellmuth is available on a professional consulting basis at your print shop anywhere in the world. We are tri-lingual: Deutsch, español, and naturally English.
If you wish to hire Dr Hellmuth as a consultant, indicate your needs by writing to [email protected].
We consult on UV-curable ink flatbed printers, solvent and eco-solvent ink printers, MemJet, giclee, inks, media and substrates, textile printing, printing for décor and interior decoration, color management, which RIP software brand to consider, flatbed cutters, scanning, and digital photography.
We can answer your questions by Skype, QQ, e-mail, telephone, or in-person at your company. Another popular way to receive help is to request Nicholas to walk you through a printer expo, booth-by-booth (of those you wish to visit, or those FLAAR suggests are worth visiting). To learn about the fee, write ReaderService "at" FLAAR.org.
For 2012, the obvious needs for printshops and distributors are:

Which expos to attend?

What is the truth about MEMS printheads in general and MemJet in particular (is this technology a passing fad? Does it really function (other than in PR releases!) and do you need to be nervous about MemJet at wide- format size.

What is all the news about replacements for HP latex ink (all the other non-HP latex and resin inks)?

What happened to Sepiax AquaRes ink?
UV-Curable Ink Flatbed printers in 2012
More and more print shops switch from water- based ink to UV-cured especially, since VUTEk, EFI Rastek, JETRIX, Dilli and others have a full range of UV-curable flatbed, hybrid, and combo moving transport belt roll-to-roll UV printers.
Over the last seven years FLAAR has become the de-facto resource for factual information on the pros and cons of UV-curable flatbed printers. FLAAR is presently a consultant to UV printer manufacturers around the world. FLAAR has been a guest at UV printer manufacturers around the world: Canada, USA, Europe, China, Korea, and Taiwan. Because we know their products well, we can also assist end-users (printshop owners and managers) to understand which brand and which models are good for specific applications (and which UV printers are not ideal, and why).
But even more helpful in 2012, we can provide tips on what new ink technologies are available today since there may be things that a water-based resin ink can achieve that is lower cost than UV-cured, less heat and less electricity than HP latex ink, and less VOCs and toxic odor of solvent ink. For consulting, just download the consulting PDFs.
If you are a printer manufacturer, ink (and ink chemical) manufacturer, media or substrate manufacturer, coating, laminating, color management, or cutter equipment manufacturer: FLAAR offers Subscriptions for 2012, so you might want to find out what you are missing.

Innovative non-UV flatbed printers, for metal, glass, acrylic and more
April 11, 2011

While visiting Jetbest ink company in Taiwan it was possible to learn a lot about their remarkablt "print on almost everything" ink. During 2011 Jetbest continued to fine-tune their ink, so in 2012 we will have updates. Jetbest will exhibit a new dedicated flatbed printer, with a Roland gantry but completely new full-frame flatbed chassis below, courtesy of a Jetbest precision flatbed manufacturing partner in Taiwan.
The Jetbest inks print on metal (copper, aluminum, etc), glass, acrylic, and diverse materials. The roll-to-roll variant of their special ink prints on uncoated PP and other uncoated signage materials.

You may notice that FLAAR is expanding our world-wide coverage of printing expos: As an example, last year we added expos in Australia and to Brazil, in both cases courtesy of consulting clients who wish us present in their country, at their company, to assist them with info on TRENDs in the industry.
We would like to visit trade shows in Vietnam, Thailand, Indonesia, Phillipines, India, and Korea, plus some of the Eastern European expos. When the expo itself sponsors us, or when a local company flies us there, that is what makes a visit to a local or regional print expo realistic.
Most recently updated April. 12, 2013.
Previous updated Jan. 2, 2013. Jan. 15, Jan. 2, 2013, Mar 12, 2012, Mar 7 2012, Mar 3 2012, Feb. 29 2012, Feb 23. 2012, Jan 16, 2012, Jan. 5, 2012 Jan. 2, 2012, Oct. 17, 2011, and many times over the last several years.